That looks like a clean 85 Sprint 4dr
Thank you....its getting that way, surely was not when I bought it. Aside from a few minor dents on the outside, it would be in pristine shape with a nice paint job.
.
Thanks for the post about the 03 honda seats in a MK1
around here anything usable in a" Honda anything" is usually gone they pick them clean .
We must have a huge Tuner crowd in the NW ( Nissan too)
if you do happen to find a set of Honda/toyota/ nissan seat there either ripped or filthy dirty.
I dont think I have the simiarl crowd here in the SE, but by the looks of my salvage yard they dont sell many seats at all. The problem was finding a set that was not totally mildewed and nasty due to windows or doors being off. Of course the owner said that he hadnt sold a set of seats in years out of anything....it took me over 3 hours of searching to find this great shape and comfy set.
The fine folks pulling parts from cars in the public junk yard's don't have common sense to use a towel to clean there hand's.
but wipe there greasy mit's on the driver seats (very flusterating)
Yep...saw alot of that too....not to include tons of greasy parts laid all over some nice ones too.
I thought about using toyota seats but there hard to find in good shape too
It's hard to work without a welder and sometime hard when you have one your just looking for something some time to fill with the(Metal Putty Gun) it's so EZ to say I can fix that with the welder.....
and harder to say i can fix that without the welder
Fully agree...bought my first welder about 5 years ago. Lincoln 135 Mig, sometimes I wonder how I ever made it without one.
Some peeps might not understand what I'm saying ? and thats pare for the corse if you read some of my post's
thats why a did the post about my seat install without a welder...
Good point...and considerate of those that dont have all the abilities or toys.
A member asked if i knew of a set of Non Chevy Sprint seat that would bolt in a MK1 so i took the challenge.!
and bolted a set of 02 Rio seats in my Turbo Sprint
Yeah I Liked those due to that arm rest, but no KIA's in my lot at all....Luckily these honda seats actually fit a bit tighter to the wall than the Sprint seats did, hence giving a bit more room between. I have plans for a self made arm rest of sort when I finish my rear seat delete area.
.
if I might add a little something about your install .......
The front bolt washer change to a larger washer and tack weld it to the brakets for more stoutness it's probably fine as-is it just looks like its not fully bolted down.
Actually you are correct, I took taht picture after a first pass install when it was not fully mounted. I actually came back with a much larger and thicker washer. However. I also thought of the weld part once I found the center mount points.
I bought a Turbo sprint that the PO passed away in it from a rear ender when she got hit the force from behind sheard the front bracket bolts and threw her into the back of the car she must have died from neck injury being snapped back with the seat
Geeesh...surely something to get one thinking...make me wanna go home and weld that washer. Thoughts like that is why I added those self locking nuts to the bottom of the threaded area on the honda rail. I figured jsut added security
So I always think about those front bolt in our car
.
hers a picture of the car it was drivable just didn't look pretty
......(I set another driver seat in it so i could drive it)
I'll have to check that picture at home....can access PB at work.
.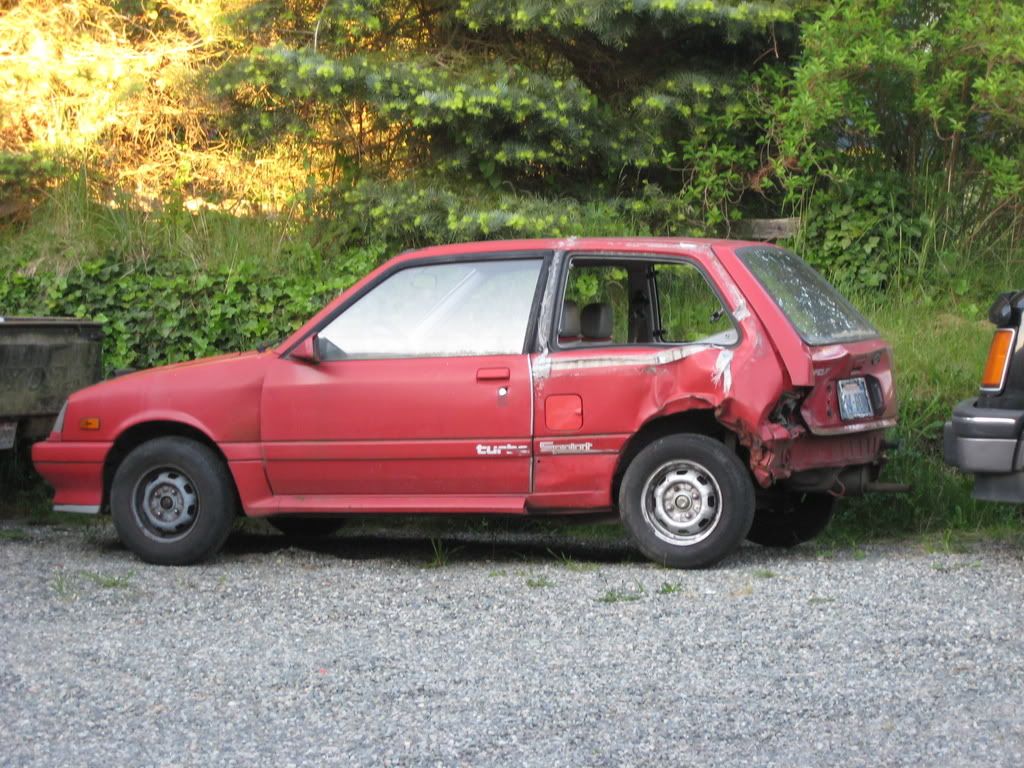 .