At 8am it was over 90F.
Temps in the shade here today were 105F plus.
That equates to direct sunlight temps well above 200F.
Put an oven thermometer on your dash and take a picture when the car is in the direct sun.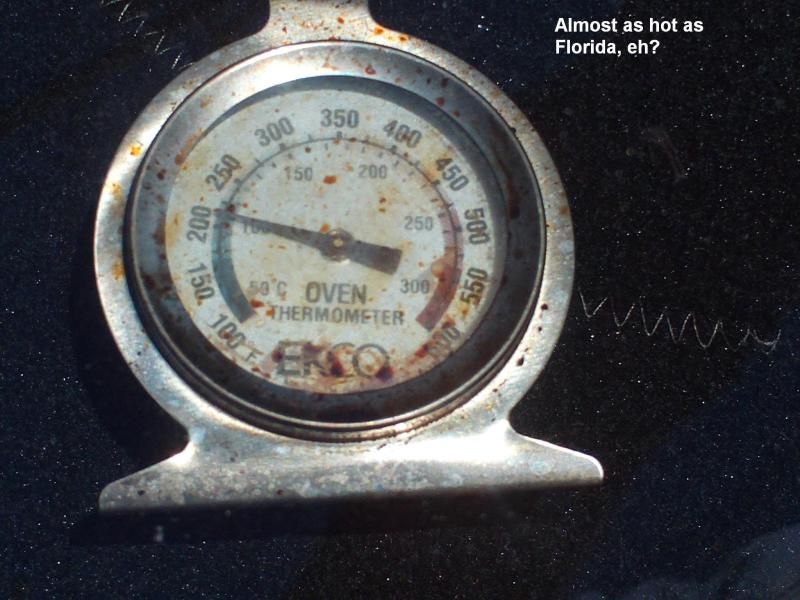 Then, add 20 pounds of factory A/C and 12 ounces of refrigerant:
With a fairly new radiator, the A/C will cool you fine on the hottest of days and not overheat your engine.
Without it, the wife will smack you in the head until you get the message.
You lose a mile or three per gallon of gasoline, but it makes the drive - 'no sweat' for the baby.
With your Volvo on the fritz, your GT must step up to the plate.
Drive early in the morning or after dark.
Years ago we used to strap canvass bags of water to the radiator:
You would wet the bag and the wind would cool the water.
In an emergency, you'd drink it, but hopefully it was only used for the radiator.
Heat in the desert during the Summer is no joking matter.
A mechanic has to have his $hit together and all the parts have to be 'tits'.
It is a very unforgiving environment.
In 5 minutes, you can blow an engine.
You'll think of something.
This idiot neighbor of mine decided to rent a car and head to Death Valley:
http://abcnews.go.com/US/wireStory/ap-p ... c4cXDu1Epk
Hint: don't you do that, eh?
_________________
DIY Broken Bolt Removal:
viewtopic.php?f=22&t=41042
DIY Clutch Adjustment:
viewtopic.php?f=9&t=48281
DIY Wheel Bearings:
viewtopic.php?f=2&t=29003
DIY Shocks:
viewtopic.php?f=10&t=45483
DIY Wheel Align:
viewtopic.php?f=2&t=42479
Once you get the cars dialed-in (compression, leaks, bearings, alignment, brakes) swap in new rubber and glass, you've got something which should last for years!