I put my system back together a few months ago, and I was wondering if one aspect is properly hooked up.

So it all starts with the power wire going to the positve terminal on the cap. Then the ground wire from negative terminal on the cap to the chassis (near the spare tire). Then the power wire being forwarded from the positive terminal on the cap to the amp. However I did not ground out the amp. Is this ok? System seems to work good other then the fact that when I turn the bass up it cuts out when I'm idling.
_________________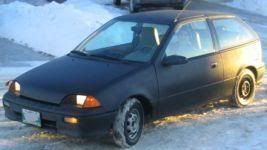 1994 Geo Metro 5 spd: All stockish. Re-built head, and lots and lots of donar parts
B to the ER'
1995 Camaro Z28 6 spd: Magnaflow 3" Cat-back, K&N, skip shift elim. and thats it...for now.