Ok, yesterday I received the co-axial speakers that I plan to install in the rear kickpanels of the Swift.
Fusion FES-6025 Encounter Series 2 way speakers
http://www.fusioncaraudio.com
6.5" Size
Freq Response 65Hz to 20kHz
180 Watt Max
I decided to get Fusion speakers for the rear mainly because the Brand has always been very reliable to me. While there are a lot of enthusiasts that like the brand, there are not enough to make it hard to find a good deal on ebay. I scored these for $20 plus $10 for shipping and the guy has more for sale on eBay right now (brand new and factory sealed). The Encounter series is a mid-tier in quality and price. I have run the PowerPlant series speakers in my competition car and they were very durable and sound great.
Pics of the Encounter 6.5" speaker.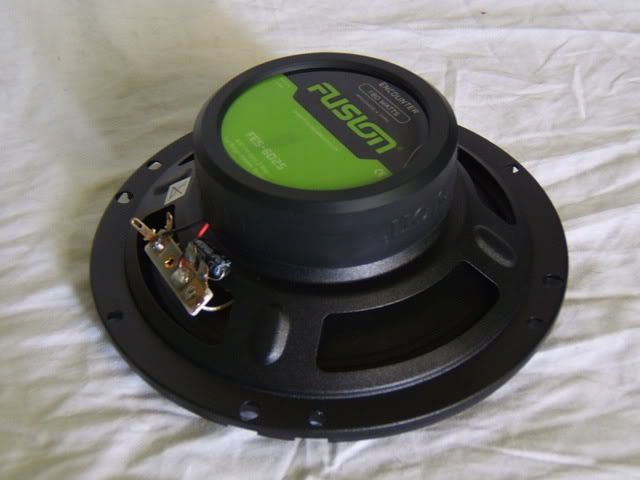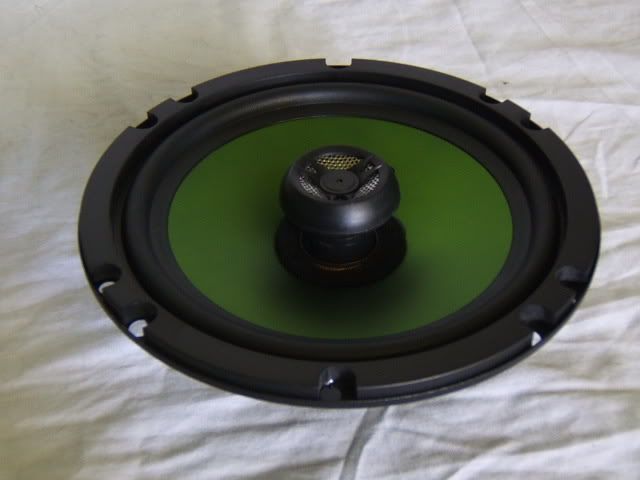 After opening the box and inspecting the speakers, the build quality is decent. One important design trait that these speakers have is that the Tweeter voice coil is tucked away in the center of the speaker and hidden. It is not run along the cone and "linked" to the tweeter. I think this makes for a much nicer look (not that anyone will see) but also reduces a slight amount of possible resistance of having an extra component of weight on the midrange cone.
In response to m:
Heh, too late, I already have a spare isolator kicking around (cheap kind). Mainly, I am considering getting a better one if the hum does not go away after the install. Hopefully that will not be necessary, because you are right. Good wiring = happy audio
Ported would be nice... I will highly consider that as the project goes further along. I have decided not to use any of my spare 12" woofers and I will be installing a single 10" in a small sealed box for now. I previously had the box (and sub) installed in my truck and the volume is matched closely for the sub's preference. Nicely, the sub is designed to be happy in a ported or closed box, so i could make the conversion pretty easily. I can appreciate both styles, Ported has a nice loudness, but sealed has a tighter punch. You got me thinking though... i have a great Old School Rockford 8" sub that sounds awesome, but I never bothered getting a box for it after I sold the old box many years ago. Gonna have to think about that one.
Underseat amps is a possibility. Gotta do some measurements. This will likely be the solution, but i am also playing with the thought of making a false floor and cooling system where the spare tire is located. Tough call though, i really want my spare tire available to me, but I wont ever be more than 40 miles away from home at any point anyways. Your input is valued, I most likely will be installing two separate amps. One 2 channel bridged for the one sub at 4 ohm and a separate 4 channel amp to run all the speakers. Right now I have a crappy spare sub amp that will do the trick for now & I am eBay shopping for a decent 4 channel amp for cheap.
Capacitors are always a good debate. I think that some installers depend on them waaaaay too much as a solution to power woes. I like them mainly for the extra kick they provide when the system is really being abused. However, as reality sinks in, I will not be abusing anything in this Swift so a cap is pretty unnecessary. If I end up adding one, it will be a simple 1/2 farad mainly for power "kick-in" on rare occasions. I read some of the threads and noticed that it is claimed that Caps can kill your alternator I would imagine that it is attributed to the added strain on the voltage regulator. And the battery is pretty new so it looks like magic 8 ball is saying: "All signs point to No... Do not get a Capacitor."
Thanks for your input... More info on the way as i get more components in the mail.