The beer did the trick.
I can't recall everything, but it looks like I've got cotton mouth, the shakes, and red eye syndrome.
Yep, the iron in my blood has turned to lead and settled in my ...well, anyway...where was I?
Oh yeah.
(Do not try this at home...)
The reason we pulled this puppy off the road was because of a TERRIBLE oil leak under the car:
or so I thought.
Upon further ingestion (reflection?) it appears the issue was actually the water pump and what I was
seeing was a mixture of coolant and water pump grease in the drip pan.
We certainly can't have that!
The main pulley on the crankshaft had gone biological on me, sprouting new growth in the vanes: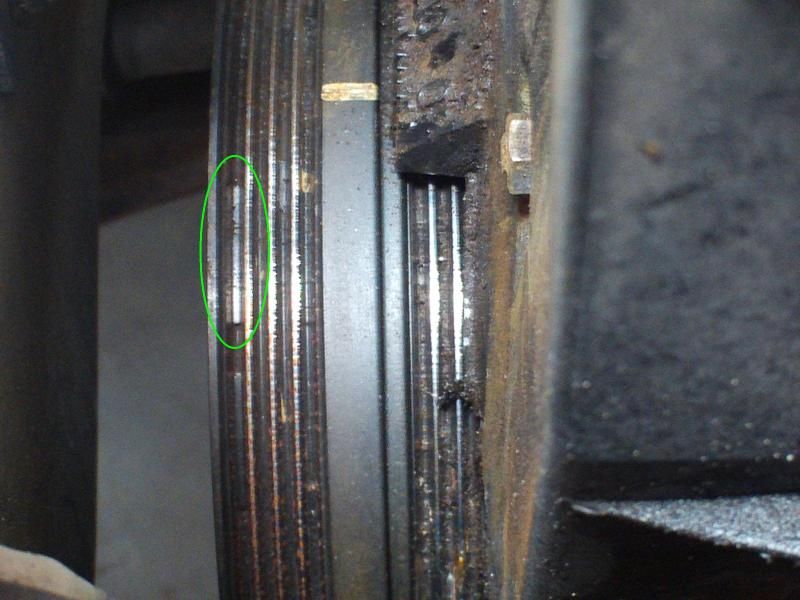 so it had to come off and get cleaned up.
The water pump pulley looked clean as a whistle on the front, but when it was pulled, the back gave a
different story: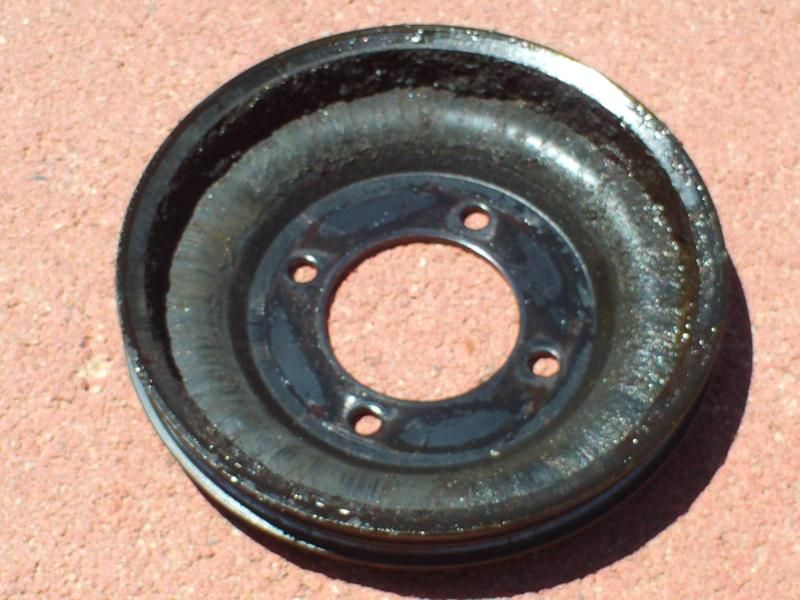 and for those of you who cannot hit 'control +' at the same time, here we go again:
Well into the 36 pack, it was a question of how to get that MONSTER bolt off the main crank: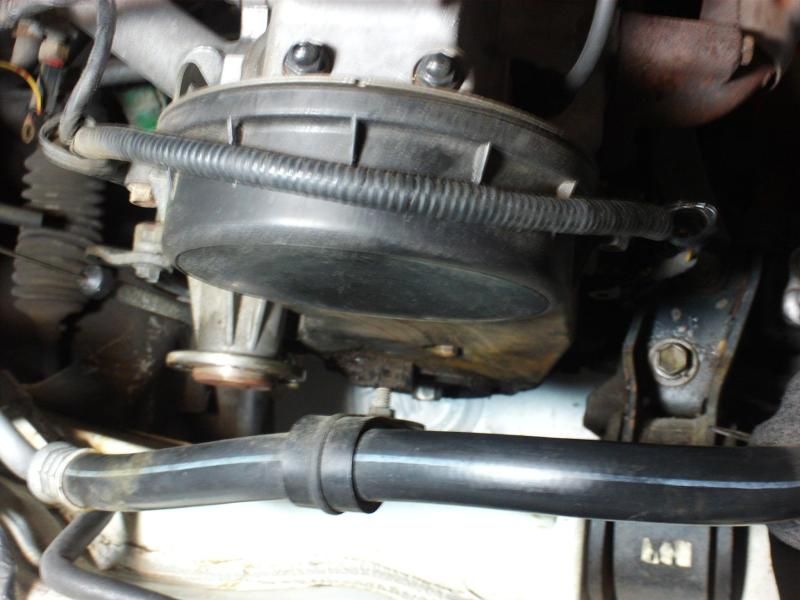 a few more beers, and I forgot all about it.
Next, it was time to cut off that plastic timing belt cover because someday, we may live up a gravel road and will want our timing to jump a few teeth.
I thought it would be nice to go at it with a pair of shears, and just cut the part I wanted off, but then
decided to carve my name into the plastic with a plasma cutter: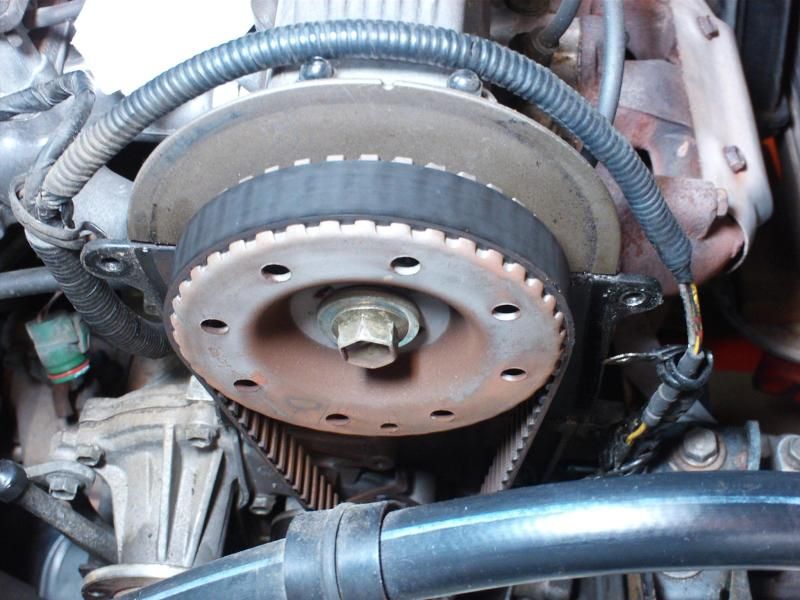 (I used invisible ink...)
Now that the timing cover was modified, and it should be a LOT easier to put a timing light on it,
I thought I'd have a look at the super deluxe special and VERY expensive Eristic head gasket that
the engine received. Sure enough, the head gasket was blown to high heaven:
no way that was oil seeping from the valve cover gasket, but it was worth another 'look see'.
It is possible that the valve cover was leaking a little bit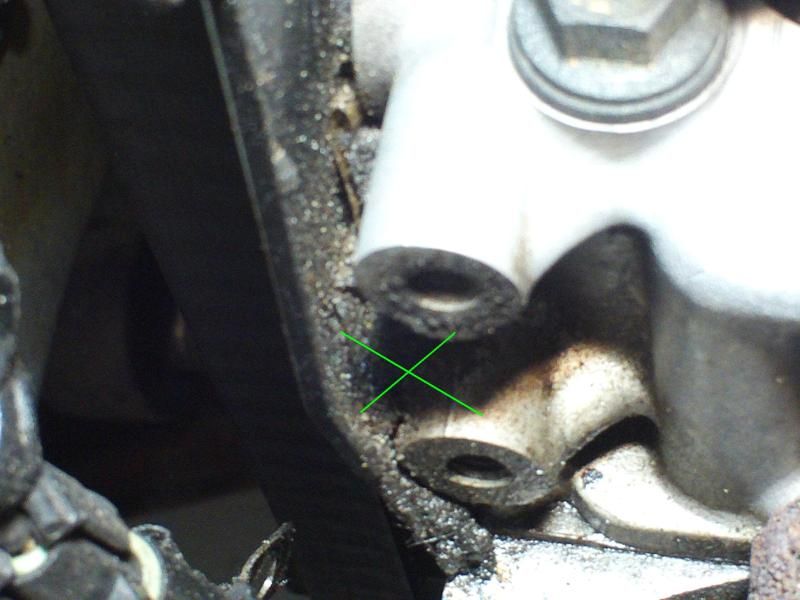 and the 4 valve cover bolts were a little loose, but it sounds so much nicer to blame it on the high
priced head gasket, so that's what I'll do. Should I change that head gasket? It sounded like a great idea,
but after a few more beers, I forgot about it.
Looking at the circles and arrows (with a paragraph on the back of each one to be used as evidence against me) I could begin to see the path of oil and imagined that the front main seal was leaking and leaking and leaking.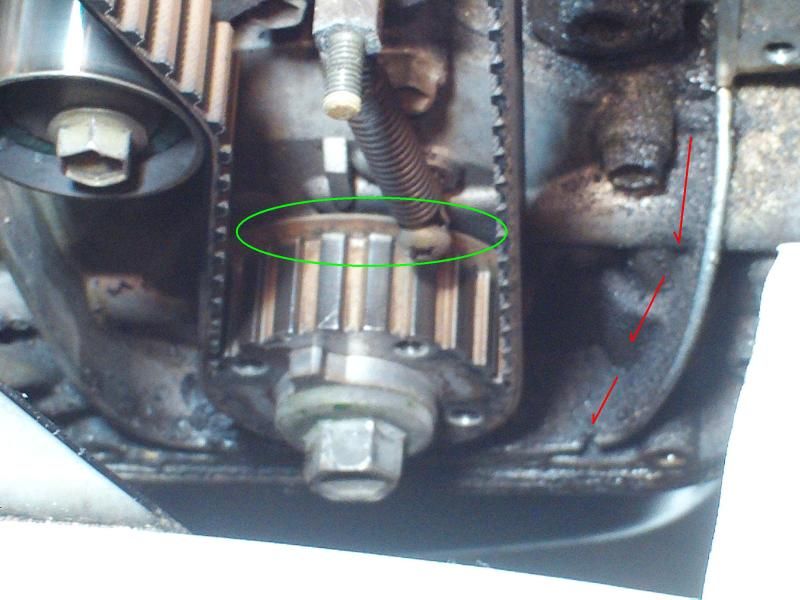 It was just my imagination, running away with me....
...so back into the 36 pack I went.
Sooner or later this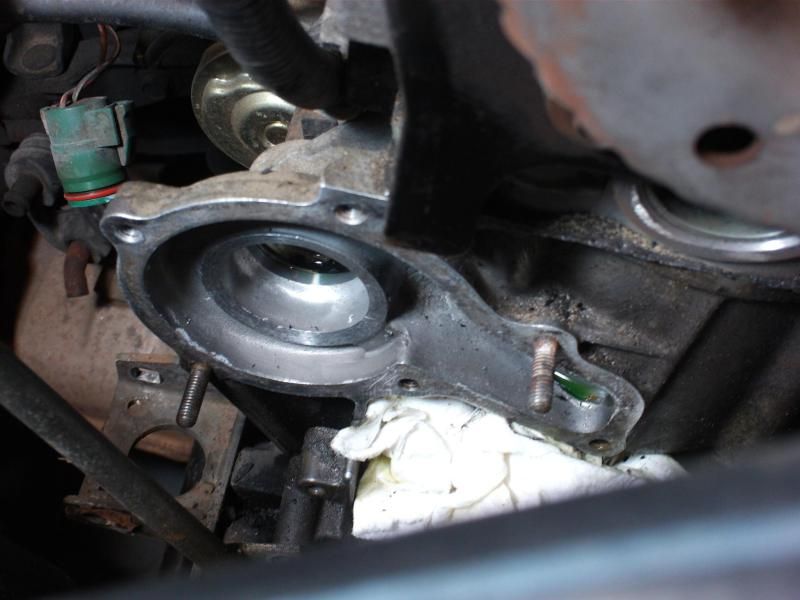 had to become this: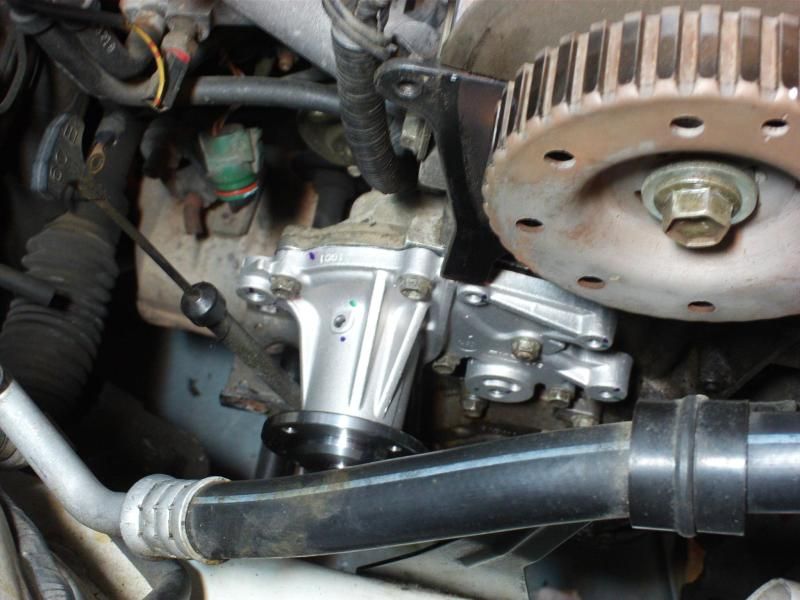 and that, ladies and gentlemen is a
rare, one of a kind, extremely expensive, hard to get, hard to forget OEM Style GMB water pump
...version 165-1150...(165-1120 is for the MK1)...
and I used one of my drawers of spare bolts to plug all the threads that were exposed and gave the entire
mess a steam clean.
(Do NOT try this at home!)
Now where did I put that beer?
It was time to start on a new 36 pack and put the engine back together.
This was getting to be real work.
My biggest concern was
how stupid those Suzuki engineers were when they designed this engine
and
I realized I could save an additional few steps by reverse engineering the timing belt.
This is what I settled on: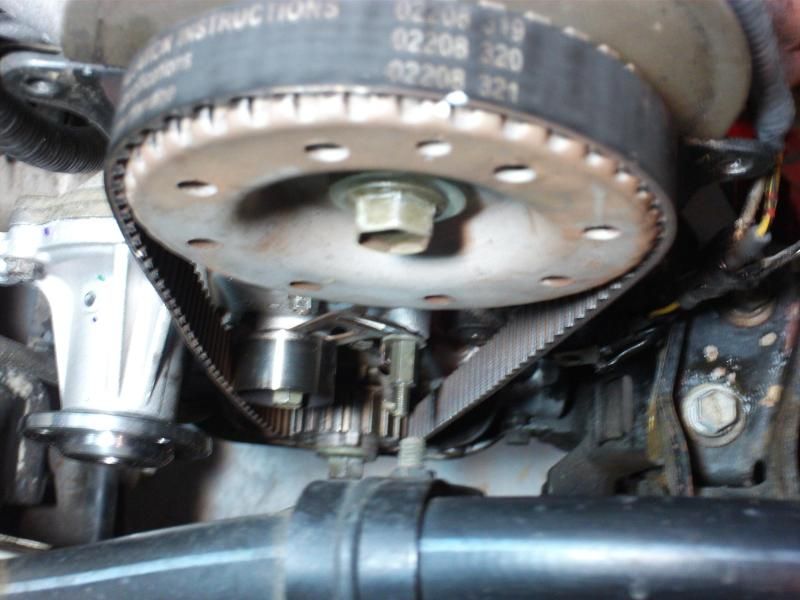 I call it my "Variable Valve Timing Kinda Shakes At Idle" modification.
You think it will fly?
Not wishing to have any surprises,
I made sure to swap the bolts and nuts so that nothing went back into
the same hole
and there were either bolts too short or too long for the hole.
If only they had put hair around it!
The oil had coated the front right horn, so while I was down there with the spray gun, I hit it up a bit: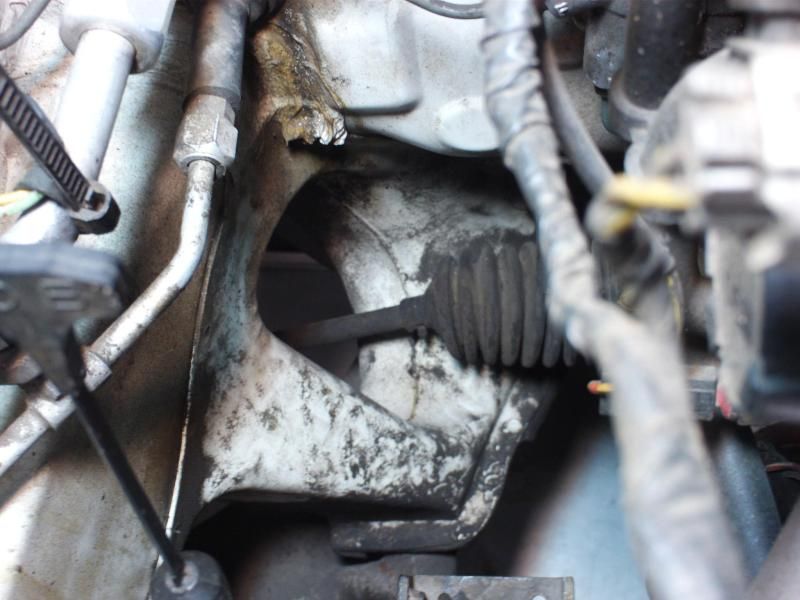 Next step will be to ghetto out something else, but first it is time for (you guessed it!) another beer!
Mama really doesn't WANT me to fix this car (can you tell) because she would rather tear up her commute
with the GTi, but TOUGH!
I want her to drive this and I'm the MAN!!!!
And if I want some tonight, I'd better fix that ghetto steering wheel cover:
Sure enough, even though I was well into the THIRD 36 pack, I was able to cut an hour off my last time for
sewing on those idiotic genuine leather steering wheels: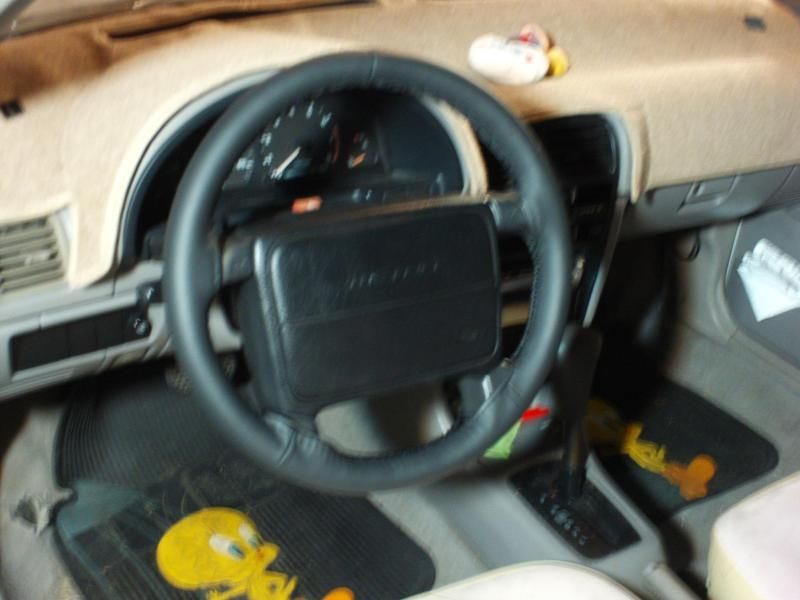 This morning, the car idled funny and the A/C didn't work.
I slammed a can of Freeze 12 into it, and figured it was my super smart variable valve blah blah blah...
Ya think?
She drove off and the first thing she said?
"Gee, I'm not used to this steering wheel, hee hee hee"
Maybe that's good.
For now, it's Memorial Day and I've fallen and can't reach my beer...
so that's a good enough excuse not to put away any tools for a week at least.
...so I guess I'll go read all the real SMART buying and selling threads...
and fire up the barbeque.