Enough of the diversions; it has been over a month since you've got a REAL update on this car.
Car is now street legal with California plates, insured and
-A/C is fixed
-Cat was replaced (Muffler shop cut out the original - it was EMPTY
)
-Car passed smog with flying colors
-shimmy at 70 mph was found to be unbalanced wheels; fixed.
Summer is coming and Mama needs a daily driver.
She's been driving the White Rabbit for almost 3 years straight.
You know women, they like to change cars, purses and shoes, right?
Well, you can't expect them to be happy driving a car with a big mud stain on the carpet:
So you better get with it.
Time to pull the seats, door panels and console!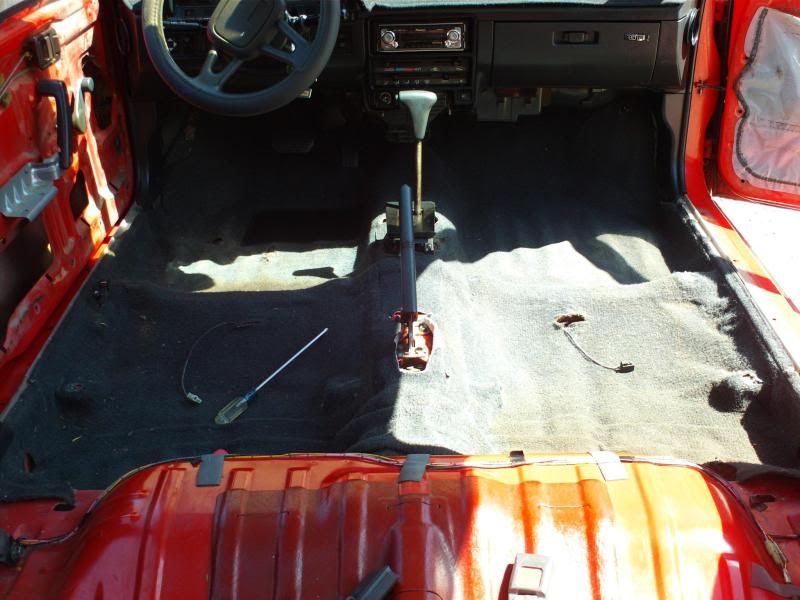 Do a quick check of the spare tire compartment: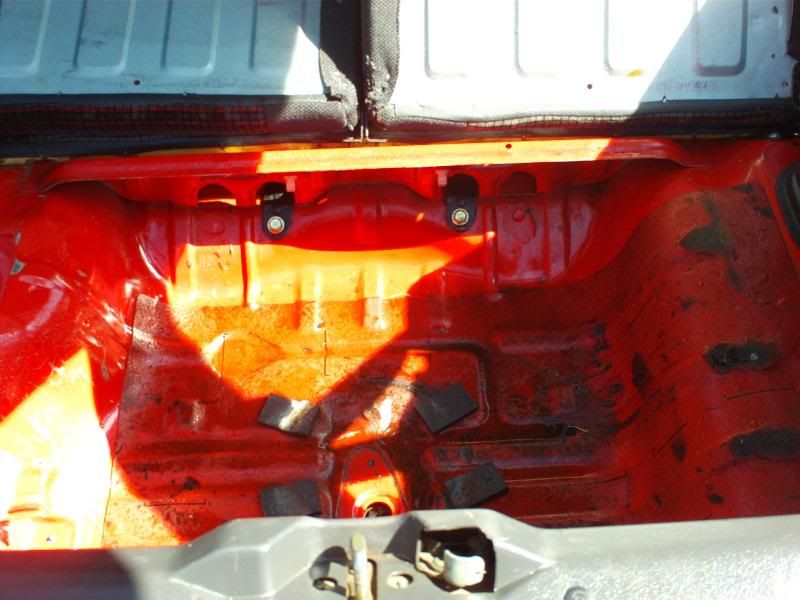 No rust. Good deal.
Now pull that carpet:
and take a close look at the body pan.
This area seems to be the big problem for most cars: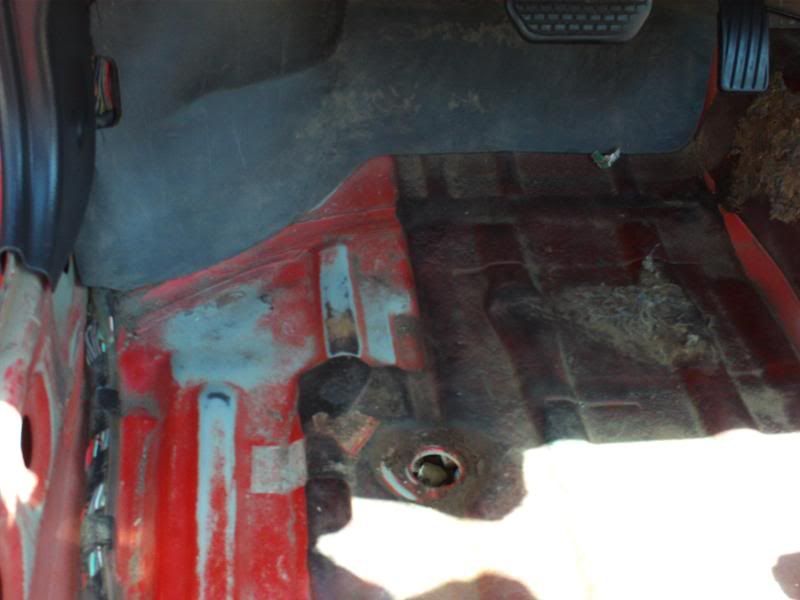 It's the front left section of the body pan.
Looks clean as a whistle, so this car gets an A+++ for 'no rust'.
Since the car will be driven by 'Her Highness', we pull out all the stops.
Instead of the cheapo Home Depot route, we actually spring for some real live sound deadener.
But we can't afford the bread board or bread box/Dynamat stuff.
Nope.
We pull out the trusty old 'knock-off' Damplifier-Pro: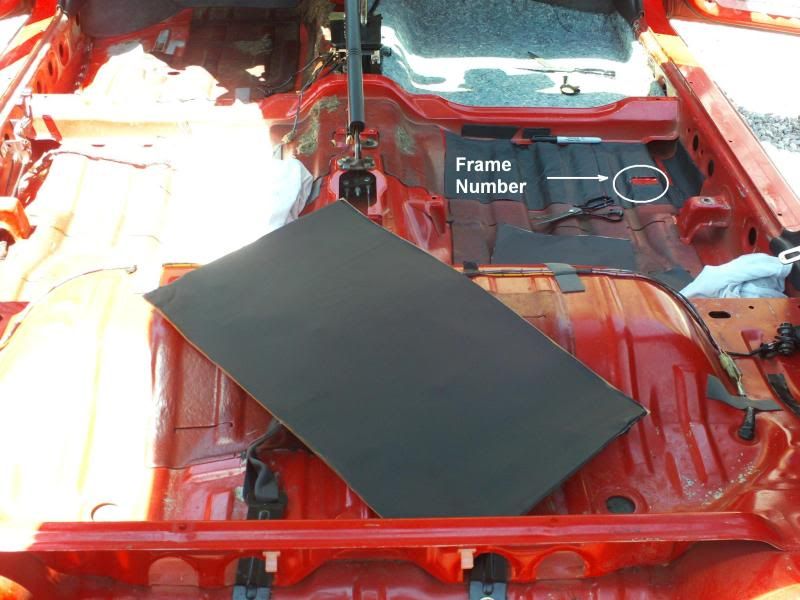 These days, instead of an aluminum finish, they've anodized it black.
Everything is black these days, pants, tee shirts, tires.
In case you've never had your carpet out, there's another place where the body is stamped with the frame number.
I've marked it for you in the picture.
But back to the 'Second Skin Audio' products:
They are competing with the big boys, so they 'try harder'.
Their Damplifier Pro is a bit thicker and heavier, and costs less.
It will go on the inside of the doors, but for this post, we're doing the floor pan.
Women like nice plush carpet and this one is getting OLD.
But it is a problem with the cushion UNDER the carpet.
After the Damplifier Pro is cut and stuck in place (just like the new postage stamps), I install some
HEAT WAVE: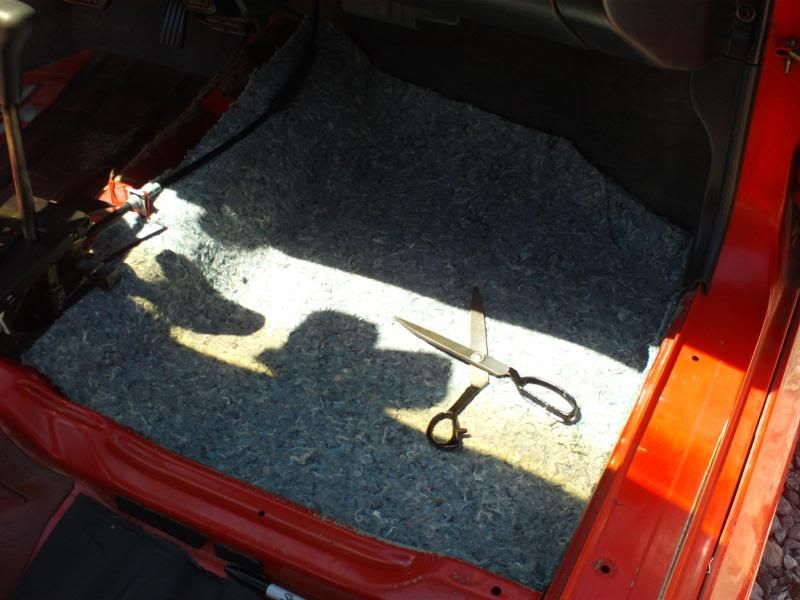 which doubles as a heat shield/sound deadener and a carpet cushion.
When the carpet is finally installed, we go from this:
to a nice little interior which is plush, quiet, and clean.
Buying a car sight unseen from 1,000 miles away requires a great deal of trust.
Teamswift members should take note:
Swifterthanu fairly represents himself on this board.
When he says he is selling a 'rust free' car, he isn't 'whistling Dixie'.
It took me 4 years to find this car; and I'm happy to say Mama LIKES it.
She drove it a few days and it was DIFFICULT to pry the ignition keys out of her hands and get her back into the convertible until I get a few more things fixed on it!
So the floor pan gets:
-washed and dried
-Damplifier Pro
-Heat Wave
-cleaned carpet
and the results are exceptional: each car we treat like this is a pleasure to drive on a daily basis.
The amount of weight added to the floor pan?
Roughly 5-7 pounds.
Since Mama is 100 pounds soaking wet, it isn't a big concern.
I like to keep a car as functional as possible, even during repairs.
So this car runs and drives.
Once the interior is back in, it will need some attention to the drive train and the dash.
The door and hatch locks are out
and when my locksmith gets back from vacation, he'll match the locks to the ignition key.
Women like things simple; one key fits all is the way to go.
This weekend, the car got a good cleaning inside. There's plenty more to do. The Wife is happy because when I do things to 'her' car, she is getting 'attention' and women LOVE attention!
If you are 'economically challenged' (like most) you cannot afford a new car.
But you
can
fix something to almost new condition if you get off that couch and try.
If you've ever driven a Metro, you'll realize that larger cars have a tendency to cut you off, and try to piss you off because they think they've got more power. (Probably because you've been laughing at them at the gas station!)
Take your time and restore one of these little jewels.
There will be a big smile on your face when you pass drivers who think you have a 'Metro'.
Think of it as your way of 'getting even' with those who don't know how to handle a wrench!
(edited to repair photo links)