Zap!
Let's do it once and do it right.
For most simple automotive electrical needs, the Cen-Tech 92020 DVOM is probably good enough.
You can look it up at harborfreight.com and get the specs and usually you can find a coupon to get one
free
.
I've used one for years and never have to worry if it gets fried on an engine because they are so cheap.
If you want to rebuild a Hitachi carb, I strongly suggest you get one of the more expensive DVOM's.
Here's an example:
and a look at the actual meter:
That's item 95670 from harborfreight.com and they are less than $50.
If you have more than $50 to spend, consider a Fluke DVOM.
These higher end DVOM's have a few more whistles and bells than the free DVOM and can help not only with your carburetor set up, but also checking to see if your radiator is due for replacement.
I'll leave the details and specs on the units to you.
Now let's talk about DVOM's and test leads:
Amprobe sells a test lead set w/ screw on alligator clips
which will NOT upgrade the
freebie DVOM
but will replace leads on most higher end DVOM's including the Cen-Tech 95670.
Thus, if you have a decent DVOM, but the test leads are toast, for less than $20 you can put it back into service.
I bring this up because a few weeks back my cheapo DVOM gave me resistance readings of 2 ohms on a flip switch and the error was in the leads.
Usually we are using DVOM's to check for continuity so it isn't a big deal.
So watch out for the leads on those free DVOM's if you are dealing with sensitive readings.
This next piece of advice is something more to do with household electrical connections, but may find use in the automotive arena if it is a dry location.
They are the Wago reusable connectors.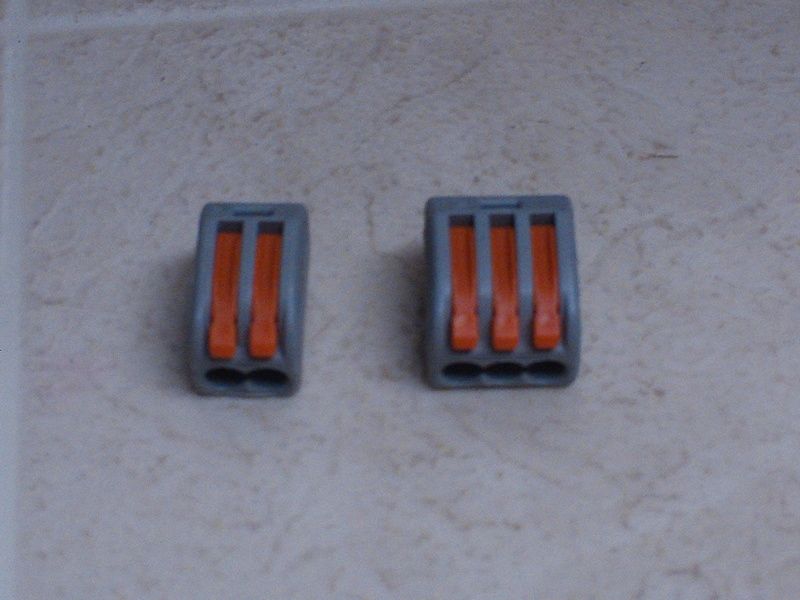 Here you can see the 2 and 3 wire connectors, but they make a few other interesting things.
These Wago connectors are getting pretty high reviews from pros and Do It Yourselfers alike.
You are restricted to certain wire sizes, so keep that in mind.
Eventually they may replace the old 'wire nuts' which are ubiquitous in North America but outlawed in many parts of the world.
For now, if you want to impress your neighbors with your electrical savvy, get a box or two of them.
Again, on the subject of electrical connections in a dry location I have been trying out the
Anderson Power Pole Connections
.
They are non-solder/crimp connections which have very little current loss and are popular with the CB radio and Radio Controlled Car/Airplane/Helicopter crowd.
You use a special crimper
and special connectors
which can be color coded for your specific application.
They make it easy to switch components if you are moving electronics around.
There are several accessories which can be used to keep the plug in connectors from coming apart due to excessive vibration or pull.
I've had good luck with them.
One good application for them is an external battery 'plug in' for a solar panel charging set up.
They make a special plug cover to keep out water when not in use and you can plug the car into the solar panel if it is going to sit for a few days.
Last, for electrical connections under the hood, or in areas which may get wet, I recommend the Weather Pack Connectors.
You've all seen them if you've popped the hood on a car.
http://www.wikihow.com/Assemble-Weather-Pack-Connectors
I think the Pack of Weather Pack is from Packard Electronics because their engineers designed them.
Just remember that there is an amp limit on those Weather Pack Connectors.
Having the right tool for the job is important when working on cars.
Some people in years gone by used to smell the exhaust and decide if they had tuned their carburetor correctly.
No matter how modest, you should use a sniffer designed to measure CO at the very least and leave the inhaling to the machines!
Timing
Sooner or later a serious mechanic needs to get his own timing light.
Again, you will hear old timers talk about how they used to set the timing by 'feel' or 'ear'.
Don't fall into that trap.
Do it once, do it right and forget about it.
Although I started this thread with electronics in mind, here's a no brainer:
Compression
Right underneath the members here who won't post a picture of their phantom cars are the members who have engine troubles but don't have a compression gauge and don't have a clue how to do a compression test.
These people provide insufficient information for decent analysis of problems encountered such as miss, loss of power, loss of coolant, overheating.
Any self respecting mechanic should have at least one compression test gauge at his disposal.
Anyone who cannot provide compression numbers for his engine probably would be better off dropping it off at the corner mechanic.