Let's say I rebuilt these two engines: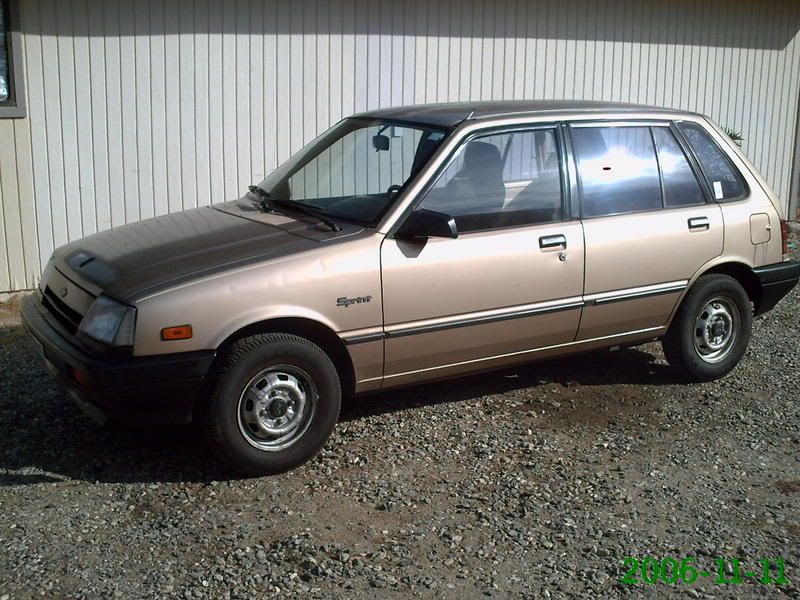 and I was a pretty handy guy, too.
One ran great (silver) and the other ran lousy (gold).
So I scratched my head.
All I could see different between the two engines was this: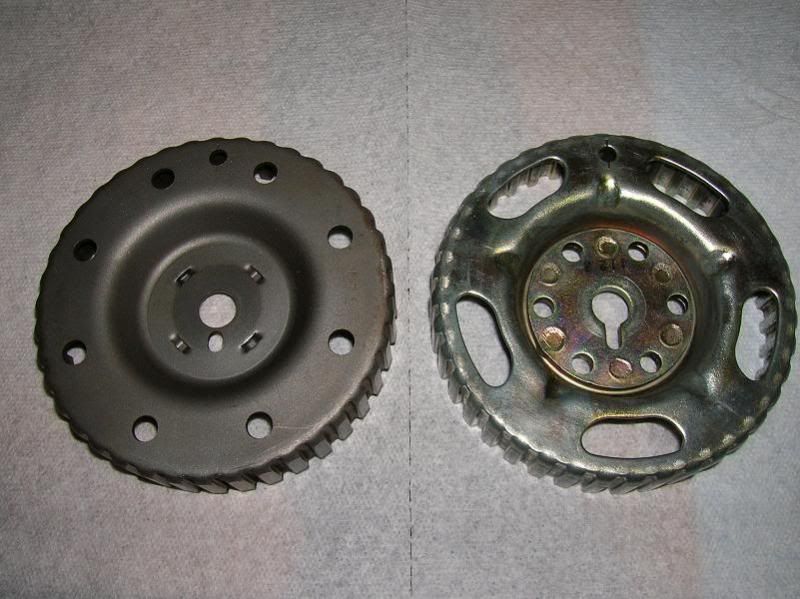 So I asked my neighbor (Ed) if he could see any differences in the cam gears.
He couldn't.
I had lurked on here for years and we decided to 'join' this site.
Hence the name "Phil N Ed".
We asked the good Mr. Suprf1y if there was any difference, and he was kind enough to say there wasn't any.
SO.....we're back to square one.
Long story short?
Finally the Gold car was fixed. It was the MCS. I drove that stupid car for months before I got around to rebuilding the carburetor. The float wasn't the problem. It was the MCS. I drove it into town today. 75 mph the whole way, and she scoots along just fine. Really pisses off the newer cars, too. I do shut down the A/C on the hills, though.
I LOVE my 87 4 doors (above). They don't look like much, but are fast lane commuters once the engine is thoroughly warmed up.
Save yourself some money.
Fix the float level first. If it won't idle right, that's your problem, especially if the level isn't in the glass.
If you want an MCS, let me know. A new MCS can fix a multitude of sins. If I ever sell one, the money will just go to another member for parts he is selling. I'm not making a killing here!!!
Probably before the year is out, I'll be picking up some underbody braces from the fellows on this site.
When I do, I won't haggle with them on the price.
If they want my core, even if I broke it pulling it out, I'll throw it at them.
Last bit of advice: check your bowl vent solenoid to see if it's opening. It's a cinch to check and sometimes they get stuck. If you clean the plunger and put it back together with a little silicone grease, it should work fine again.
When they get stuck, it makes the car run funny. Try and fix what you've got doing the quick cheap easy fixes first.
Some guys in Arizona log on here and want to theorize or argue.
Don't be like them. Just fix your car-it's easy if you take it step by step.
Then, when the next guy runs into the problem, give him a hand.
Here's the carburetor repair manual again:
http://s145.photobucket.com/albums/r211 ... ?start=all
It's the 85 year model, so it might be just up your alley.
Hot, hot hot is the weather for the next few months in Arizona, so get that car dialed in right NOW!
You have a lot of support from the membership if you want to make your car right.
That manual listing isn't originally mine, but I did organize it and label each page so you can find what you're looking for more easily.
YOU CAN DO IT!!!!