Ya right that would just be something I would do
But NO I didnot.!
I missed on the deal of the year.....
Congrat to the luck bastard that got a smoking deal.
A solid car from a good Guy
the new owner going to get some sweet parts with this deal....
..........Excuse me now I'm going outside to kick myself right in the arse...
then pick myself up go sit in my GTI and make vroom vroom noises
...... What I wont be doing is grabbing gears like a monkey with an itch
.
.
.............jv&s
.
.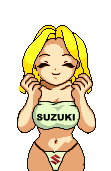 .
_________________
.
t3 ragtop wrote:
the 3 banger isn't at all a "grenade." it's a tough little son of a bitch doing a big job. respect it.

suprf1y wrote:
I didn't save anything.Vehicles are to me, like little boys are to Tommy.Toys to be abused for my own personal pleasure.
jrjd wrote:
"Driving a Swift GTi is like driving a bike in your house".