Anyone ever driven an Subaru WRX Sti? They have the all-time best sequential LED shift lights mounted in the driver's periphery, just above the guage cluster. The first 3 LED's light up sequentially as you approach redline, then all blink simultaneously at the shift-up point. Much less distracting and accurate than the old "flashlight" style bazooka shift lights mounted to those huge old-school tachometers. I want one, for my swift, so I do not have to look down at anything at all during a sprint race....and I found one! Anyone else interested?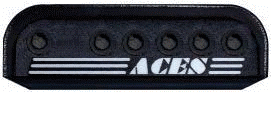 The website is here:
http://www.aceserve.co.uk/new04/
Features of this UK product are: 6 total programmable set RPM point alerts, plus one low RPM warning light (to help keep you in your powerband, or you can use it to maintain a pit lane speed, monitor gas mileage, or just turn it off.
We would be looking at the basic model, the SB. Included is a controller module to be mounted under your dash, the shift lights in the shaded black housing, and all the wiring etc. needed. Plus detailed instructions. These units are expensive though, but extremely accuarte and useful for aggresive driving, especially in environments where you cannot afford to take your eyes off the road for even a second.
Price would be about $385 Canadian. we would need to sell about 10 units to get that price. I doubt there will be that much interest from this board, so I may haunt a few others...
(it would be nice to keep it within Team-Swift, because we could porder custom graphics for the fronts of the displays)