My Wife recently acquired 2 convertible parts from Sir Frederick.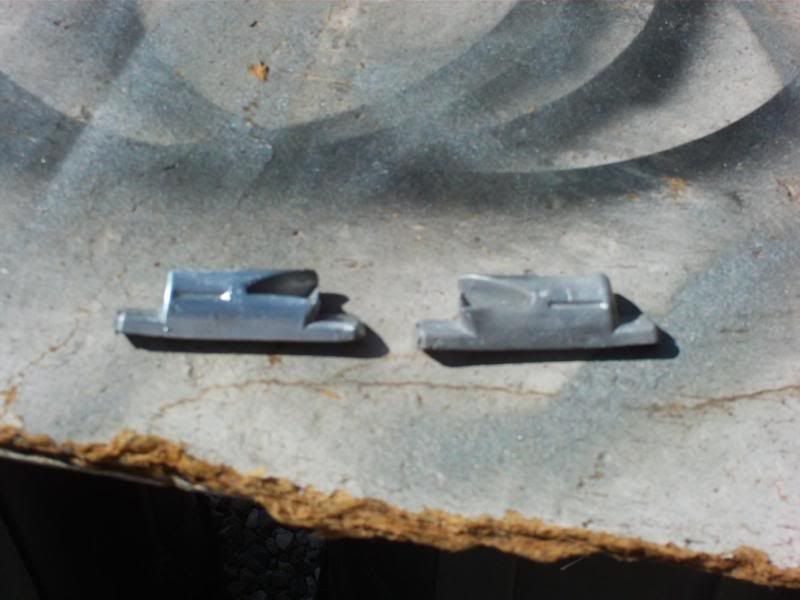 (sorry for the particle board background)
These latches are much stronger than the OEM material, and are in the process of being fitted to her car as a 'reversible upgrade'.
The piece on the left shows initial polishing, and upon final polish the set will probably necessitate sunglasses for the vehicle operator when the top is down...perhaps reminiscent of the chromed 'beaver shot' glove boxes of years gone by
.
His workmanship is evident in
each
of the carefully handcrafted pieces.
The greatest percentage of convertible owners will
not
be able to afford these one-of-a-kind parts, yet they are
most appreciated
as there was some concern that the high winds in this region might accidentally rip the soft top off during a brisk drive.
Packaging, shipping, and delivery were all done in a timely manner, and he was a true gentleman with our modest transaction.
If you are interested in an unusual but functional present for that special someone in your life who loves their convertible(s), these are humbly offered for your serious consideration.
We rarely deal with people so far away, but:
Manutea (Frederick) is a serious, thoughtful, clever, gifted and talented member of the Teamswift board, and if he is selling something you want, expect a smooth and pleasant transaction. He makes a strong case for the members in Eastern Canada!
_________________
DIY Broken Bolt Removal:
viewtopic.php?f=22&t=41042
DIY Clutch Adjustment:
viewtopic.php?f=9&t=48281
DIY Wheel Bearings:
viewtopic.php?f=2&t=29003
DIY Shocks:
viewtopic.php?f=10&t=45483
DIY Wheel Align:
viewtopic.php?f=2&t=42479
Once you get the cars dialed-in (compression, leaks, bearings, alignment, brakes) swap in new rubber and glass, you've got something which should last for years!