It's been a long time since I've actually STARTED a thread, so grab a cup of your favorite beverage and check it out.
Punxsutawney Phil
http://en.wikipedia.org/wiki/Puxatony_phil
saw his shadow today, which means it is Ground Hogs Day, that revered holiday celebrated with great gusto throughout North America. We've got 6 more weeks to get those engines off the bench, and today is a good day to look at your head locator pins.
Those two hollow locator pins have a tendency to get stuck in the head; how can you get them out without any damage?
The machine shop has tools to get them out, but if you have two left thumbs, here's a way to do it without breaking the bank.
First, a list of our tools:
You'll need
1.) A head bolt. I'm going to be using the 3 Tech head bolts, proving they are multifunctional and as usual, I recommend you buy your parts from the guys who support this site.
2.) Some kind of hammer or tapping device.
3.) A Vice Grip holding a fairly decent box nail - make sure it has a good head (insert joke here).
4.) The two pins removed with no damage.
Next, our set up, or the 'before' shot:
Prior to getting that sleeve out, you put the nail head in the little space above the collar.
You will be able to 'feel' the gap, and you can even put the nail in at an angle to help hold it.
You'll be tapping that head bolt, and moving the head of the nail to several different angles until it moves.
Last, our 'after' shot, showing the finished product: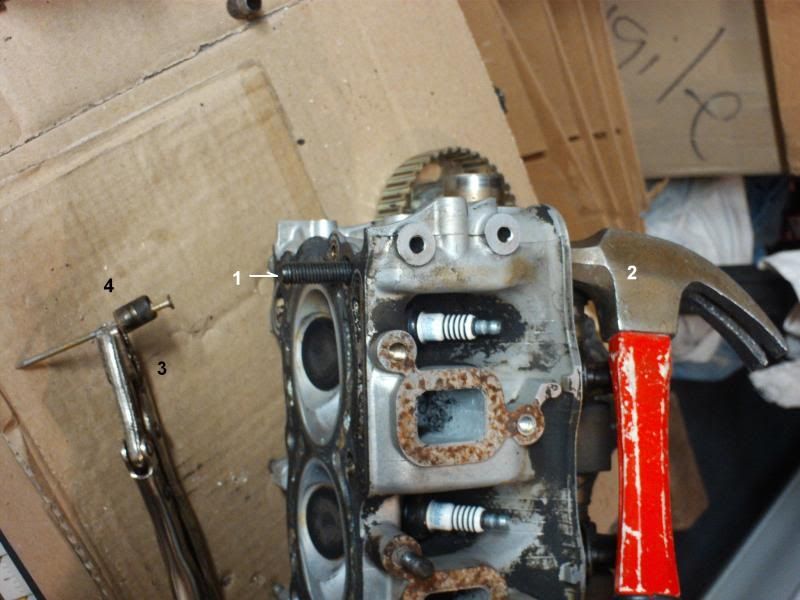 The hammer has not damaged the 'valve cover mating' surface of the head, the head bolt tapped the nail head, which pushed the little spacer out cleanly and with no damage.
You can vary the technique by placing the nail in from the top, and skipping the head bolt, but sometimes the nail will bend.
Next time you are confronted with a stuck sleeve, give this technique a try.
I've been using it for many years and haven't messed one up yet. When I get in a hurry, and try to use the Vise-Grips and yank out that collar without the nail...my two left thumbs end up scoring or crushing those pins.
Hopefully, this 'back yard mechanic' technique will not make the professional cylinder head men cringe.
It works.
_________________
DIY Broken Bolt Removal:
viewtopic.php?f=22&t=41042
DIY Clutch Adjustment:
viewtopic.php?f=9&t=48281
DIY Wheel Bearings:
viewtopic.php?f=2&t=29003
DIY Shocks:
viewtopic.php?f=10&t=45483
DIY Wheel Align:
viewtopic.php?f=2&t=42479
Once you get the cars dialed-in (compression, leaks, bearings, alignment, brakes) swap in new rubber and glass, you've got something which should last for years!