Front wheel bearings are pretty simple to install; once you have done them, that is.
For those who have never done them, here is a short photo session to show what is involved: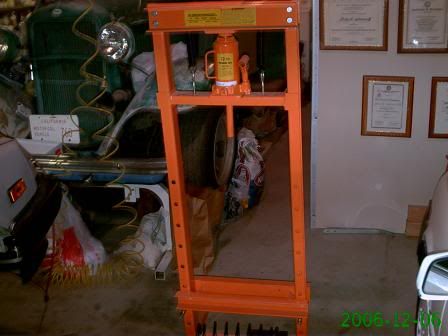 Although an orange 'shop press' is visible in the photo above, you will
not
be using a press to change these bearings. This is a "poor man's do-it-yourself"...
One way to do it involves removing the tires, etc until you get to this: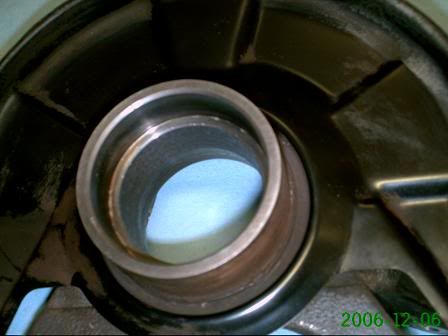 One of the tricks to get to that point is to remember the raised portion in the center (centre) of the hub which is not removable. You will need to punch out the old bearings using this technique: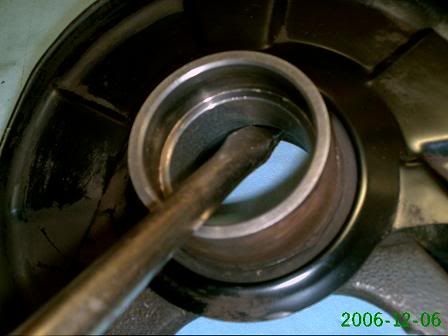 You can put the first bearing in like this:
The final seating can be done something like this: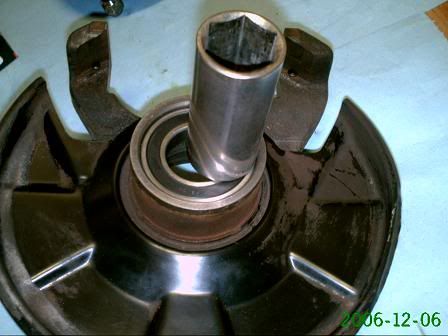 but be careful not to damage the plastic seal cover, and tap down the inner and outer race evenly until the bearing seats against the inner knuckle raised portion.
And that lets you get the hub ready: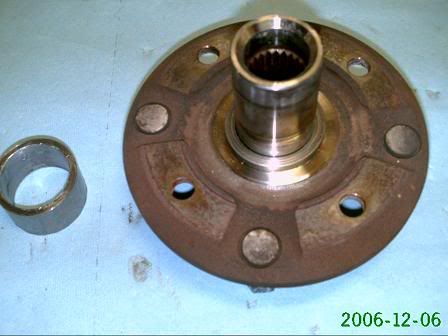 You'll need to install the rotor at some point. This might be a good time.
If you can pound the hub assembly through the first bearing like this: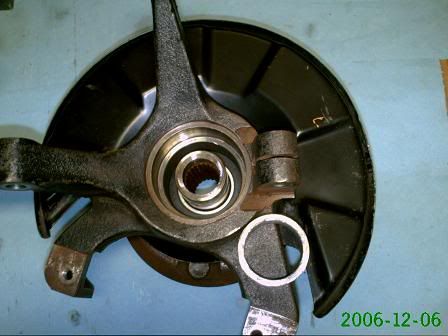 (notice the spacer at the 5 o'clock position in the photo)
You can pop in the second bearing with no sweat. (Don't forget the spacer.):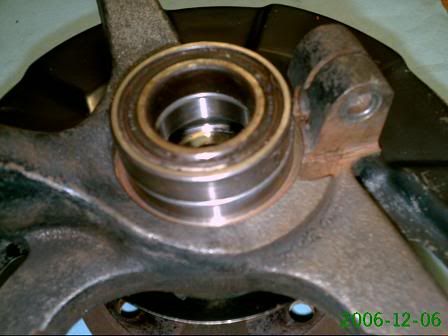 Once you get the second bearing in, the seal is a piece of cake. Here the seal is under the bearing: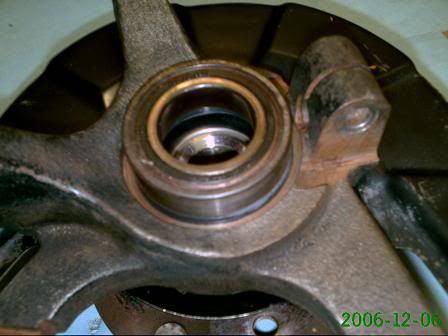 And then, once that is done, you should end up with something like this: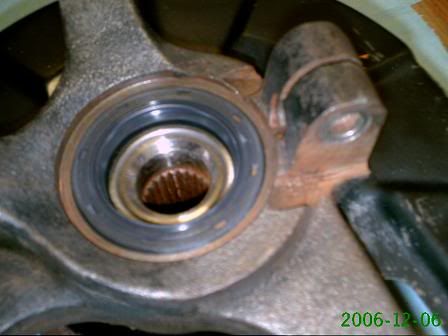 That's really about it; anyone with an interest in saving money can do it themselves. No need for a shop; no need for a mechanic.
I have placed a few more photos, with a few more instructions at:
gallery/album.php?id=74&sort_method=image_time&sort_order=DESC&start=20
and here:
http://s145.photobucket.com/albums/r211 ... 20Bearing/
Certainly hope this helps those who are willing to do front wheel bearing replacement, but just needed a little push.
The changing of wheel bearings on a front wheel drive vehicle may cost you at least $200 labor per side, as the mechanic must remove the front wheels, axles, sway bar, brake caliper, and employ a shop press, air tools, clean up the grease and grime from a traditionally dirty area of your vehicle, and may find other parts which need replacing. This is a very important part of your car. Although the repairs may cost $500 to have done professionally, you should take comfort knowing that once this is done right, you probably won't have to do it again. A big plus is the safety factor you bring to the open road.
If you are driving with 'out of balance' tires, this may damage your wheel bearings and eventually the hubs.
Repairing wheel bearings is something you should be familiar with if you wish to have a safe ride for your family and wish to save a considerable sum of money.
(Edited 4/4/08 to update last hyperlink)
Edited 11/16/2011 to include another hyperlink.