Time for a little update.
Suppose you are driving "Little Red Riding Hood" and you hear a roar in the back seat area which seems to go away at a stop sign; chances are it's a bad rear wheel bearing.
Let's swap it out.
First, we lift it up, put all the safety nets up, and pull the wheel and tire:
...there we are.
Now, let's tackle that pesky dust cover.
A thin flat head screwdriver seems to be made for the job.
We give the screwdriver a few firm taps with a small hammer, and poof: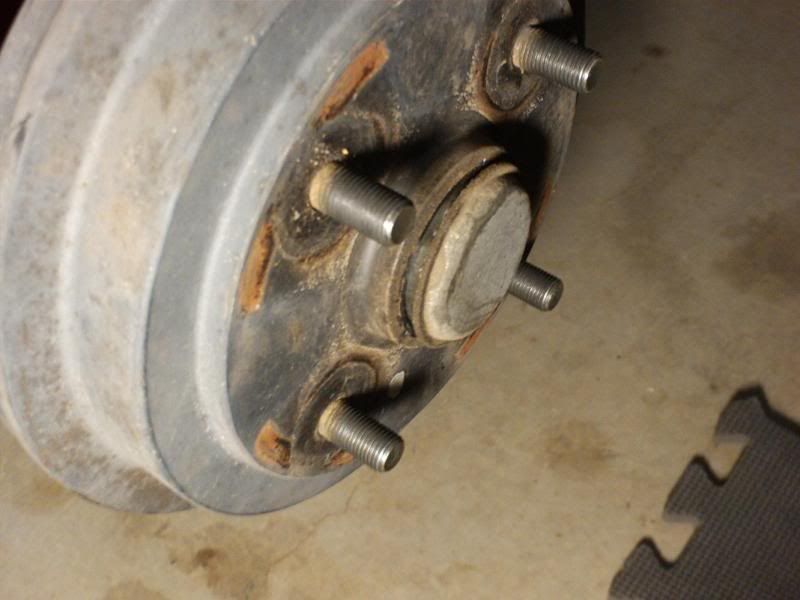 ...you've got it half way there.
Now, rotate the hub 180 degrees, and pop that dust cover off!
Once that's done, we can see the 'staked nut'
which we want to unstake.
Grab a flat chisel, because most of the time when you use those long thin screwdrivers, their tips will break off.
Here's one about to break: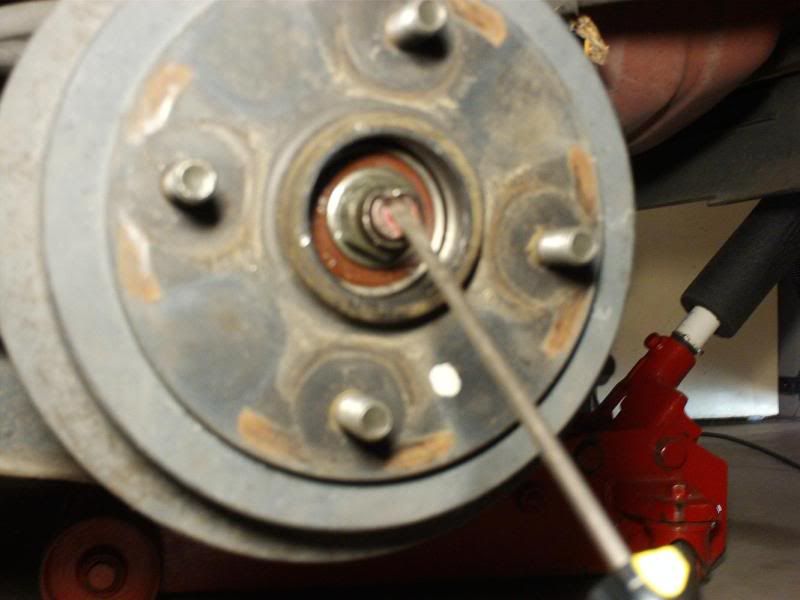 If you tap on the end of the screwdriver, you might be OK, but if you try to pry, instant failure of that screwdriver tip.
So now, we head to the 'unstaked nut' with a breaker bar and an appropriate socket:
Once that nut and the washer behind it are off, the hub should pull right off.
Here's where it gets tricky: sometimes it's stuck on and you have to use a slide hammer, or maybe you can get by with a simple trick: put the wheel back on the hub, and use the additional moment arm to pop that hub right off.
Now that the hub is off, we need to go high tech.
Here is the hub
surrounded by our super high tech wheel bearing removal tools.
You elevate the hub a bit
again we are using some mismatched pieces of wood to lift the hub.
Then you take that long rod, and put it into the lower bearing inner race and give it a few wacks.
Turn it 180 degrees and do it again.
Then, you should have your bearing out.
Here you can see the old bearing has been removed and a new one is almost ready to go into its place: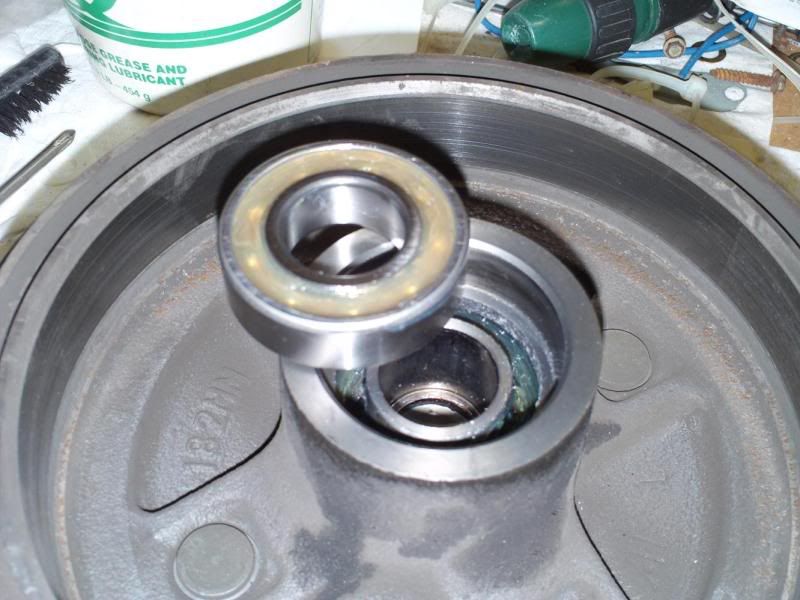 First we wipe all the excess grease off the hub where the outer race of the new bearing will be going.
Then we flip that packed (greased) bearing over, so the dust shield is facing out.
Here's what you should have:
If so, good.
Now, grab that old bearing, wipe it off, and place it on top of the new bearing. Then grab a hammer and carefully tap the old bearing while holding it firmly on top of the new one.
In this case, the new bearing will bottom out before the old bearing gets stuck, so you are done.
That's about all there is to changing the inner bearing on your rears without any special tools.
Make sure you take the time to add grease to the new bearing if it doesn't have a dust shield.