Welcome aboard Bret! Hate to break this to you, but you need to source another transmission. And fairly quick. Until then, dump the transmission oil and add fresh. That may buy you a little more time. But not a lot of time. There's metal shavings, in the oil, eating up what good bearings are left.
_________________
.........I'll be back in a bit........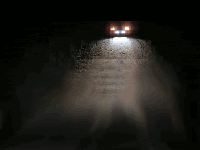 Extreme Make Over....SnowFish Addiction
1991 Metro Xfi Sport, Crower F12142 Cam, +2 degrees on adjustable sprocket, .020 Over, Balanced & Blue Printed, 3.79 final drive, WhiteLine Bushings Everywhere, 185/60R14's, TBI Bridge Delete, Edelbrock Air Cleaner, Stainless Header, 2 Inch Exhaust, Magnaflow GlassPack, Swift Twin Exit Muffler.