Well, on Saturday, I was getting really worried about the weather. It literally poured buckets all day long. The first person I contacted was RacerX who was staying in a nearby hotel and we decided to check up on the campers near the park. There was some slight confusion on which campground the others were staying at because when we went to Lake Village, they directed us to the Pymatuning State park. RacerX followed me there and we found them!
The camp was wet, but we found bbjsw10, CoyoteX, Hacksaw, and XFi all safe and sound with their friends/family. They had a large tarp over the tent area to keep dry. bbjsw10 was actually getting packed to leave, but we talked him out of it and glad we did! We spent a few hours there and metroshultz called and was on his way. The rain stopped and the skies cleared a little. We hung out with the campers to keep their spirits dry
Happi also stopped in with his wife and visited for a short time. He could not make the meet, but found us at the camp. It was a pleasure meeting him.
We planned on meeting back at the camp in the morning and all head to the pavilion, but ended up arriving there a little late at 10:15 AM. CoyoteX also got a call from HOGBELLYRACING who was having some mechanical problems. Rick helped him fix it over the phone and I talked him into coming. There was someone sitting in the pavilion when we got there and I was then introduced to GenevaDirt. The sun was coming out also!............
Here is our reserved pavilion note..................
We backed all the vehicles in along the front row across from the pavilion and other started showing up including two Festiva owners who were great company!
The reporter also showed up from
www.environmentreport.org
and interviewed a few of the owners, took a couple ride-alongs and took pictures...........
The pavilion filled up and we all had a great time and great food............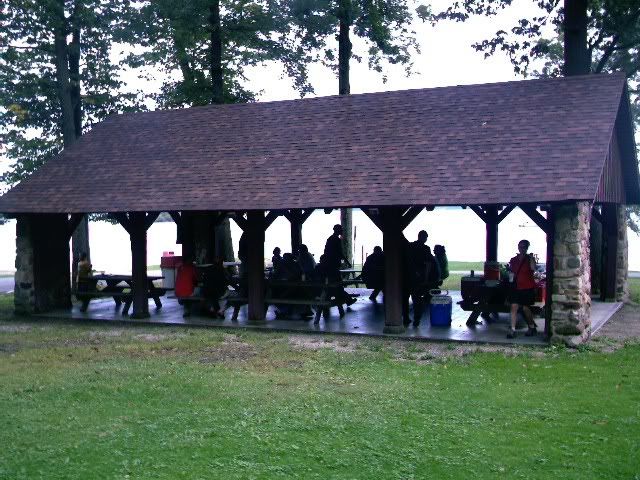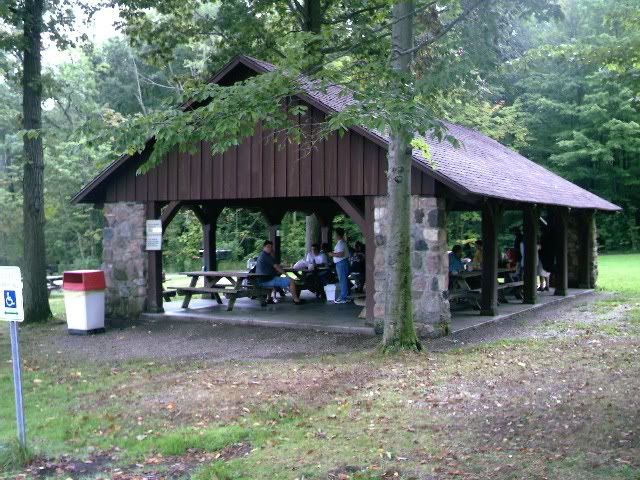 After lunch, Rick (CoyoteX) and his friend had to get on the motorcycles and head home before the storm came in. We all knew it this cold front was coming and Ike would be riding it's tails messing everything up. After a few hours more of chatting and getting to know each other, we decided to do our own little photo shoot with the cars before our covered bridge tour.
We saved fuel doing this also..........
Here is our small photo shoot. There are many, many other pictures floating around and I am sure the rest of us will share them..................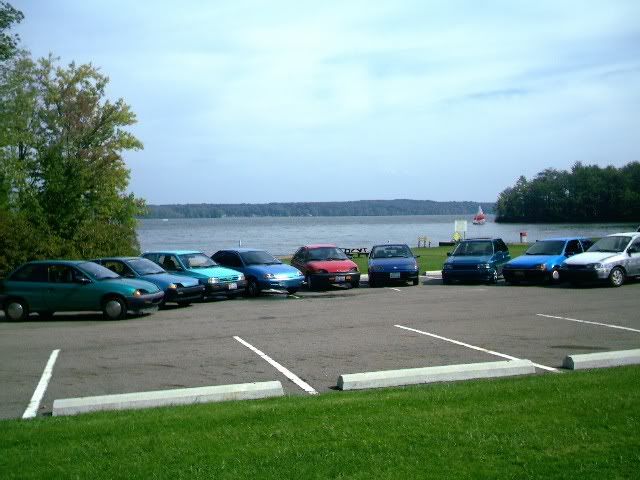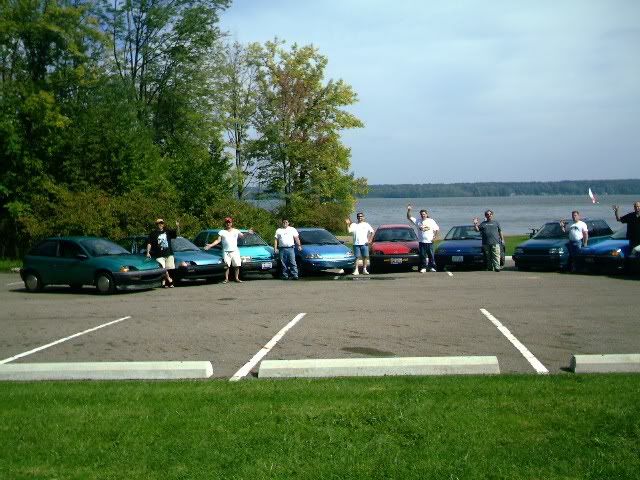 At 3:00 the sun was still shining and a warm breeze was was coming from the West. We went on our covered bridge tour on time and Geneva Dirt stepped up and wanted to be our photographer! He took images and video of the tour at all the bridge locations. He did a splendid job and am glad he joined us. My camera was out of room, but I made room for one more! We stopped at one of the bridges walking distance from my house and everyone was commenting on what the sign said and I never even knew it...........
bbjsw10 and his son split off from the tour right after that bridge and went home. At the last bridge stop, metroshultz and his wife went back to their hotel while RacerX, Hacksaw, and HOGBELLYRACING went to Lake Erie. XFi parted also and we parted ways with Geneva Dirt. The wife and I went home to put food away and we all agreed to meet up later. Hacksaw and his brother stopped at my house for firewood and a tarp for the camp. I told him I would come down later and check up on him and the others since the weather was getting very windy and almost scary outside.
That night the winds got really strong and we were having power outages. There was no rain, but I was getting concerned about the campers even though we were also planning on seeing metroshultz at the Hotel and maybe use the pool and other creature comforts. I called RacerX and we agreed to go to the campsite first. The trip back to the campsite was right out of the movies with high winds (60MPH gusts), trees across roadways, branches down everywhere. When we got to the camp, it was a disaster zone! Branches and limbs everywhere and totally dark. HOGBELLYRACING, Hacksaw, and his brother were all in the middle of a campground that looked like a tornado swept through sitting at a picnic table having drinks and having a good time, so we stayed with them and together we were riding the storm out for a few hours. We called metroshultz and canceled the trip to the Hotel and talked him and the wife into staying where it was safe while we hung out. It rained a little, but not much. We had the skies breaking up and an almost full moon to light up the lake. It was a strange, but beautiful site.
We will be doing this again next year, but at a date near the end of July and on a Saturday so more people can join us. It was a great turnout and we all had a wonderful time!