From
GeoMetroForum.com
...........
Quote:
GeoPalooza 2010 is coming up so in order for people to make arrangements for the 3rd Annual Geo Metro Meet, I decided to announce the dates of the event prior to having the actual location set in stone. The meet will be held in Ashtabula County, Ohio as it was for the last 2 years. This years event will be a "Weekend Adventure" instead of a few hour event including a couple scenic runs with our rides. This will make it easier for those who travel long distances to have a good time. GeoPalooza 2010 will be held
July 24th - July 25th 2010
. Discussion on the event can be made
HERE
on the forums. Location of the event will be posted at a later date including travel and lodging info. You can check out a few threads on previous held events by reading the threads for
GeoPalooza 2009
and
GeoPalooza 2008
. Stay tuned!
The 3rd Annual GeoPalooza is taking place on
July 24TH and July 25th 2010
and will be held here...........
Wildwood Acres Family Campground
6091 Marvin Rd
Andover, OH 44003
(440) 293-6838
Open Weekdays 9am-5pm
If you are camping, please call and make your reservations now! You will need to send payment via snail mail by check or money order only after calling. They have no website or online transaction abilities. You need to rent a spot for 2 nights (Friday the 23rd and Saturday the 24TH) and 2 cars and a family of 4 is allowed per spot. People traveling together can arrange this. Rates posted below.
Primitive Site - $23.00 per night
With Water & Electric - $25.00 per night
If you are just visiting, you have to pay a visitor's fee of $4.00 per adult to enter, but this gives you access to all the park activities including the swimming pool, fishing pond, game room, etc. No reservations needed for visitors.
The campground is right across the street from the Andover Drive-In theater. We will be going to the Drive-In theater on Saturday Night. Last year it was $6.00 per person to get into the Drive-In for 2 movies. Should be the same this year. During the day, the Drive-In hosts a lot of Flea Market vendors and there is all kinds of different things there. Here is a map of the campground and I have our area marked on the map. When calling to make your reservations,
please specify lot# you want (292 thru 298) or if you want one of the un-numbered electric spots located around the pavilion
we can use.
If you are needing a Hotel, then there are a couple of choices close-by.........
Green Acres Motel - State Route 7. Kinsman, Ohio 44428 (330)876-4501
Days Inn - 600 Days Boulevard, Conneaut, Ohio 44030 (440)593-6000
Hope to see you all there! 17 spots should be enough for our campers, but if not, they can rent out other sites if needed. Please travel safely and try to arrange a convoy with other members since it's safer to travel with other people when traveling long distances.
GeoPalooza 2010 T-Shirts are available also............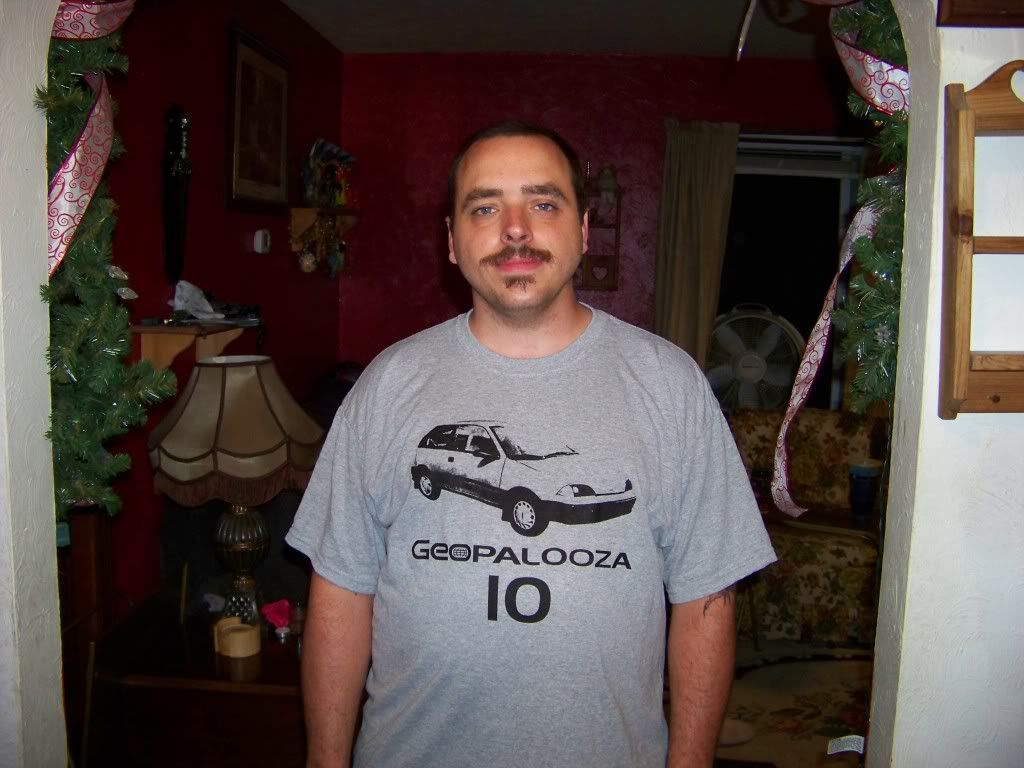 You may want to see
THIS THREAD
for more info on how to get them!