punksmurph wrote:
Here is a link to some pics.
SX4 Club Suzuki Owners Meet.
Thanks, Sean for inviting those of us here at Teamswift.
You can find a thread here asking how fast you've driven your Swift, but I think this
500 HP Kizashi has us all beat.
It holds the current record; yep, a Suzuki at Bonneville.
http://www.autoblog.com/2010/08/18/suzu ... and-speed/
http://rouse-hill-times.whereilive.com. ... -h-record/
http://blog.roadandtrack.com/bonneville ... msn-japan/
So those of us who attended the Suzuki owner's day got a little surprise when we were able to ask the fellows who built it any questions we might have.
Here's a wide angle shot of what's under the hood: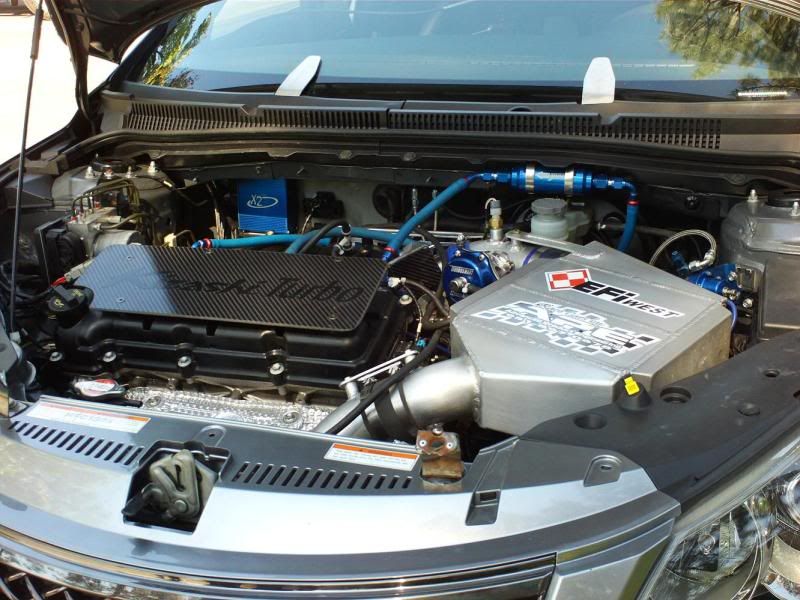 (you put ice in the intercooler)
and a little closer shot of the turbo:
If you were to sit in the driver's seat, you'd find some salt on the floor: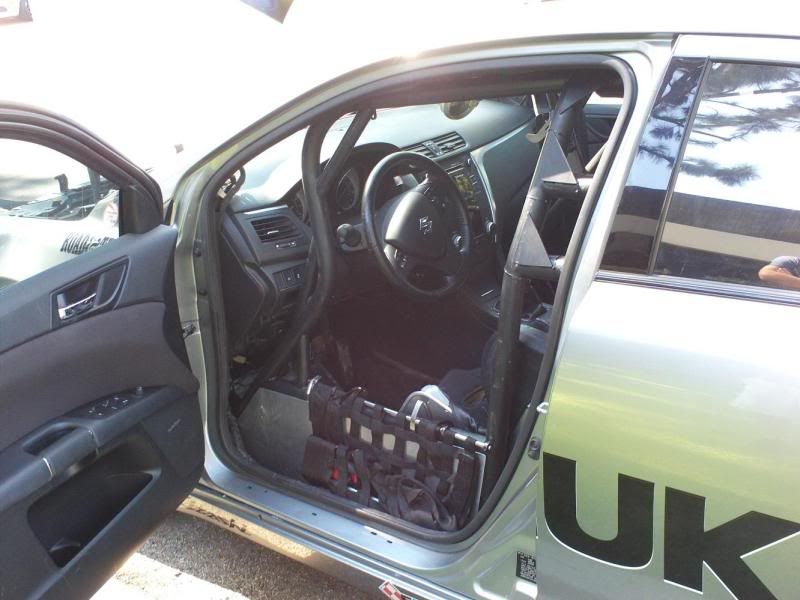 and the front end has some Road & Track endorsements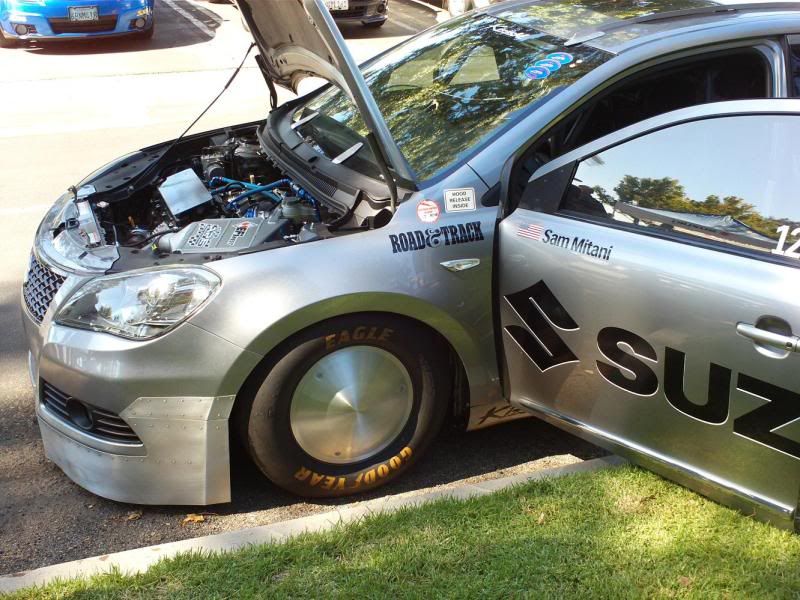 The tires are rated at 300 mph:
It has special aluminum 'fins' along the top of the car to help should it decide to go sideways, and also a little extra help in braking:
All in all, it was a well thought out package. It does not have Megasquirt, but Tom Habrzyk of EFiwest.com would be the guy to ask as to the fuel management.
Several stock components were disabled in the building of the vehicle for the Bonneville runs.
When the meet was at end, they carefully loaded it into a special carrier using hydraulics:
A little closer to home, the V6 Kizashi was also on hand. As far as I know, this is the only V6 Kazashi in North America: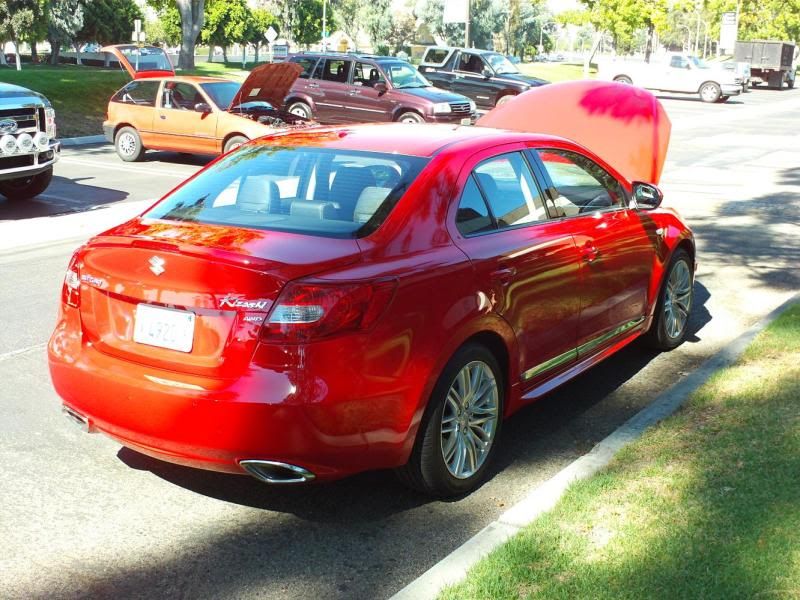 and it looks identical to the 4 cylinder model with only some minor tell tale signs:
here you can see the chrome strip along the lower part of the door, letting us know it's the upgraded AWD V6 version: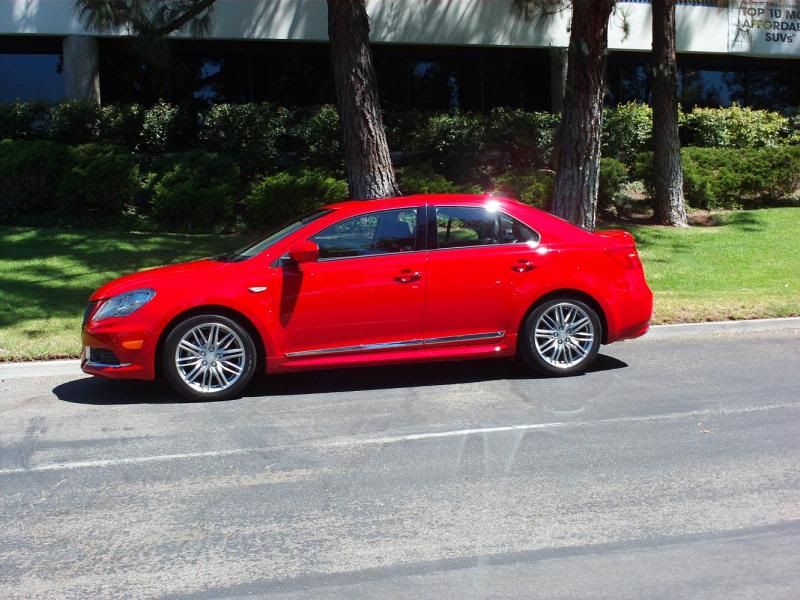 Road Race Motorsports (
http://www.roadracemotorsports.com
) was on hand in force, and Brandon Wiley, a SX4 specialist was willing to answer any questions for those wishing to 'trick out' their SX4's.
Darrell Dashiell (
ddashiell@hotmail.com
) the inventor of the Auto Cool II variable RPM solid state variable RPM controller for radiator fans was also in attendance, plugging his wares. His 'Retro Metro' raised more than a few eyebrows: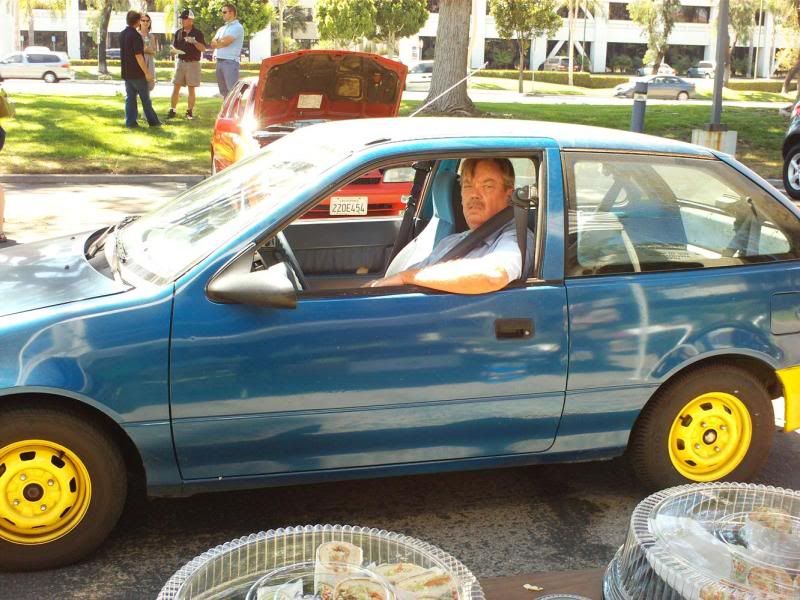 (You can see our 'Pogo' sandwiches in the foreground...a generous supply!and a lurker's red '91 GT in the background...)
After a few hours of car talking, the raffle took place. This year was no different from last, with the Suzuki Motor Corporation donating many many prizes, from pens and keychains to expensive keepsakes. A Suzuki hat signed by a famous race driver was the 'Grand Prize'. Everyone got something, and a big thanks to Suzuki for that!
Finally, it was early afternoon, and we gathered for a picture next to the Grand Vitara Show Car. It isn't actually legal to drive on the streets, but goes from car show to car show and is entered by Suzuki as a 'concept/custom car'.
Here's our modest group and a big shout out to all you Teamswifters!!!: