... it's never too early to start planning!
YOU'RE INVITED
Hello all,
I am a realtively new member here and a long time member of the fordfestiva.com forum. I also have a blog called econoboxcafe.com. Here's a link to the blog post for last years meet...
http://www.econoboxcafe.com/2012/08/westiva-2012.html
On July 13th I am hosting Westiva 2013 which is primarily a meet and greet for Festiva and Aspire fans and owners. This is the sixth annual edition of the meet and we have decided to send an invite out to fans and owners of other econoboxes from the same era.
So consider yourself invited!
When: Saturday July 13th, 2013
Where: Wedge Pond, Kananaskis Country, Alberta, Canada (about a one hour drive from Calgary's western city limits).
What: Meet and greet at the pond in the morning. After a picnic lunch we'll take an afternoon cruise to grab an ice cream cone at Boulton Creek Store and then on to the Upper Kananaskis Lake.
Campgrounds in the area fill up fast so I would recommend making reservations.
Mount Kidd (
http://www.mountkiddrv.com/
) is the closest, and nicest, but there are a couple of other options that aren't too far away.
These are only about a 30-40 minute drive at most from Wedge Pond.
http://www.bowvalleycampgrounds.com/
http://www.kananaskiscountrycampgrounds.com/peter.html
As for hotels the closest are located in Kananaskis Village, not far from Wedge Pond.
Lets see if we can make it back into double digits this year! We had 4 Festivas in '08, 5 in '09, 10 in '10, 5 in '11 and 4 Festivas and a Subaru Vivio last year!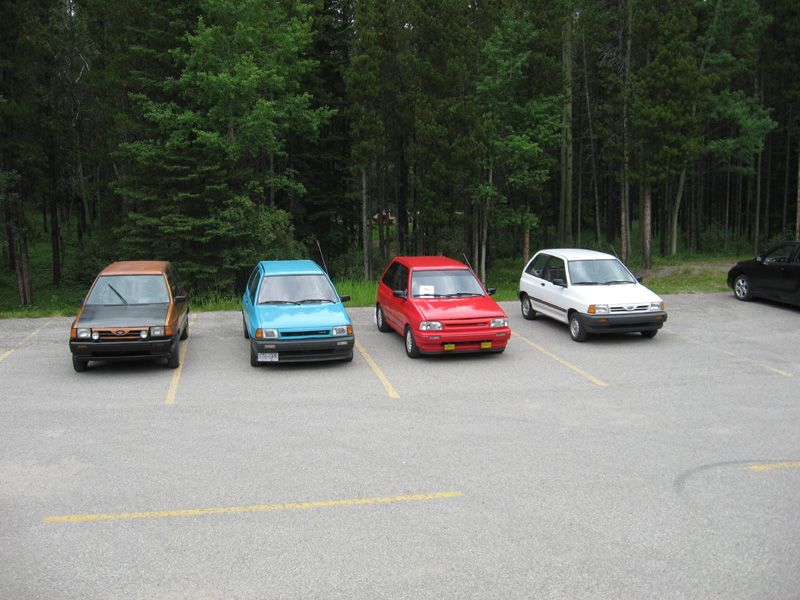 Last year's Festivas
This is the sixth year at this beautiful location. The date happens to be the last Saturday of the Calgary Stampede so you could come early and take in the "Greatest Outdoor Show on Earth"!
Looking forward to some long distance attendees this year!
Speaking of distances... if you're thinking of coming here are some approximate one way travel distances:
Great Falls MT: 400 miles
Spokane WA: 425 miles
Portland OR: 775 miles
San Sioux Falls SD: 1250 miles
Denver CO: 1175 miles
Fransisco CA: 1300 miles
Los Angeles CA: 1600 miles
Kansas City MO: 1600 miles
Phoenix AZ: 1625 miles
Knoxville TN: 2200 miles
Raleigh NC: 2475 miles
Miami FL: 3025 miles
Edmonton AB: 400 km
Vancouver BC: 950 km
Saskatoon SK: 725 km
Regina SK: 875 km
Winnipeg MB: 1425 km
Toronto ON: 3500 km
Montreal QC: 3625 km
Watch this space for more info over the coming months