Consider yourselves invited to Westiva 2016.
Primarily aimed at owners of the Ford Festiva and Aspire we would like to extend an invitation to owners of other econoboxes from the same era. We had two Swifts/Metros join us a couple of years ago.
When: Saturday July 16th, 2016
Where: Wedge Pond, Kananaskis, Alberta, Canada (about a one hour drive from Calgary's western city limits. Use "Wedge Pond Kananaskis, AB" when searching on Google maps.)
What: Meet and greet at the pond in the morning. After our picnic lunch we'll take an afternoon cruise to grab an ice cream cone at Boulton Creek Store. This is 40km (25 mile) drive mostly along Highway 40.
Campgrounds in the area fill up fast so I would recommend making reservations.
Mount Kidd (
http://www.mountkiddrv.com/
) is the closest, and nicest, but there are a couple of other options that aren't too far away.
These are only about a 30-40 minute drive at most from Wedge Pond.
http://www.bowvalleycampgrounds.com/
http://www.kananaskiscountrycampgrounds.com/peter.html
As for hotels the closest are located in Kananaskis Village, not far from Wedge Pond.
Lets see if we can make it back into double digits this year! We had 4 Festivas in '08, 5 in '09, 10 in '10, 5 in '11 and 4 Festivas and a Subaru Vivio in 2012, four Festivas, two Suzuki Swifts, and one lifted Kia Sportage in 2014.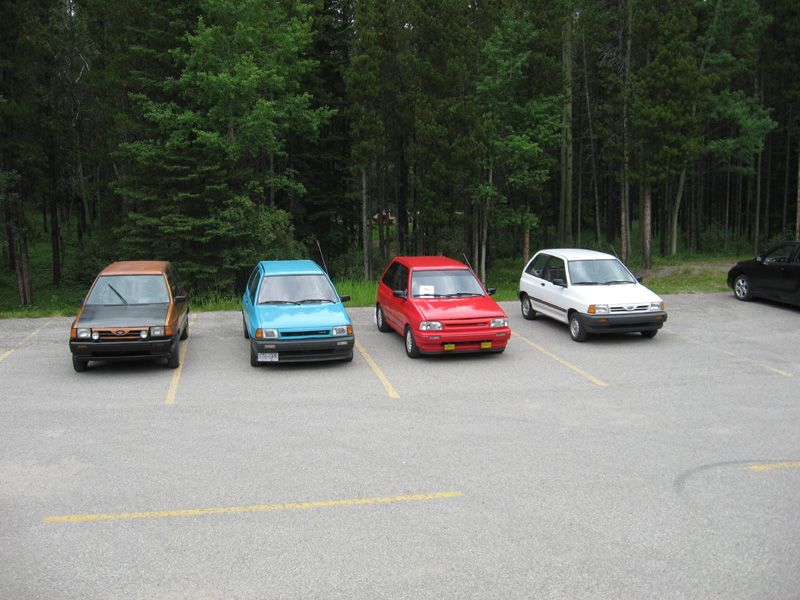 2012's Festivas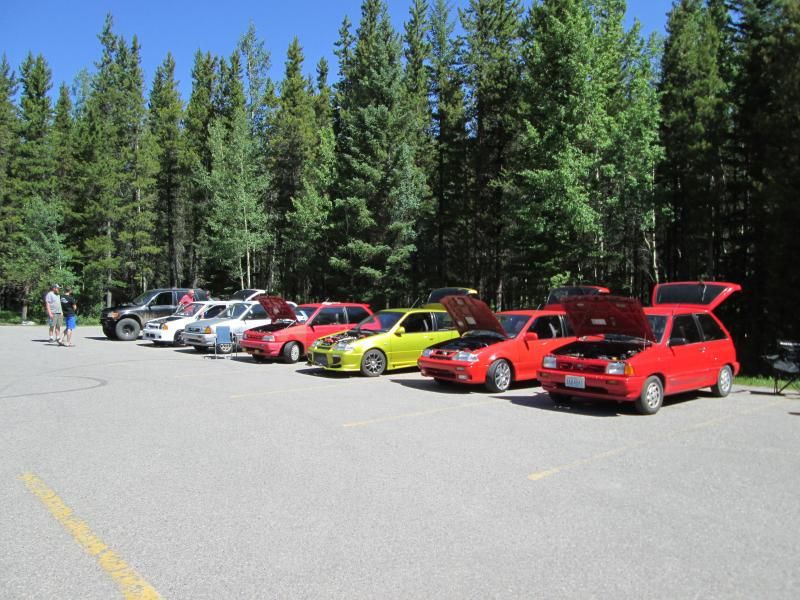 2014 attendees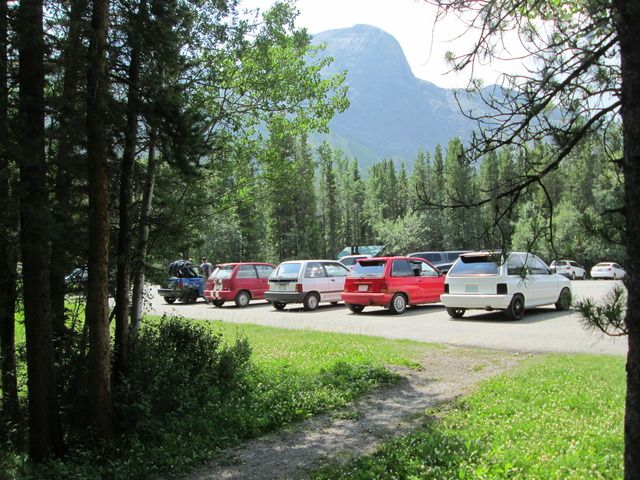 2015 attendees
Looking forward to some long distance attendees this year! Use "Wedge Pond Kananaskis, AB" when searching on Google maps.
Speaking of distances... if you're thinking of coming here are some approximate one way travel distances:
Great Falls MT: 400 miles
Spokane WA: 425 miles
Portland OR: 775 miles
San Sioux Falls SD: 1250 miles
Denver CO: 1175 miles
Fransisco CA: 1300 miles
Los Angeles CA: 1600 miles
Kansas City MO: 1600 miles
Phoenix AZ: 1625 miles
Louisville KY: 2000 miles
Knoxville TN: 2200 miles
Raleigh NC: 2475 miles
Miami FL: 3025 miles
Edmonton AB: 400 km
Vancouver BC: 950 km
Saskatoon SK: 725 km
Regina SK: 875 km
Winnipeg MB: 1425 km
Toronto ON: 3500 km
Montreal QC: 3625 km
Go to
https://www.youtube.com/watch?v=X_2shIAg4kE
to see a video of the area from a past event
Go to
http://www.econoboxcafe.com
for all the details! Leave your questions here or e-mail them to
westiva.meet@gmail.com
Cheers