VR4 wrote:
why didnt you just put the body panels on the red one? would have been a bit less work
haha I should have taken pics of where the floor boards were suppose to go..... the car was completely rotted, it had been running up and down the coquihalla (bc to Edmonton) so saw a lot of salt...
my car has rusty rockers, but the rest is good.
t3 ragtop wrote:
amer, you pretty much nailed it. that stuff is probably still fairly fresh in your mind bacause you just did the conversion on that sweet red vert.
the turbo3 has it's own specific part number for the coil but there are some other things that lead me to believe that a later model coil, the air core type that the second half production 94/ 95 cars used, would work just fine. suzuki did things like that, the 89 turbo3 used the same distributor ahead of the 92 mk3 n/a g10, the turbo3 advanced technology being used to enhance the base model cars years after the turbo3 was out of production.
the tach cluster will need to have a 3 cylinder calibration. the tach cluster from a 92/ 93 vert would be a drop in replacement.
the new ignition circuit will get key switched power from the connector to the original coil and use that on the turbo3 coil and it's ignitor. the ground for the new circuit must be developed using the original coil's ground with care taken to be sure the noise suppressor is in the ground path.
i like to see people getting the turbo3 stuff running.
It came out of a 3 cyl car, pretty sure the gauge is accurate, idle is around 900.
maybe I will solder on a spade connecter terminal to the broken stud and use the turbo coil to be safe. I have the newer different looking coil. this is the coil I have...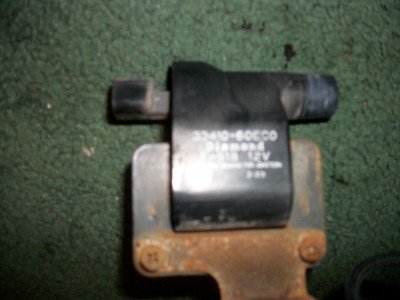 The noise suppressor in the original harness should be sufficient, shouldn't it? or should I be swapping that as well?
crnolic wrote:
the mk5 and gt are not the same pump but either work well for the turbo3.

as far as i remember when i did the swap the coil was identical, i'll try and get the part number off the coil itself next time i'm at my buddys shop.
I have both currently, don't worry about a part number. the blue cap one is from a turbo3, and that is what the turbo car had, the pic above is the style coil I have.
tomorrow is the day I start the swap!
I've always wanted a turbo3 but everyone around here wants too much for them!