I'm in the middle of an engine swap from my '94 g10 upgraded emissions to a g10t from a '90 chevy sprint turbo. Everything is done except I'm having a problem with the wiring. When I turn the key to on, I get no fuel pump priming, and no CEL. There is no CEL when I put a fuse in the diagnostics port either. I try to start it and it will crank, but there's no spark or fuel. Here's pictures of the wiring I have spliced together so far. This may be a little long-winded but I'll try to explain it as well as possible.
For the connector by the engine fuse panel, I used the mk3 connector (left in below pic). The mk2 connector had 7 wires. I matched 5 colour to colour into the mk3 plug, and ran the orange and yellow wires to the igniter. I didn't use the black, red/green, yellow, brown, or brown/yellow wires from the mk3 connector.
I also didn't use this 6 pin connector at all. Can someone tell me what this connector is for (right in below pic)?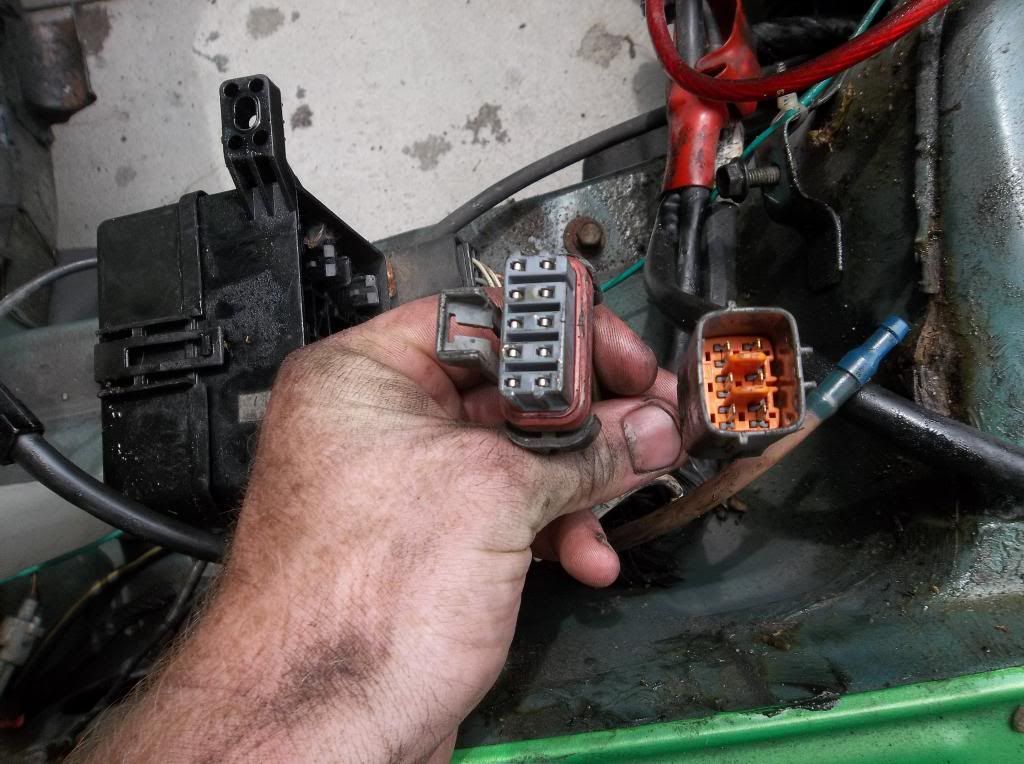 For the igniter, I have the orange and yellow wires coming from the engine harness, a black/white wire coming from the chassis harness and going to the igniter and + on the coil in parallel, a brown/white going coming from the noise suppressor and splitting to go to the - on the coil and the igniter.
The mk3 igniter had extra wires, so I have a black wire and brown/yellow wire that used to go to it taped off.
Inside the cabin, I used the mk3 connector for the instrument cluster. I swapped the pins from the green plug to the clear one from the mk3
I swapped those colour for colour as well with the exception of a black/yellow wire from the mk2 engine harness being spliced into a black/white wire on the mk3 dash connector. The wires on the mk3 plug I didn't use were purple/white, purple/red, and brown/yellow.
Does anyone that's done this kind of swap seen anything I've done wrong? I could really use some help here. Other things to note: I didn't have the fuse panel or ecu bolted up the first time I tried to start it so it wasn't fully grounded. I also didn't have the ground on the trans bolted on and when I turned the key the FI / fuel pump relay started clicking nonstop. Idk if that would damage anything but I checked all the fuses. The 30A fuse up by the diagnostics connector at the top of the firewall was blown. I didn't think that fuse was needed with the mk2. What is that fuse for?
What do you guys think?