Mr.Pipe wrote:
I've seen one badged 1.3 here in Canada too, but never got close enough to verify...Super, be sure to grab those axles when you see them...should be real easy to sell to Team Swift members.
BTW, the 1986-1988 1.3 SOHC axles have tripod style (weak) joints on the inside at least, and the DOHC ones used Zappa Joints inner and outer (stronger, but still too weak for drag racing with slicks)
Before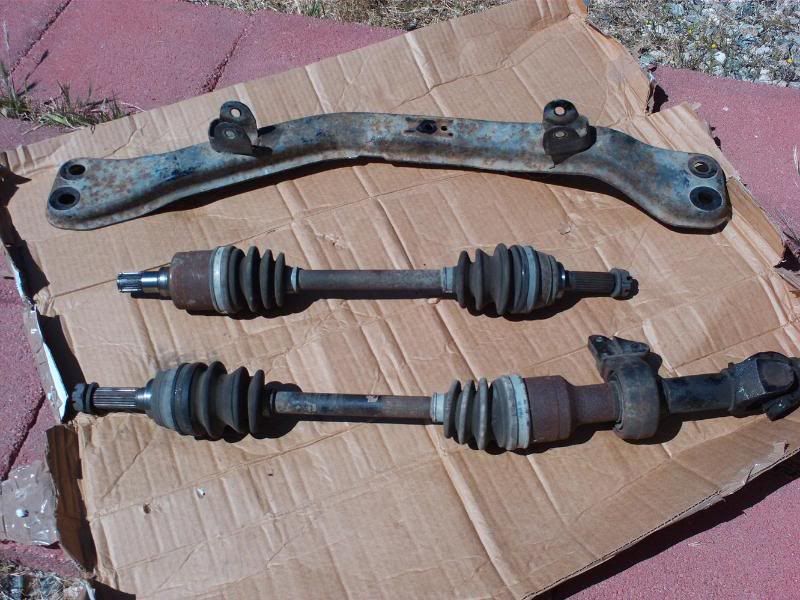 After:
And I'm thinking the cross member is set back a bit.
That reminds me, Little Miss Perfect in Nova Scotia still owes me for that NA cross member I sent her last year.
Guess we're talking road trip.
She won't pay up, we'll take it out in trade.
Use that 16 valve 1.3 L our Moderator mentioned.
Lots of torque, easy to find parts.
_________________
DIY Broken Bolt Removal:
viewtopic.php?f=22&t=41042
DIY Clutch Adjustment:
viewtopic.php?f=9&t=48281
DIY Wheel Bearings:
viewtopic.php?f=2&t=29003
DIY Shocks:
viewtopic.php?f=10&t=45483
DIY Wheel Align:
viewtopic.php?f=2&t=42479
Once you get the cars dialed-in (compression, leaks, bearings, alignment, brakes) swap in new rubber and glass, you've got something which should last for years!