About to do the rod bearings on the Metro. Going to take pictures, do a write-up, and how much it will cost overall. Keep in mind, I do get my parts a bit cheaper since I work for a parts store.
Connecting Rod Bearing Replacement
Cost
Connecting Rod Bearings: 23.92 (3-1140RA)
Oil and Filter: 29.12 (Valvoline Nexgen Max Life 5W-30 Bosch 3402 filter (WIX 51085 as the thread matches the WIX 51348 filter, just more capacity))
Black RTV
Plastigage: 1.69 (SPG1) (This is the closest Plastigage I could find for the necessary clearance limit of .0008"-.0019").
Difficulty
3/5
Time Required
Approximately 2 Hours
Tools
Jack
Jack Stands
Oil Filter Wrench
18MM Wrench
10MM Socket
12MM Socket
17MM Socket
Socket Wrench
Torque Wrench capable of 26 foot pounds
Step 1:
Pop hood, remove oil cap, chock rear wheels, raise vehicle, set on jack stands, then drain your oil.
Step 2:
Remove transmission's flywheel inspection plate, remove Crankshaft Position Sensor, remove all bolts from oil pan and gently pry off with cloth-covered screwdriver so as not to damage aluminum block.
Step 3:
Check all bolt holes and stud for marring and bad threads. Tap as necessary (which I will have to do). Remove RTV/gasket material from bottom of block and oil pan.
Step 4:
Turn engine with 17MM socket and wrench so #1 is BDC and easily accessible. Remove 12MM nuts and rod bearing cap.
Step 5:
Put vacuum caps/tubing over studs on rods to protect crankshaft. Push up slightly on connecting rod to reach the rod-side bearing. Remove bearing from cap, cover new bearings in assembly lube, and reinstall.
Make sure you orient the bearings and cap properly for reinstallation or you might suffer from a spun bearing/connecting rod/crankshaft scoring.
Tighten nuts to 26 ft/lbs evenly (tighten each nut equally until 26 ft/lbs is achieved).
Step 6:
Repeat for connecting rods 2 and 3.
Step 7:
Check oil pan for straightness by either using a straight edge or laying the pan upside down on a level surface. Providing the oil pan is level and straight, use black RTV on the oil pan and set into place with the two nuts on the studs. Install the rest of the bolts into their place. Providing the oil pan has a slight bend, tighten the less flush part of the oil pan first, then the more flush next to keep it as straight as possible.
Step 8:
Connect crankshaft position sensor socket, put on oil filter (51085 fits well, but requires an additional .8 quart of oil), fill with oil (approximately 4.5 quarts with 51085 filter), prime oil. Start engine, make sure there are no external leaks and oil light disappears. Recheck oil level. Listen for any knocking.
The Gain
No more rod knock for one. I expect to see a little higher gas mileage and power without that rod knocking about, giving a much steadier power band.
Suggestions
Get a lift. It makes this job so much easier. Also, if you're from the north, get a space heater to keep you warm while crawling under a Metro getting dripped with oil.
If a person were so inclined, they could always use an engine flush; Marvel Mystery Oil would be my choice as it's not nearly as abrasive as SeaFoam or MotorFlush is since they are more cleansing agents, not so much oil and cleansers. Cleaning it up will help a lot with sludge build up, if there is any. If you decline on using an engine cleaner, just run the engine for a few minutes before draining the oil to make everything come out much easier.
The oil pan could tell a little bit of a story here.
I had to thicken up the oil quite a bit the last two oil changes; 10W-30 along with some really thick Rislone, which I don't like using. Engine oil is all it should need. The deposits from the rod bearing and the oil additive are left behind as you can see. The brass is from the additive, the chunks of aluminum, well, those are from the rod bearing breaking apart.
The condition of connecting rod bearing 2, rod-side.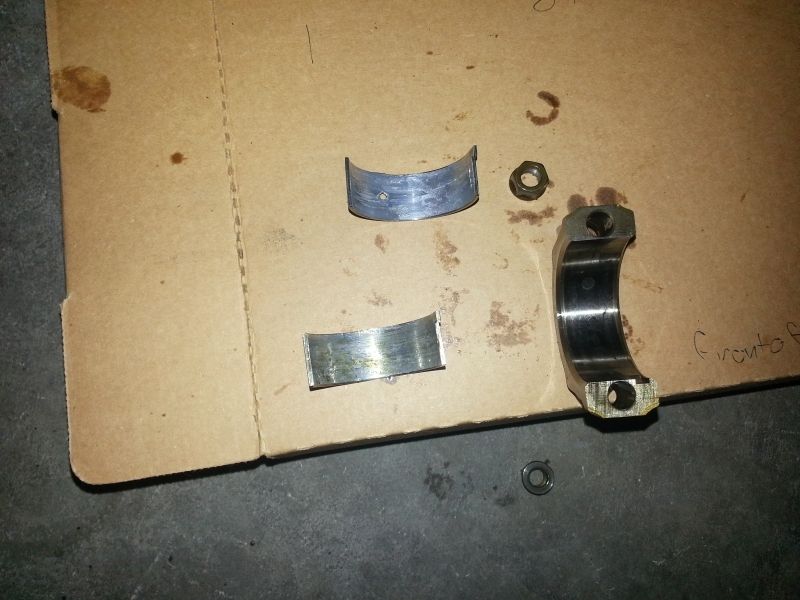 As you can see, it's badly worn. Cap-side wasn't as bad, but it did have a lot of metal particles in the seep hole, not allowing enough oil to get in between the bearing's surfaces.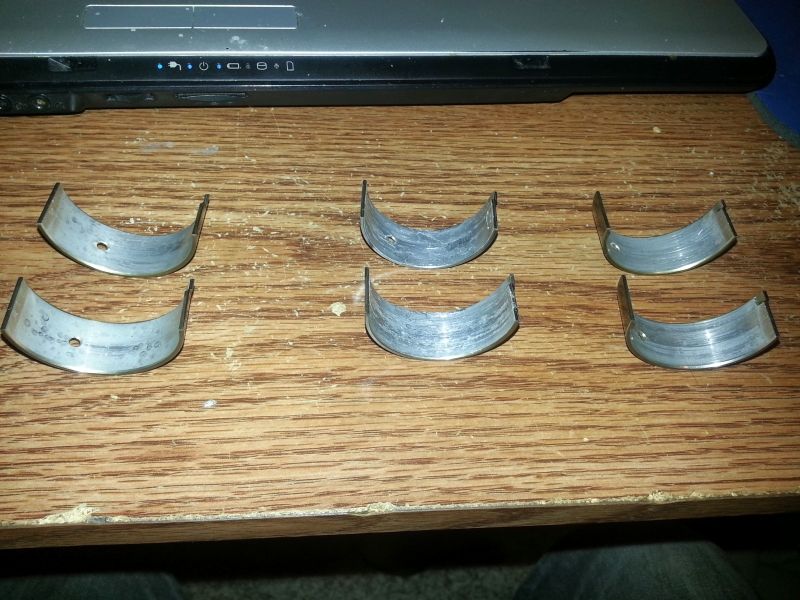 Cylinders 1 and 3 were not bad at all. Plenty of life left. I can't imagine rod bearings 2 was due to oil starvation, but lack of oil changes. Probably picked up something bad throughout its life.
Cylinder 2 bearing up close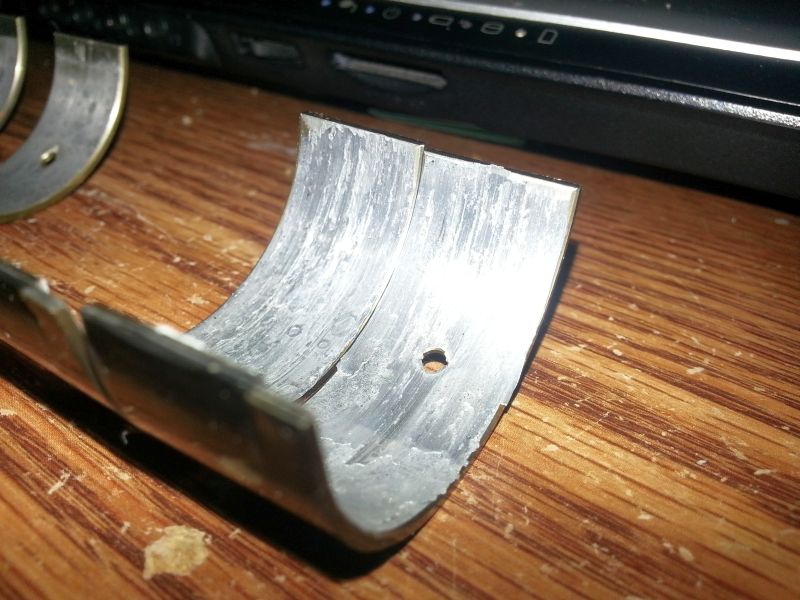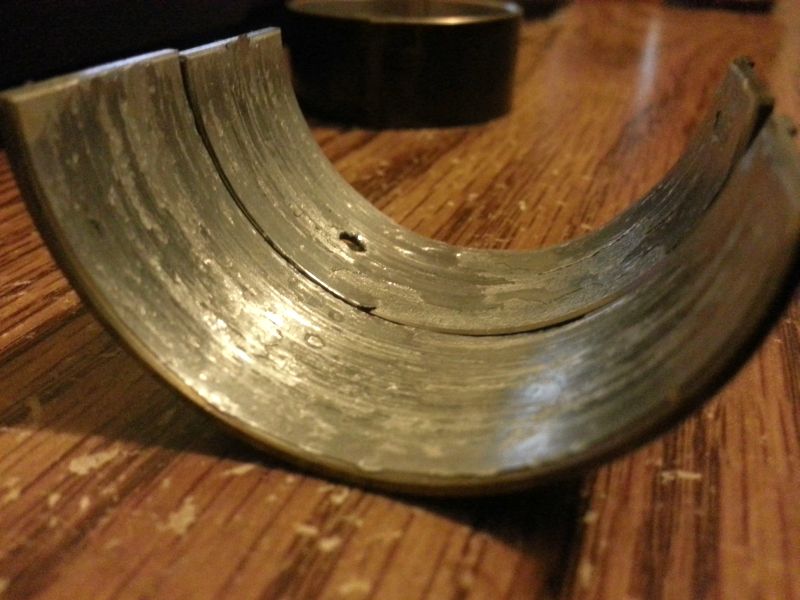 Crankshaft, connecting rod and cap journals looked decent. I can't say they were good, but looked okay. This is a quick fix, certainly not the best it could have been, but the engine will last a little while longer now.