Wow, 12 posts before I had a chance to pipe up.
CJDavE wrote:
Nope. The auto tranny that comes with the G-series engines is computer controlled for up/down shifting. You'll have to manually shift it when there's no computer controlling it.

I should ask: what year is the transmission from? I know the mk2+ trannies are computer controlled. The older models may still be mechanical.
Good posting.
The MK1 has a 'piggy back' electronic control module (ECM) for the automatic in both 1985 and 1986 cars.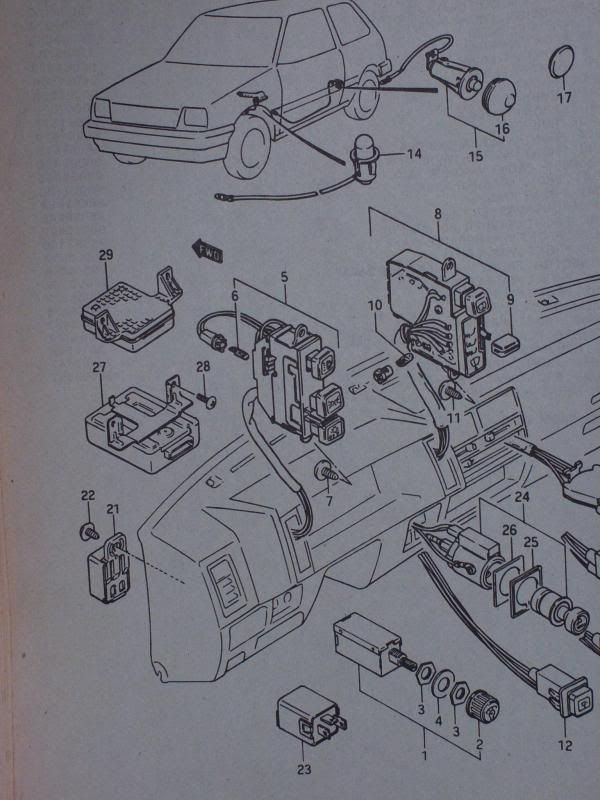 You can see it as #27 above.
The ECM which controls the engine is #29.
Hopefully I don't have those numbers reversed, but it is getting late, and sundowner syndrome may be kicking in.
This information is valid for the USA market vehicles, as verified by our stock '85 automatic which operates fine.
Somebody will a little better memory might help here, but I think that in 1987 the USA cars combined the automatic unit into the main ECM. Took me long enough to dig out that old engineer's line drawing, but it would depend on what engine/transmission you wish to transplant. If it is a management system from 85-86, you'll be wiring in 2 controllers; if you snagged a system from '87-88, you'd be wiring up a single ECM system.
I do recall that the altitude sensor was incorporated into the ECM beginning in '87, so if you use a ECM later than '86, you won't need an altitude sensor or engine compartment temperature sensor.
Not sure how advanced you are electrically, but there are a few fellows here who really get into the wiring end of things. Recently there was a 20+ page thread which may cover some of the material you'll have to master before the vehicle you are building will run right.
No matter how general or specific your task, just update this thread and you'd be amazed at the variety of knowledge the readership can contribute. You are well on your way, as you seem to have the ability to post pictures mastered, and that is really about the only thing this site needs to give you specific help.
Your 1.0L with a turbo should develop similar horsepower to my Wife's daily driver
(here's the link:)
teamswift.net/viewtopic.php?f=14&t=50571
and the automatic has no issues with fluid turning brown or improper shift points.
The newer Dexron 6 would be your fluid of choice, and you should do a bit of research on it.
Originally, the automatic used Dexron 2, so times have changed quite a lot since 1985.
The Dexron 6 makes for a bullet proof transmission, and if you wire it right, it should be trouble free.
Your light weight body will tax the Aisin 3 speed automatic much less than any of our cars.
Again, my 2 cents, and we have automatics behind both 1.0L and DOHC engines.
Best of luck with your project, and we are looking forward to seeing it come together.