Old reliable has failed again.
One of those WTF?! moments we all dread.
You know, when your perfect running little scoot suddenly
dies at the stoplight and you know it's not going to start up again.
Well, fortunately it did restart, a life saving 5 second burst before
it gave up for good, just enough to get through the intersection
and over to the side.
This is when you're glad your auto club dues have been paid and
your cell phone has plenty of juice.
After checking the basics and pulling a #23 IAT trouble code,
I wasn't so sure the intake air sensor could pull the spark and
cripple my ride, but figured a bad MAF would so I start by checking
the IAT sensor in the MAF and then trace the circuit back to the ECM,
which all checks out fine. I plug in a known good MAF just for fun which
changes nothing, still no spark or start up.
Checking the ECM once again now revealed multiple codes,
(they were there all along, I guess I just didn't expect more than
one during the first check.).
Codes # 14, 21 ,23, 33.
Suddenly having a bad CTS, TPS, IAT & MAF all at once is pretty
unlikely, so it must be the ECM has finally failed.
A replacement did eliminate the codes, but still no spark.
Banking on the coil as the culprit, the resistance of the
primary (1.0 ) and secondary (6.9) circuits aren't in OE specs,
(but why would they be it's a 20 year old aftermarket
Mallory Coil) and also differ from a fairly new Blaster 2 coil.
So swapping the coil seems to bring it back to life instantly.
Still don't know what happened, but I figure the coil puked
and took out that branch of circuits in the ECM.
Definately not something you're going to fix on the road unless
you carry a spare computer in your road kit.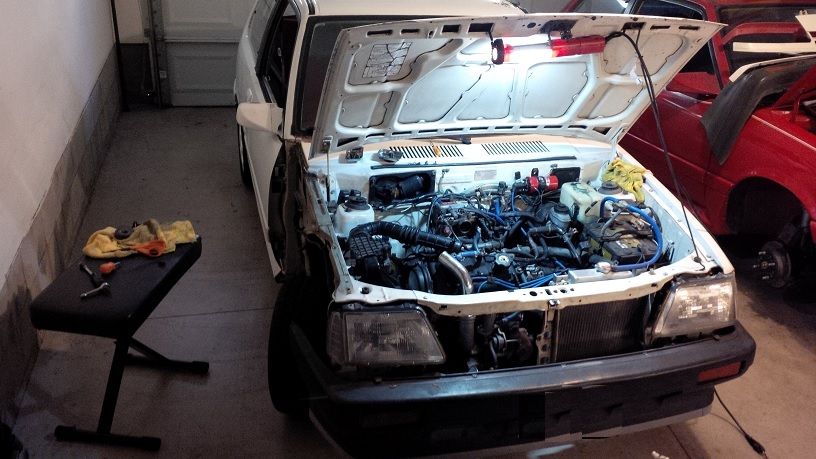 I'll keep my fingers crossed that the fix is complete, and take advantage of
the space to do some other needed repairs up before I have to give the
garage spot back.