It would have been better if your Dad had GIVEN you the car, but what is done is done.
At 240,000 miles you will probably have to remove the engine and rebuild it completely.
Those who have posted above are familiar with your car, either owning one, previously owned one, or have worked on them extensively. Yes, they even have Idaho license plates: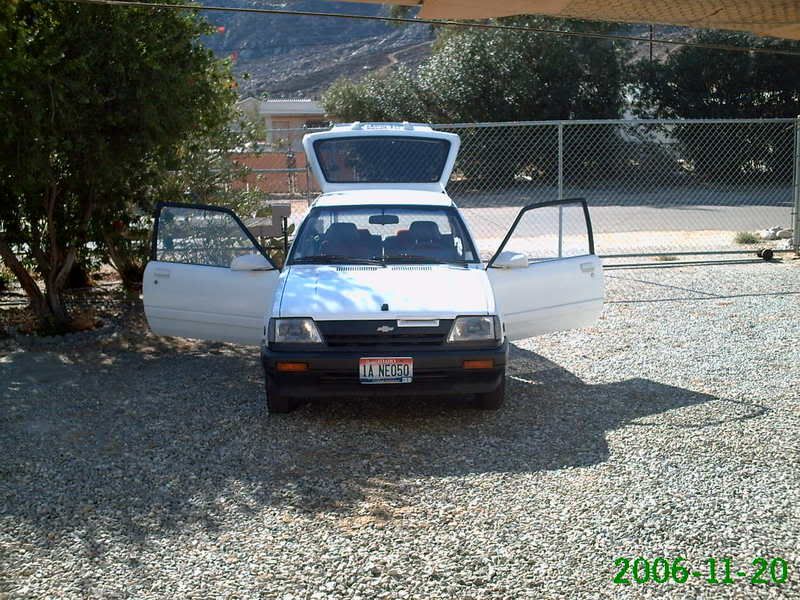 Teamswift is the correct forum to get your car running in tip top shape.
The members give commonly accepted advice for troubleshooting your problems and some are highly respected 'automotive technicians'.
They are not only critical thinkers, they are able to fix any of the cars that are presented.
In your specific case, you will have to hone your posting skills to get free help.
Here is an example of poor posting skills:
This tells the viewer absolutely nothing.
It shows a situation with no reference.
Useless.
If you take the advice from the group above, your car may run more like this:
...and still get 40+ miles per gallon.
Reminder: both pictures above can be clicked for the video.
Your low idle and then dies problem could be as serious as a
complete engine rebuild
to something as simple as an
incorrect rotor
.
Posting codes requires NO tools and is free to do. A real no brainer. OBD II cars? You will have to buy a code reader. Fortunately, your Turbo Sprint is OBD I and requires no tools to retrieve codes.
Posting a video also is free. It tells us your skill level and attention to detail. We can spot things you'd miss or ask questions you'd not think of.
You may think we are being hard on you, but some of the guys above have been given cars from their Dads (like you) and have put thousands of dollars into them with amazing results.
Man up - you are amongst the most experienced group of Turbo Sprint owners in the world.
Grab your wrenches, take compression readings, post videos and bring the car back into specs.
Be proud of what you own and how it runs, thanks to your directed, logical and carefully thought out efforts. What will you do with all the money you save from our advice?
_________________
DIY Broken Bolt Removal:
viewtopic.php?f=22&t=41042
DIY Clutch Adjustment:
viewtopic.php?f=9&t=48281
DIY Wheel Bearings:
viewtopic.php?f=2&t=29003
DIY Shocks:
viewtopic.php?f=10&t=45483
DIY Wheel Align:
viewtopic.php?f=2&t=42479
Once you get the cars dialed-in (compression, leaks, bearings, alignment, brakes) swap in new rubber and glass, you've got something which should last for years!