You are correct to use the specs in the FSM Turbo Supplement.
That hood sticker is for a normally aspirated Sprint and is not
correct for the T3.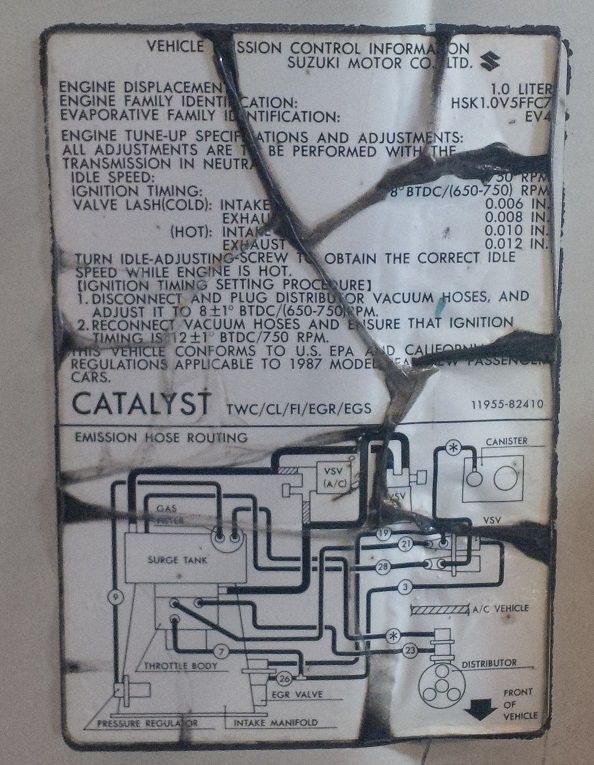 Timing should be 12*, base timing should be 8*.
To set the base timing, bring the motor up to operating temperature,
ensure that the idle is 750rpm, the vacuum hoses
have been removed and plugged (or pinched securely) and that no electrical
accessories are on (which raises the idle to compensate for electrical loads).
Adjust timing, restore vacuum and re-check to see if timing is now at 12*,
which it would be if your distributor was in perfect working order, but at this
point It's highly unlikely your distributor components are functioning as well
as the day your car rolled off the assembly line.
The centrifugal advance, which advances timing based on engine RPM is
usually locked up. It is common for the springs to break and get pulverized
in the rotating components. The lubricating grease on the distributor shaft which
allows the centrifugal (mechanical advance) to move has likely dried up and
is now functioning as an adhesive, locking the mechanism in an advanced
position.
Our distributors have a dual diaphragm vacuum advance mechanism which
advances the timing under vacuum conditions and retards the timing
during periods of boost. In order for this component to function correctly,
the vacuum lines need to be intact and routed correctly, the diaphragms
need to be intact and the plate inside the distributor which rotates
from the action of the arm connected to the diaphragm needs to move
freely. This plate rotates on a large circumferential bearing, that has
exposed little tiny ball bearings that tend to get gummed due to
years of service, lack of lubrication (factory lube has long since dried up)
and rust/oxidation issues.
In addition to the mechanical & vacuum advance, our cars have a
transistorized dual circuit module which can retard timing as much
as 12* in proportion to any detectable engine knock.
The knock device/ignitor generates the spark signal and detects
pre-ignition (knock). If it detects any knock then it will retard
the timing until such a time the knock is not detected, then will
restore the timing to previous setting. This is mainly a safety
feature to protect the engine from damage.
For performance, you would tend to go with advanced timing up
until the point you experience any detonation, then back it off
slightly.
The quality of fuel and octane rating (octane rating is the measurement
of anti knock properties in your gas) can affect how much advance
timing you can run. If you run a low octane fuel and experience
detonation, your knock sensor will tend to run the timing retarded.
Any additional external input can also fool the knock sensor into retarding
the timing if it picks up any harsh vibrations, clunks, rattles or banging
so it's important to make sure everything on or around your motor
is secure. Solid or too stiff of motor mounts inparticular can also
trip the knock sensor.
Furthermore, if you have had your engine rebuilt and lowered your
compression ratio, you may need additional timing over and above
the OE specs.
My advice to you would be to start with the 12* timing.
Due to the operating conditions of your timing components,
you may need to compensate by adjusting your timing after
you initially set it, either advancing or retarding until you
find the point at which you think it runs best overall. After you
set it initially, scribe a visible line near the bolt for reference.
This way you have a starting point and a home at which you
can return the setting to and start over if you find your
adjustments netting poor results.
Short of a full distributor overhaul and dyno testing,
this should get you some satisfactory results.