(for the sake of continuity, we last left off here...
http://www.teamswift.net/viewtopic.php?f=32&t=54199&start=75
)
Was pretty excited to have some time to catch up on some needed
maintenance. The 2013 TeamSwift meet in Malibu Canyons seems to have
taken it's toll on my part time driver, mainly in the form of quickly rupturing
the outer CV boots.
I did have an intermittent noise at low speeds, and the occasional squeak and
groan to which I attributed to bad axles. These things are pretty tough and
take a beating so I drove it intermittently all of 2014 and then loaded up
on front end parts enough to do an O/H in 2015.
Things haven't been happening quite so quickly lately. So when I did finally
get around to swapping out new axles, lower control arms and strut rod
bushings one night, it felt pretty funny on the way home, which is typical
after replacing severely worn parts, and was planning on doing the
inner & outer tie rods, strut bushings/bearings and rear bushings the next
day and then getting it aligned.
However, when I got a good look at it the next day I discovered some nasty
damage, causing a lengthy delay in the front end overhaul.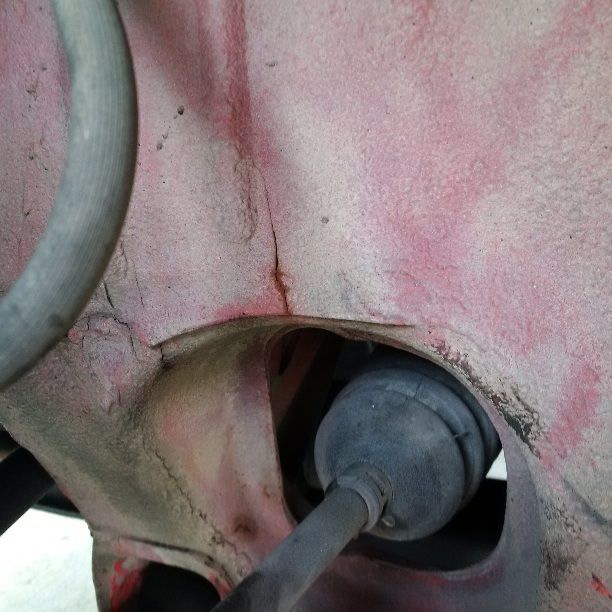 Now this is pretty typical, and most of my sprints have some smaller cracks
of some sort or another in this area, but didn't consider it a problem till I discovered
the other side.
Now I consider this severe, and the after installing some new parts on the front end,
it was pretty obvious this is about to give way, the way this thing was handling after
tightening up the front end. And now looking back, it's very apparent what was causing
the low speed noise, clicking and groaning, which is similar to loose hubcap noise and
which was what I thought was a bad CV or bearing, but was actually a load bearing area
slowly giving way.
Well it took a while, but I was able to line up a skilled fabricator who was willing to do a repair,
as most other body/collision shops shuffled me out the door not being interested at all.
So I got it dropped off today and hope to have it back next week. We will see what happens.
Also asked them to clean up this typical rust area.
The guys pretty diverse, and does quality work, so I'm keeping my fingers crossed on this one.
Will update when the repair is done.