I try to go cool as possible. IC's right out in front, it's the first thing the airflow hits
when going down the road. Problem is the turbo lag, I estimated it's an extra
5-6 ' run. But when it kicks in, it's like an afterburner. If I'm moving, it's working.
Probably get a little heat soak when I'm not moving, but if I'm moving then
it's working. Also had to wrap the long tube to keep it cool after it exits the IC
and then runs close to the radiator, as well as put it in front so when I'm moving
the airflow keeps the heat flowing rearward.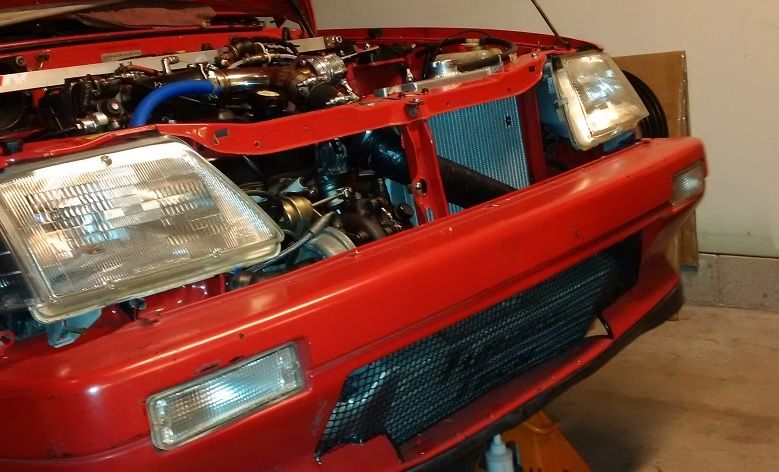 The intake side is definately streamlined, with the shortest possible route while still
being functionally efficient as well as cosmetically appealing.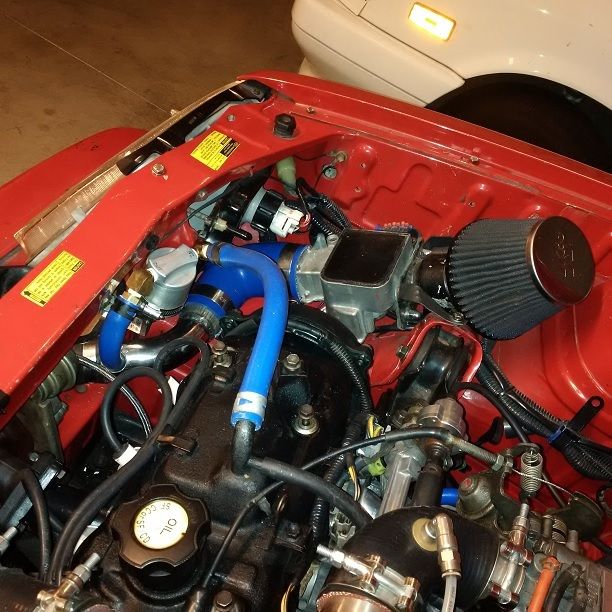 Adding and EBC also provided a means and wastegate settings which can be tweaked to increase
spool up time, but since the turbo setup is bigger and longer, the lag hasn't been eliminated yet.
You just have to make sure your other systems are in check, in other words keeping it a
'well oiled' machine where everything works together. Ultimately it would be nice to have
the initial response like the OE tiny turbo setup provided, but the increased power makes
up for it, so in the mean time you just keep looking for new ways.
As far as the injection setup, you can keep this pretty simple and compact. I have the smallest
nozzle available, estimated good for up to 175-200 hp. You don't use as much as you think,
and it's not always on. This one comes on @ 5 psi, and has a manual overide so I can turn
it off if I'm just cruising. About 64oz. was lasting me days just going to and from work and
the grocery store. Simple mix of isopropyl alcohol and denatured H2O.