Got some time in on the head, now that I got all the parts lined up for rebuild.
Started off with fabbing up some gaskets from gasket sheet, some time
on the internet as well rounding up bits and pieces.
Today I started in on the head porting and port matching.
It's miserably hot today, and it ended up being a tedious, messy
and time consuming job. Nevertheless I got the bulk of it done
on the head and exhaust, I still need to do some massaging to the
intake.
All the bits and pieces are here. I got 1mm stainless exh. valves, standard intake valves,
new valve guides, seals & reuseable head bolts. Thanks to Mike Cove @3-Tech, I know
I got the proper hardware and also a spare set for the next head rebuild including
some 2.5mm stainless exhaust valves for my future performance build.
Were leaving the cam alone on this one, keeping with the OE setup with some
minor tweaking on the head, starting with...
Exhuast. Most of the improvement comes from better flowing exhaust while also
improving the turbocharger performance. A heavy majority of porting is done
on the exhaust side, enlarging the ports, smoothing the casting lines and toning
down any humps. A nice benefit here is the carbon deposits around the opening
which I can use as a guide for the port enlargement.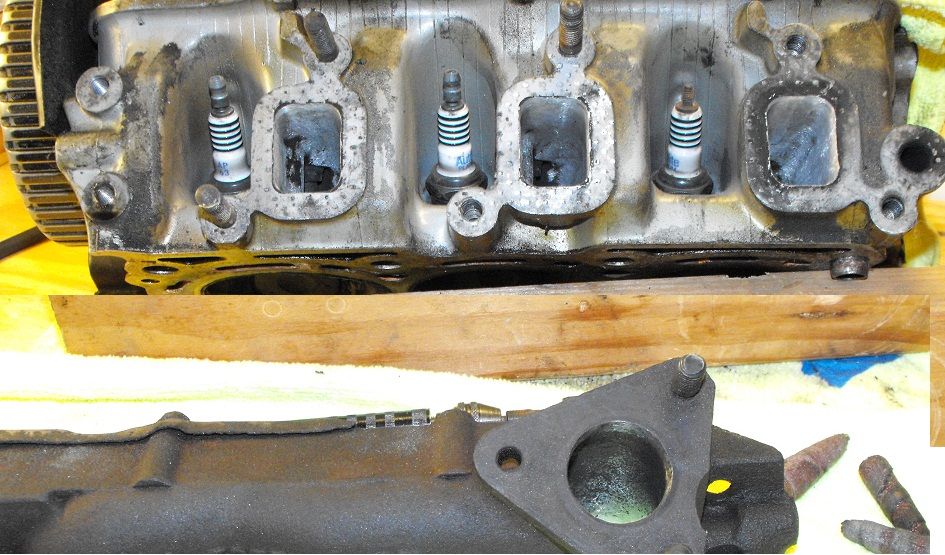 It's very important to port the exhaust manifold as well. This is more time consuming
because the material is much harder than the cylinder head casting. I use a regular
cone sanding bit on a rotary flex shaft. I keep my rpms between 5k-9k (less on the
aluminum and more on the iron), it's a good low speed so there's no chance of removing
too much material in an instant and also keeps the work area free of flying debris while
also keeping the dust to a minimum. The exhaust is particularly robust, so it took
a lot of patience on this hot day to get the results I wanted.
The intake side is tricky as well. I'm using a courser grade so as not to make it too
smooth, I want a little turbulence in there to help mix things up. I'm doing this
without dissasembling the head, the machine shop will clean it up nice when
they rebuild it, otherwise with all the particles created, you'd need to clean it
up pretty darn good if you weren't planning on rebuilding it, but I've done it
before mildly on a head where I was only doing the gasket. Only thing if you're
super anal, taking out the valves would be better so you could get at that
last little piece of casting lines way down in there. But on this project, this is
a great upgrade pre-rebuild.
This was most of the morning, I need another hour or so to finish things off.
Then we'll start working on the intake, and make sure all the ports are matching
as close as possible. It got kinda warm and my little rotary tool was on the verge
of overheating so I called it quits here.