C3Killer wrote:
I am going for mileage here, not traction. Our stock wheels are what like 4" wide? Can we get wheels/tires any thinner than that?? I would even go with a solid tire if it were thin enough. Thanks.
Well, to answer your question with a picture:
You can see that the 145 and 155 put the same amount of rubber on the road.
The 145 is about 3/4 inch smaller in outside diameter when measured side by side with a 155.
The 155 has a greater taper from the sidewall to the tread. It is obvious in the photo.
The 145 has less rotating mass and gets better gas mileage than the 155.
Looking at your profile, you probably want 94 Metro specific information.
If you are running 12 inch wheels, perhaps they are similar to my MK1's.
1985-1988 Chevy Sprints used the 145s and got very good mileage.
I distinctly remember 5-10 mile per gallon differences, depending on brand and road conditions.
Rather difficult to find 145s now.
My 93 Geo and my 94 Swift GA use 13 inch wheels, so not commenting about 13 inch wheels and tires.
Woodie wrote:
The best thing that ever happened to Metro drivers is when they discontinued the 145's that came from the factory. 155's are better suited to the car and you'll never notice the difference in fuel mileage caused by 10 mm more width. I've got 195/50-15's on mine and noticed no difference in mileage, but a huge difference in traction. In a laboratory setting, I'm sure you could prove an mpg or two, but in real life, you'll never notice. "m" is right, more air pressure will make more difference than a slight width increase.
Normally, I stand side by side with Woodie, but he's a little ahead of me on this one.
Didn't know that Metros came with 145s.
The width is not on the actual tread...it's on the sidewall, but I did notice on my MK1's (not Metros) a mileage difference.
So, still no argument there.
As far as 'm' saying that more air pressure is an easier way to increase miles per gallon/km, will have to agree as well.
itsageo wrote:
from my expierience with my 91 sprint on 145 80 12.s when im doing long lighway trips i put them up to about 65 psi and notice i can go about 80km further on a tank of gas than when i run em at 35 ive been doing that for a few months now and notice the traction is the same and tires look fine (no uneven wear)
-geo
from my expierience with my 91 sprint on 145 80 12.s when im doing long lighway trips i put them up to about 65 psi and notice i can go about 80km further on a tank of gas than when i run em at 35 ive been doing that for a few months now and notice the traction is the same and tires look fine (no uneven wear)
-geo

As long as you are in a low population density area, and in the cooler climates...like you are...I don't see any real harm. Some people here are in a crowded municipal, high stress situation.
I'd like to see your air pressures drop a little, though.
sbdeadelf wrote:
And I gotta put my 2cents in about the narrow tires....
If you're doing mostly highway stuff, and especially if you have a MK1 car, I LOVE the 155/60/15's with stock Accord 15x5.5 wheels that I'm using now. They ARE heavier than the 12's by about 7 lbs each wheel/tire combo so that's a little drawback if you're doing stop and go driving. They handle MUCH better than the 12's since they're a LOT less floppy in the sidewall area and you can run 44psi and still be within the mfgr's specs. They're larger diameter also so there's the ride height thing to be considered, and you go a little farther per engine rev compated to the 12s also. You won't need taller gears as much.
Having read your thread about the towing incident, it would appear that the tires failed during a long tow.
Thus, from a safety standpoint, it seems more likely that the 155s have more sidewall, and perhaps would heat more slowly.
Adding 7 pounds per wheel/combo is a significant amount.
If you are interested in a fine MK1 handling experience, it would seem that shock/struts would be the first investment. The early Sprints were very good handling cars with new struts and wheels. Certainly your larger wheels are an upgrade for the curves, but on a straight section of road they would not be very helpful.
As far as going a little farther per engine revolution, the final drive ratios mentioned by Manutea would be more difficult to do, but add less rotating mass to your ride. Price wise, it also might be cheaper to change the gear ratio given some of the prices of these aftermarket wheels and tires.
Remember, C3Killer is looking for mileage, not slalom capacity...
econoboxer wrote:
I think 14 inch 60s are worth EVERY CENT they may or MAY NOT cost you in fuel economy. I think these cars are downright foolish with skinny 13s - I can't even imagine 12s - I wouldn't be caught dead in one with 12s - litterally.

When you are used to driving/owning one of these: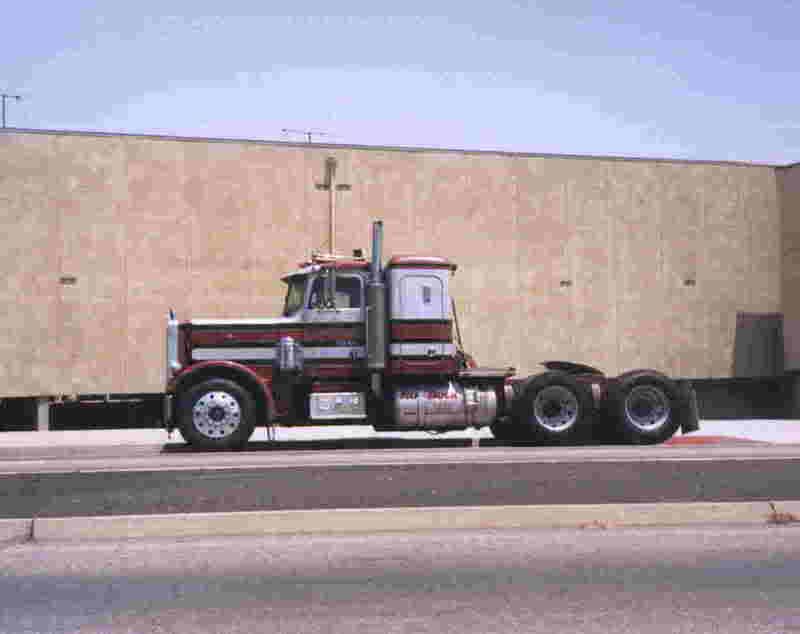 You can imagine how silly the subcompacts look on the road.
But to get in a subcompact after driving what you call a 'big rig' is not unimaginable. It's done daily.
Each tire/wheel/vehicle combination has it's purpose.
Younger fellows want to attract a nice girl, so they might put on some high end wheels and tires: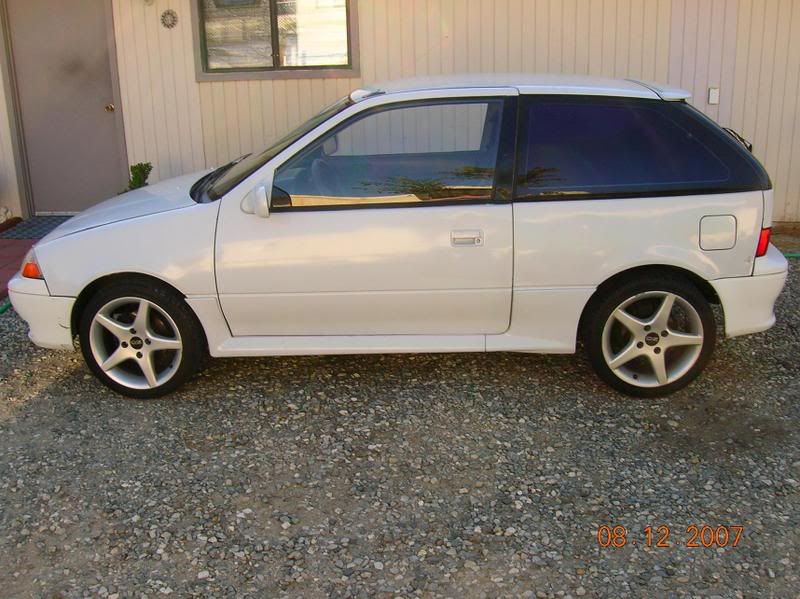 Older fellows, in a stable relationship, living in a low population density area might prefer the 145 by 12 inch wheels:
The fellows on the cutting edge...'m', woodie and others with their advanced stereo/sound system knowledge prefer other set ups which suit their specific needs.
What may look foolish to you and I might seem very 'in' to a 19 year old.
Just imagine how you look to that trucker you pass tomorrow on the road. Silly? Foolish? The trucker might not think a 12, 13, 14, OR 15 incher is safe, considering the accidents one sees on the road.
So where do you draw the line?
tyme_gypsy wrote:
I can tell a number of you folks are clueless about tires. I'll run down some ideas for you here:

High tire pressure, take 1:

The tire pressure recommended for your car is based on weight and tire size to give you the best TIRE FOOTPRINT at that weight and size, factoring in tire wear, ride and mileage. Too much air equals near-zero footprint and no handling or stopping capabilities especially on wet, icy or loose road surface. When you brake hard and try to make an emergency maneuver to avoid a crash and you car keeps going straight at the same speed, you'll figure out what I'm talking about. With your tires properly inflated, your contact patch is about the size of the palm of your hand on each tire. Get your tire pressure too high and it drops to about ½-¼ of that. That tiny patch of rubber on each tire is all that keeps you alive.

You people are UNSAFE with your tires up like that! Put your pressure back down where it belongs and stay alive. 100 MPG doesn't mean anything to a dead person.

ME: 1,000,000+ mile professional driver, Emergency vehicle operator and ex driver-trainer
First, welcome to the board.
You will find some pretty smart people here.
If you want to 'race' your car, we've got the men with the know how...and how.
We have cars here which beat the 400 horse Ferrari.
I noticed that C3 Killer dropped his pressure back down, so no need to go off on him, right?
If you are looking to squeeze the last drop out of your 'econobox', then there's a ton of suggestions here as well.
If you look at the differences between the 145 picture and the 155 above, you will agree that they both put the same amount of rubber on the road, no?
So safety wise, it might be a toss up.
Or no?
Again, you will find real friends here as you take the time to put a little of yourself into your posts.
Finally, as a professional driver, introducing yourself and dropping numbers, clue us in to your
ton/miles
and number of times you came in under the hook...old Johnny Mullet will be wanting to know.
Gasoline Fumes wrote:
I have more grip at 45F/42R PSI than the recommended 32 PSI. This is on a Civic (a little heavier than a Swift/Metro). 65 PSI is stupid, but so is 32.
Gasoline Fumes is another pretty smart guy. If you follow his advice you will go far.
My comment would be one of geo graphical
location.
If you are in the desert, then you wouldn't mind a 32 psi tire pressure at the beginning of a long desert trip.
And of course, starting out at 6am from Phoenix, Arizona going to Dallas/Ft. Worth Texas with 65 psi in your tires might not be the smartest thing, either.
So to those reading this thread, consider your geo....graphic...al location before you put your air pressure up or down.