I got a few things done on car today.
1. Changed transmission oil to Mobil 1 synthetic 75w-80. Old stuff looked like tar, good thing I changed it.
2. Took snorkel off of air cleaner. Read a lot about it improving mileage. I can definitely hear a difference in the motor.
3. Lower front of car from 24.5" to 23.5" Now the heights are 24.25" Back and 23.5" Front. Got rid of the ready to launch look (it bugged me since I first laid eyes on the car. I did this with a cutoff wheel. I took nut off of top of strut and jacked up car (one side at a time) Left the tire on, by removing the strut nut it allowed enough slack on spring to slide to side and cut. I then lowered car slowly while guiding strut though tower. Put the nut back on, check spring alignment and repeated on other side. I also used the first 1/2 coil as a guide to cut the rest. I laid it on top of other spring and marked it. Ended up taking 1 whole turn off each front coil. Pleased with the results it may be just me but I think it rides nicer now than it did before. I may end up taking a half more coil of front and back time will tell.
4. Got my compression check done here are the numbers.
___ 1 ___ 2 ___ 3____
dry 205 190 205
wet 210 185 205
Here are a couple pictures of before/ after of frt. end drop
Before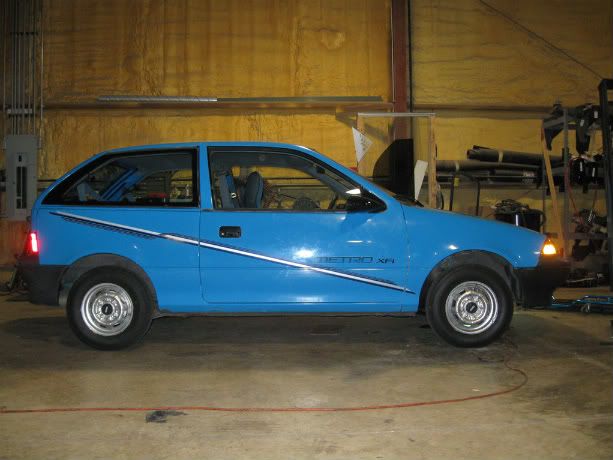 After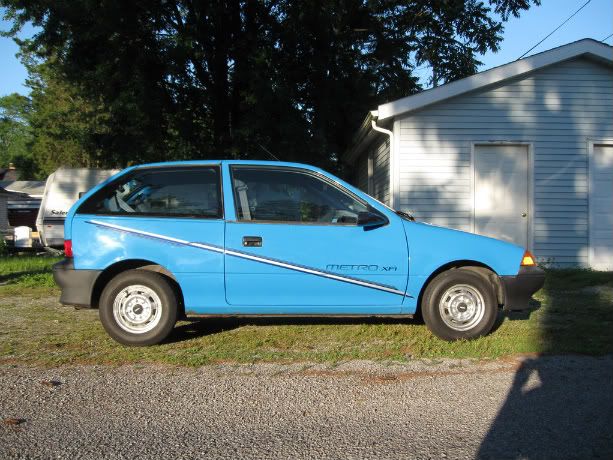 I meant to take both pictures in shop, but got excited and cleaned up and drove it.
So my list so far is.
1. Changed plugs and wires
2. New air filter
3. Changed oil/filter, changed tranny fluid to synthetic 75w-80
4. Set timing to 7*
5. Set tire pressure at 40 psi.
6. Lowered front of car 1"
7. Kinda took dent out of hood.
8. Took snorkel off air cleaner.
9. Cleaned Egr and passages.
10. Seafoamed it
11. Fell in love with my Metro
So with my compression readings what could be possibly making my mileage so low for an Xfi? 37 MPG is the highest I have gotten. I don't drive it hard at all coast whenever I have the chance to. Don't sit and idle. It runs pretty good for a 3 cyl. Could the O2 be bad it has 159k on it. I am running out of ideas. The rockers are rusted could that cause it?"from the extra drag". Please some ideas would be great.