Weather is cooling (although slightly) so maybe I can throw in a few ideas.......
You seem to be doing another turbo swap.
So you've been around the block once or twice and aren't a newbie at this.
I would agree with what some have posted above.
Specifically, that the shafts have different diameters, depending.
Here's a picture to illustrate some differences: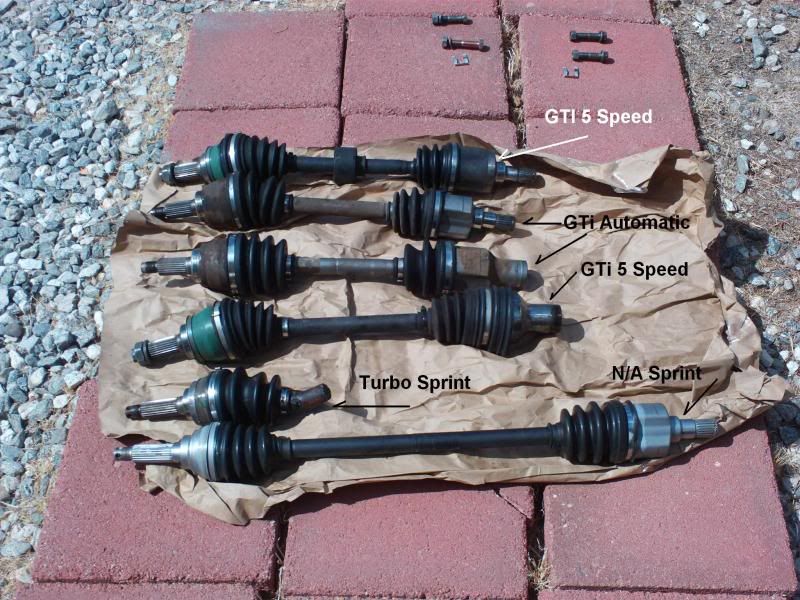 It isn't the best picture, but there ARE different diameters of half shafts in the picture above.
But what doesn't seem to be mentioned is that there are different LENGTHS of intermediate shafts.
To illustrate, here are two Suzuki intermediate shafts from the North American market:
(Credit to Phil N Ed for the pictures)
Here are three ideas which might not have been mentioned above:
1
This might be the cheapest, quickest solution.
As long as the shaft is dead on straight, it can be cut to length and welded.
Those shafts don't spin as fast as the rest of the engine and transmission, so you get a little more leeway.
Again, we are talking about a machine shop and a lathe/welding combination, plus someone willing to go out on a limb with your old parts.
Yes, I've taken my driveshaft in. No, it didn't vibrate after shortening. Yes, it is a common procedure when doing engine & transmission swaps into a conventional set up, and those driveshafts are LONG!
2
Alternatively, the two holes which line up the intermediate bearing could be elongated if the shaft you have is ALMOST able to line up with the engine block.
3
Depending on your application, I suspect you could find a combination of Suzuki parts which would bolt in without too much difficulty.
However, you might not be able to source it locally.
This last suggestion is more brain work and less 'doing'.
You'd have to find something in the Suzuki parts arsenal which would line up.
So you'd not only need the dimensions of the new parts, but also the part number.
That might eliminate all the fabrication that was mentioned in previous posts, including a special mount.
If you do find a bolt in correct length intermediate shaft from another Suzuki product, post the part number and dimensions.
Fabrication can be very satisfying, and sometimes you end up with something no one else has done.
Good luck with your project. People will be more apt to help if you start a thread and update it with pictures.
Apologies if I missed that thread.
In the meantime, if you are looking for a specific diameter and length intermediate shaft, kindly post the correct measurements, or exactly what intermediate shaft you desire.
Sorry for any thread hijack; the idea is to get your project moving forward in a safe, reliable, and quick manner.