I am the proud new owner of a 1992 Geo Metro Convertible!!!!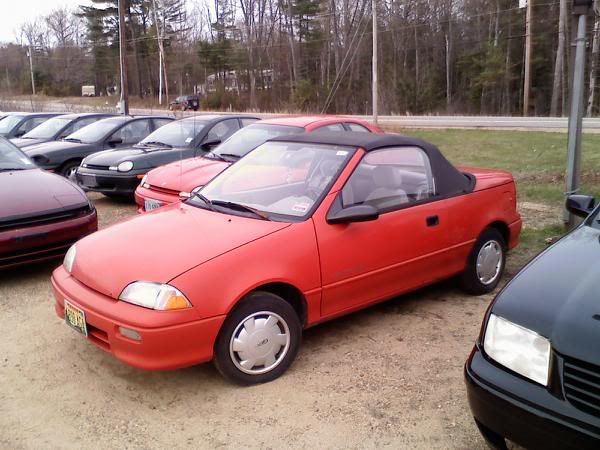 I was driving up rt. 106 with my bf to go to a bbq and I saw the rear end in the line of cars, and I am like "OMG....a geo metro convertible...on a dealer lot...." and so he says we can stop on the way back. Ok. Cool. So on the way back, we stopped. It was almost 5pm on a Sunday, and the salespeople were still there...so I ask about the car. They say it is $500. Ok. Cool. So I look at it, check the engine bay, check the trunk, check everything pretty much...and it is good to go. Front and rear is solid. Rocker panels are shot....the car starts and runs, a little rough, but still. So yeah. I impulsively buy the car. They prefer cash, so I go to the ATM...out of money, then i go to the gas station ATM cause I am desperate. I pull out $500. Go back and get my paperwork! I own the car!
Today, I have to sit here at work for 3 hours doing NOTHING cause there is no work for me. I then have to race up to the DMV, get plates, and then to my bfs house then to the dealer. Hopefully the car will make it back to his place. I dunno what sort of condition it is in as I didn't drive it.
Luckily my bf (c4boom) has plenty of experience with the Metros. Plus a lot of extra parts...like a swift gti body kit...
I am so excited! It is getting painted Mopar Plum Crazy Purple. (Yes, I am a girl...and i love purple!).
Wish me luck...I'm sure I will be around to get advice!!