Now parting out, see thread here:
viewtopic.php?f=15&t=58428
I bought a new project, so I have to get rid of one to keep Mrs. airwerks happy. This was to be my autocross / track day car (that's why it's gutted) but now I'll have to make do with my Colt for that purpose….
Going to try to sell it whole for now, I'll give it a couple weeks and I'll part it out if no one wants it as is.
3k miles on engine refresh (hot tank, new bearings / seals / gaskets / timing belt). Done 2 years ago… car doesn't get driven much.
Mobil 1 Synthetic at all times.
3M windshield urethane filled motor mounts (all 3). You will keep your teeth fillings, but lose the use of your kidneys.
Tighe BD10 Cams. Nice and lumpy, included a video. They are just starting to come on at the factory 7600 RPM redline and could really use a chip to let them breath (should be good for around 9k RPM)
Aluminum radiator
No name cone filter / adapter
Grant GT faux carbon fiber steering wheel
94 Sway bars (larger than the 89's)
Cut springs to lower
ACT 6 puck clutch (20k miles). Love this clutch.
GT 5 speed, no grinding or noises. Shifts fine.
Resurfaced flywheel (3k miles)
Genie header (rusty). Currently not leaking but I've had to weld up cracks 2x now in 3k miles so it's only a matter of time before it leaks again.
2.5" exhaust, flowmaster 3 chamber and side out. Too loud for me, but when I had it on my last car (that was turbo'd) it sounded perfect. Plan was to turbo this one too so I left it on.
15" SWT (Suzuki works techno) wheels. Required hub center machining as they were initially designed for an Aerio. Best looking wheels on a GT IMHO, never seen another with them on it. 195/45R15 tires, in various states of wear from 20% left to 60% left. 3 Toyo Proxes T1R and 1 other.
Changed over to 94 tails and dash / instrument cluster.
Car is gutted. I drove it to work all the time in the summer time, but many won't like it. No heater core, no rear wiper motor, absolutely no interior, the only dash is the top shell (I sawzalled the bottom off) and speedo cluster. No fan. No headliner. Removed lavish extravagant capitalist pig wiring that was no longer used. Motorcycle battery. Tar board chipped out of interior floor. No hatch struts. No shift knob. Getting the point?
1480 lbs at the local truck scale.
$2200 as it sits, or $1900 with the stock cams reinstalled.
Bad:
Wiper motor makes some gravely noises. Has since I bought it but keeps working…. So I haven't replaced it.
With the motorcycle battery, it doesn't like starting below 50* or so….
Bitch is loud.
Right rear turn signal doesn't work, socket is rusty. I've been trying to pick up a replacement tail light harness but no luck so far.
Oil pump is leaking a decent bit. Bugs me as it's a new gasket and torqued to the FSM specs.
Trans leaks a little too.
I also have some parts I'm getting rid of, see link here:http://www.teamswift.net/viewtopic.php?f=15&t=58296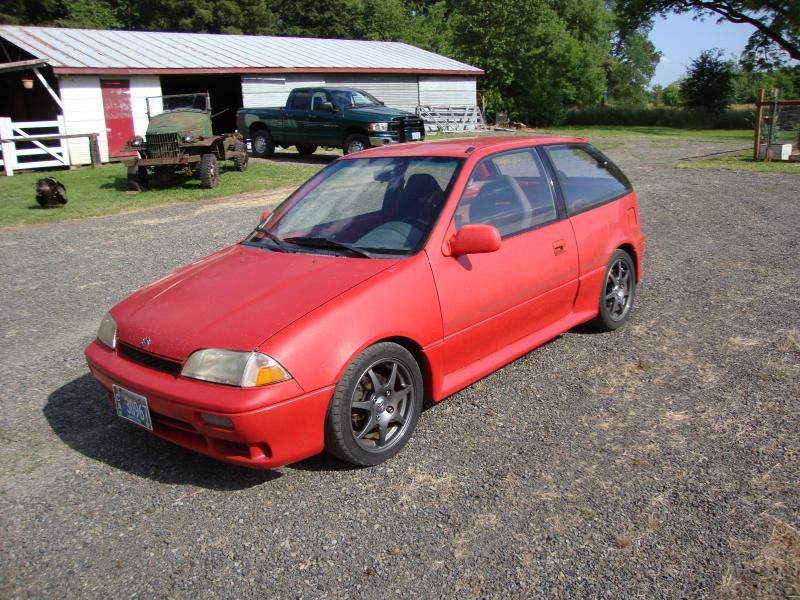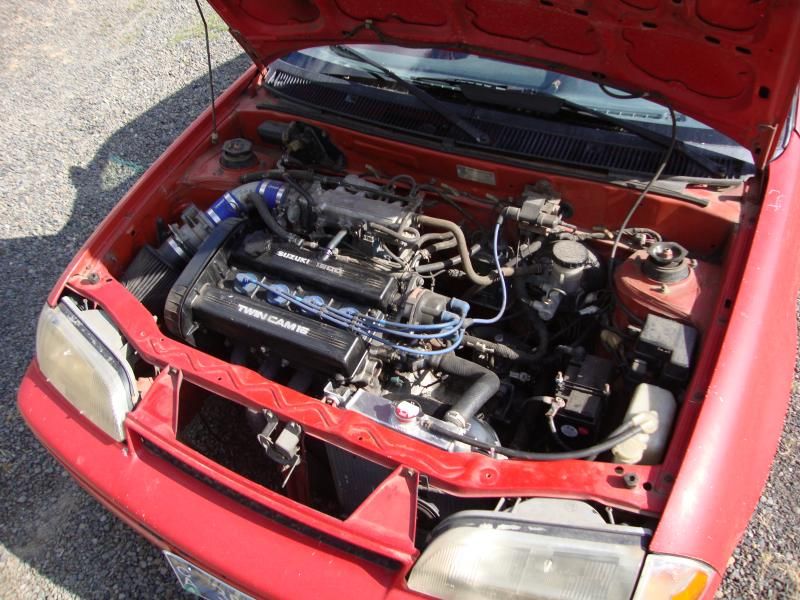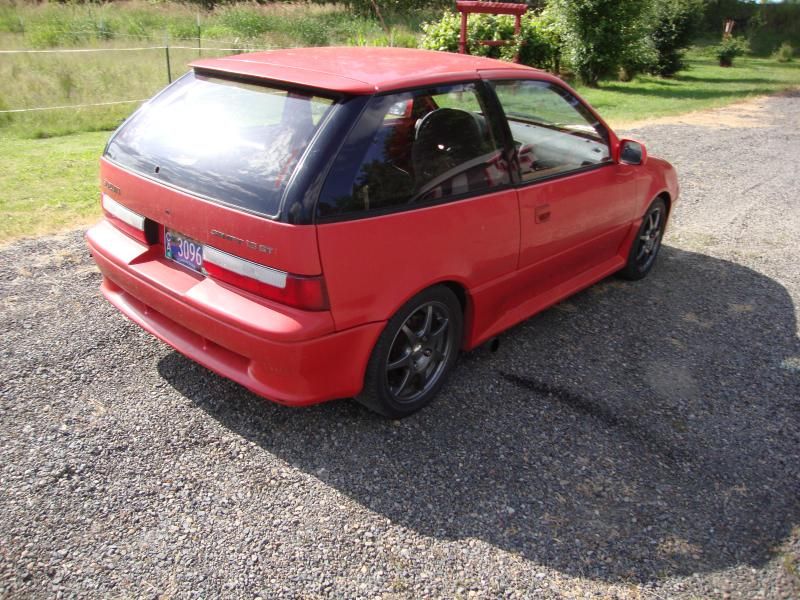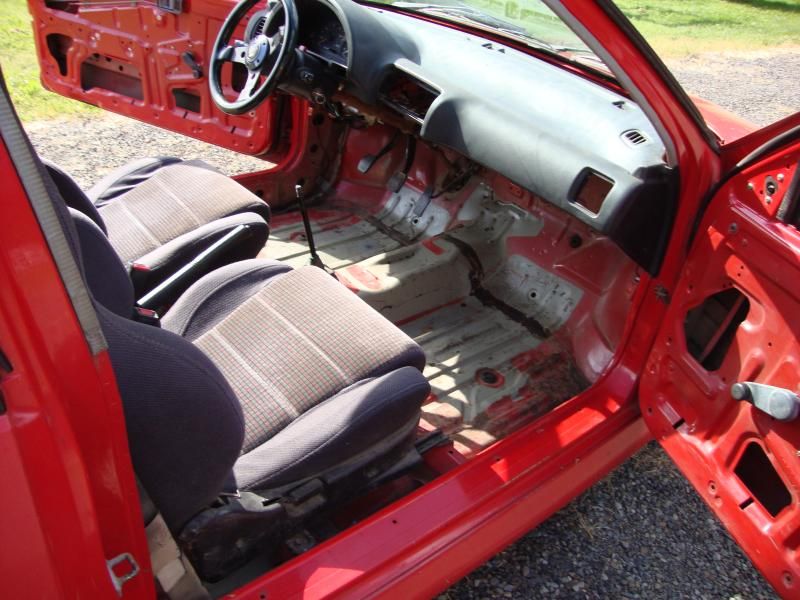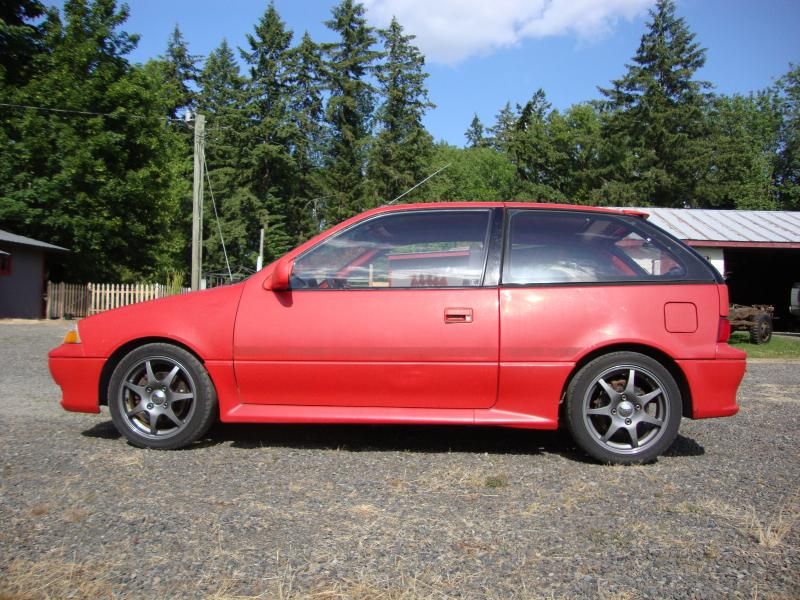 Exhaust video: