fordem wrote:
Do you have spare carburettor jets or access to spare jets? The earlier cars had larger main jets and I've been looking for these for a while - so if you have any that you're willing to part with, let me know the sizes and let's see what we can work out.
If I recall, the Aisin carb might have come with the 103's standard in the 1.3L engine.
Unless you are talking the 2F Land Cruiser straight 6 (which has larger and more expensive jets) we can go higher for very little money. If the jets you are requesting are for the Land Cruiser, and you want OEM, then you will pay more. Obviously, 103's drilled will be a cheaper alternative for you.
If you are serious about getting jets, send me a PM with your specific application and whether you want OEM or stockers redrilled.
(Not hijacking your thread, Mate...nice job on the engine)
Back to the thread:
Fordem is trying to get you to hook your PCV, I think. It's a win/win situation if that's what you do.
If your carb starts giving you headaches, you can find a schematic on this site. Here is the link:
viewtopic.php?f=31&t=41569
(which also mentions that I might be able to help you source out parts for your carb, but you should be OK in Australia for parts...)
The tach is easy to hook up; look on ebay for those tachs mentioned on this site and they have schematics you can see. Glow Shift tachs have a review in the "Product Reviews" section.
Since we're on the Aisin Carb subject, I thought I had posted these somewhere, but here are a few shots of the carb I'm talking about: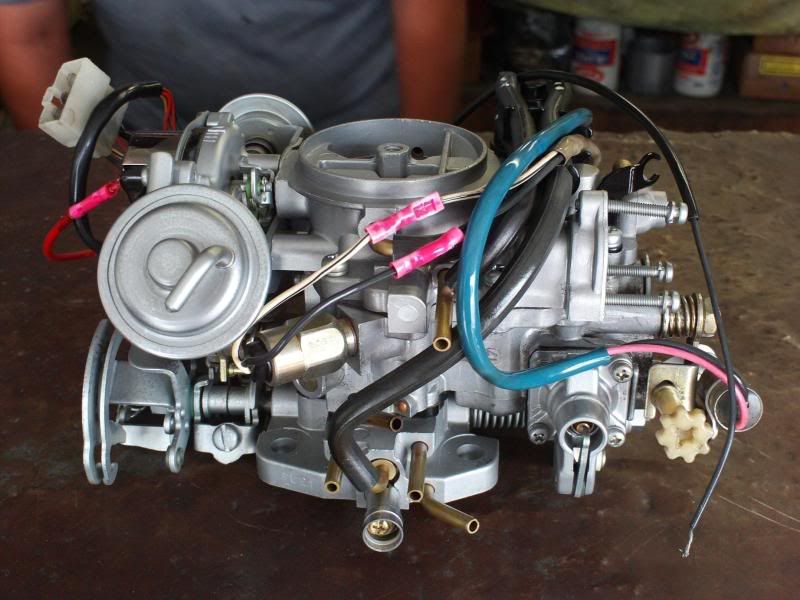 again, I'm only talking about the primary jets.
Now, on your A/C question, here's a shot of my car with a similar engine, but with factory A/C installed:
It's nothing fancy, but it works fine out here where the temps are currently 38C/100F in the shade, and it's worked fine for years.
You should have seen the look on an old fellow, when...at a hamburger stand the other day he realized it had A/C. Guess he thought only large cars and trucks have A/C.
Do you happen to have a sticker under the hood which mentions the valve adjustment?
Little long, this post...but hope it helps.
_________________
DIY Broken Bolt Removal:
viewtopic.php?f=22&t=41042
DIY Clutch Adjustment:
viewtopic.php?f=9&t=48281
DIY Wheel Bearings:
viewtopic.php?f=2&t=29003
DIY Shocks:
viewtopic.php?f=10&t=45483
DIY Wheel Align:
viewtopic.php?f=2&t=42479
Once you get the cars dialed-in (compression, leaks, bearings, alignment, brakes) swap in new rubber and glass, you've got something which should last for years!