Quote:
I connected the jumper between the bottom left and bottom center on the port.
If that's where the sticker under the hood says, then you're probably right. I'm not 100% familiar with the 96+ OBDII Metros. Sorry.
Quote:
Would the belt being off be the reason that the timing has to be set so high to run properly?
Very possibly.
Quote:
Is it still safe to drive it?
Probably won't hurt unless it's pinging to death. Ping can be hard to detect on a fresh tight build. Your power suffer with it off a tooth too. I, for one, would not drive it until the issue is resolved.
_________________
.........I'll be back in a bit........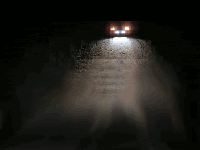 Extreme Make Over....SnowFish Addiction
1991 Metro Xfi Sport, Crower F12142 Cam, +2 degrees on adjustable sprocket, .020 Over, Balanced & Blue Printed, 3.79 final drive, WhiteLine Bushings Everywhere, 185/60R14's, TBI Bridge Delete, Edelbrock Air Cleaner, Stainless Header, 2 Inch Exhaust, Magnaflow GlassPack, Swift Twin Exit Muffler.