Bearings are an important 'first step' in making sure your car is reliable.
Getting the whole mess to roll properly and easily makes for a quiet and economical ride, or a mean race competitor.
Last August I picked up some cheapo $3 ish Chinese bearings and I think I even posted a heads up in case someone else wanted to save a few bucks.
Here it is:
viewtopic.php?f=15&t=59357
Guess I exaggerated.
They were only $2.48 USD each shipped.
I've heard from some corners that the Chinese bearings are inferior, but maybe it is the way they were installed, because I haven't had a bearing fail in over 30 years.
But lately I've upped my game, thanks to Uncle Fainya's advice.
Here are 8 bearings with the dust covers removed CAREFULLY using a pair of dental picks on the 4 left ones.
The 4 on the right are probably done or about to get some minor surgery.
Actually, if you STUDY the picture you'll see the tools I'm about to use:
-small screwdrivers
-dental picks
-leather working tools
-COLD Saki (optional)
This is what I call 'benchwork'. You buy new bearings. Take them apart and grease them. Then they are ready when you need or want them.
Snowfish lives in an area where there is a LOT of water.
So he has a LOT of experience with what works up there.
I live in a place with very little of the stuff.
Lately, they're saying we've actually got a shortage...whatever.
Back to the wheel bearings:
In our climate, you want to have them lubed, but too much grease (outside the bearing) can actually migrate onto the drum in our hot weather.
I put them on a Church Bulletin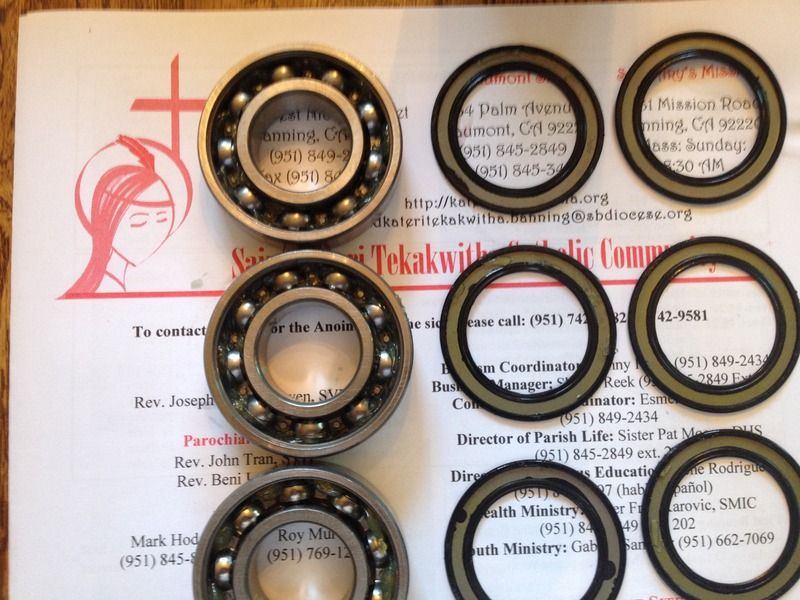 so that they get a little good luck
and grease them with a small spatula.
Other people have fancy grease packers but you can get by without one, cheap as they are.
Grease has a tendency to last a long, long time when I do it this way.
But before I put the covers on, here's what I've got: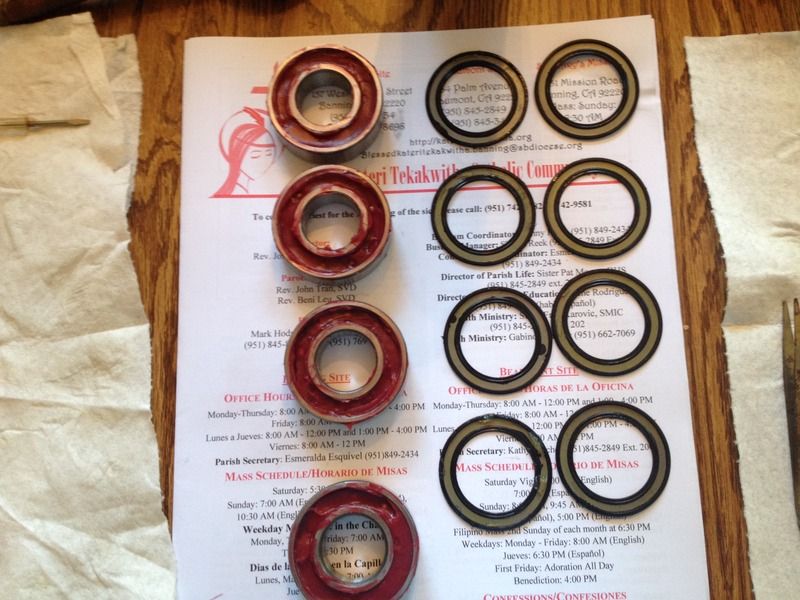 And remember a while back I said I upped my game?
It's that red stuff.
They call it Mobil 1 wheel bearing grease.
I might not be using it in the right place, but there you have it.
After greasing them all, I slap on the covers again and put them in as dry as a bone (on the outside).
No more grease.
No more fancy water repellant.
Again, I'm not saying my way is better or worse.
It's just the way that I've been doing it lately.
On older stuff I do put a bit of grease in the hub, but that's for fronts and some stuff built a long, long time ago.
Once the covers are on, they go in their little boxes, or plastic bags, or whatever I've got and put into a place where I can FIND them when it is time to do wheel bearings.
It doesn't do any good if you do all this bench work and then LOSE the parts in that mess we'll call your garage.
In recent memory, the only bearings that have failed me were ones which I inherited when I bought the fixer upper cars.
One really screwed me up. It was a front right on a Swift GA.
It started howling in Vegas and I drove it home 4 or 5 hours with the noise getting louder and louder.
We got in around 2 am and you could hear that car coming for several blocks.
That was at the beginning of a long vacation.
It set me back 3 days.
I had to run the hub into L.A. and use a big press so that the spindle wasn't scored.
Long story short, it is fine several years later and I don't expect it to fail anytime soon.
Whoever worked on that before me forgot some basic things.
Like greasing the splines before putting the new drive axle in through the hub.
But that's a story for another time.
Fronts are more difficult to install correctly but you have to pay attention when you do the rears.
Recently, Paul V. in San Diego screwed up a set by not following this DIY thread more carefully:
viewtopic.php?f=2&t=29003
Paul: we all have problems with cars. That's why we're on this forum. To share the knowledge.
Being 'poor' isn't a crime. But if you use the help here on the forum, you won't be poor very long.
The thing about wheel bearings is:
if you take your time and do them right...you end up doing them
once and once only
.
Once in a while a rear set can give a guy a headache, and I'm guessing for Cubey it is ALL about that spacer.
However on rear disc brakes you can have problems as well, increased if in the rust belt.
Our cars are so light in the rear it is almost impossible to have problems unless it is a service issue.
Chinese, Taiwanese, Japanese, Malaysian, Brazilian, or wherever they are made, rear wheel bearings have very little failure rate unless you are overloading your car or not install them correctly.
These cars weren't manufactured as tow trucks. I realize people put tow hitches on them.
Heck, I've even got one with a tow hitch.
But seriously, you'll end up frying your rear wheel bearings if you overload the rears.
Don't believe me?
Ask xrw44.
On that 'too much wheel bearing grease can screw it up' - I never heard that until I joined Teamswift, but who am I to say what is too much?
The old wheel bearing packers we used packed that old bearing solid.
Much better than my bench top technique.
I think the first wheel bearing I packed was for a 40's Ford or Chevy.
And I've packed 'em by hand like the fellows on You Tube.
Years ago you'd lift the tire, spin it and tighten til the wheel wouldn't spin freely.
Then loosen it a small amount and set your cotter key.
These days, the torque wrench seems to be King, but common sense should prevail.
If you are tightening the wheel nut and the wheel won't spin...maybe something isn't right inside - just sayin'...
So watch out BLINDLY tightening a center nut with a torque wrench and then having a problem 10 miles down the road.
Once that nut is torqued, you should be able to spin that wheel and tire, especially on the backs.
And while we're on the subject, you should grab the tire top and bottom and check for free play as well.
Hopefully you know what I mean.
From our lowly Suzukis to the 'Big Diesels', it's the same.
Once you tighten up that hub, the tire still rotates when you spin it.
And LISTEN.
It shouldn't grab or grind when you spin it.
Especially if you've just put new wheel bearings in it.
So listen while you spin it.
If it is making noise with the tire in the air, it will make more noise going down the road.
Common sense, right?
Back to this thread: Cubey did your spacer become loose after the work you did or was it loose to begin?
Second question: Did you try to source a new one if it was worn.
Here's how you could tell if it was worn: You remove both sides and compare.
Good luck with this project.
Hope you provide better follow up than you did with the transmission repair thread.
I still haven't figured out what happened with that transmission, but I guess it's OK since you've moved on to wheel bearings.
You left a lot of loose ends in that thread.
Now Cubey
This is a lot to take in.
But if you read it a few times you'll begin to get the idea how all the guys who do this for a living operate.
No one wants a car to come back with failed wheel bearings.
We try to do them once, do them right and move on to the next thing.
Not one single picture old buddy?
Are we getting lazy?
Letting all the old timers do all the work?
I hope you have long ago replaced your passion for saving a buck to a passion for doing the best job money can buy.
Especially on that nice car of yours!
These cars are gradually becoming collectables.
Good luck!