123gt wrote:
Why use the sprint engine and not the metro engine? The metro has 117,000 miles not 192,615 miles like the sprint. Also the metro has new valves and runs good unlike the sprint. The sprint is an 87 the metro is 94.
Also I like the better fuel economy of the geo metro.
I think I am missing something here.
The Turbo Sprint engine is fuel injected. The Metro engine is TBI. I have a turbo TBI metro and i would recommend using the FI engine, if it is in decent shape. If the only problem is a bent valve then rebuild the head and re-ring the block while the head is out. I love my TBI turbo Metro but it would be easier to use the factory turbo engine over the TBI.
Also, with my TBI Metro i'm getting 15-23mpg, so the fuel economy isn't exactly good.
Kyle
_________________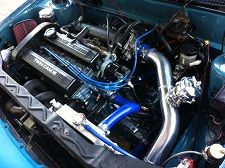 92 Metro Turbo-G13b Swap - too much stuff to list
95 Metro 4/5 Sedan - Daily Driver Status
2014 BRZ Limited in WRB - The car payment