VR4 wrote:
3 main types of injector connectors....
EV1 is the most common....
ev6 is next.
you have another style thats pretty rare. get some pigtails to match whatever injector you choose. at leas tthis is the G16 esteem injector. probably the same as the sidekick (i could check mine but that would require me to remember to when i get home)
I gotcha, you mean changing the pigtails... i was thinking you mean something different/complicated. I have a 87 samurai i swapped a 96 geo tracker engine into with MS1 and wideband. I ran all the wiring (zero PNP) using the stock 16v connectors to each sensor. Swapping connectors is a cake walk lol. I have been concerned with height/size/fitment mainly. I've never pulled an injector from the fuel rail to grasp the concept. I want to be sure I ebay order the correct injector that will "physically" fit. I thought the stock tracker injectors were Denzo but am unsure if there are different versions. I am pretty positive mine are EV1 connectors.
This is an image i found online for a Geo Tracker 16v. I can pop one of mine to confirm connectors though.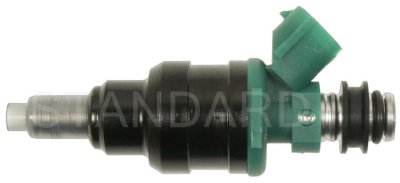 Im at 8.5psi right now and treading thin ice with duty cycles. I have been short burst testing ...not daily driving at this boost level.
Thx for the input, its very helpful.