Phil N Ed wrote:
Check the driver's side of the carb.
There's a sight glass which shows the fuel level.
If you can see a liquid/vapor division through the glass, then you probably are OK.
You guys are running electrical fuel pumps, and they put out more fuel pressure than our mechanical pumps.
I checked but i'm not sure i saw where u described...
would it make a diff if it's not a oem suzuki carb... (toyota 2E carb & mani coversion... bought it like that
)
Anywho... i think i've located a possible problem... check the pic below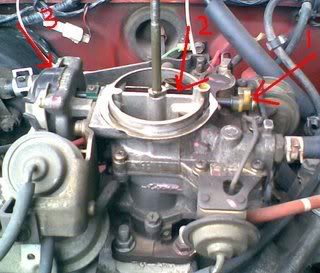 I believe arrow 3 is pointing to the automatic choke device (someone plz confirm)
There is a shaft that connects to the device (shown in arrow 1) and it operates a butterfly like plate that moves to open and close like the actually butterfly in the carb (shown in arrow 2)...
the problem is... when i move the end shown in arrow 1... it has no spring action returning it to an original position.. it just turns in and out freely...
is this another cause for concern....
_________________

The Greatest Drivers, The Greatest Machines, The Greatest Glory....
SUZUKI ... The Joy of Driving, The Thrill of Victory