Rather than start a new thread, I thought I'd resurrect this old one.
What is the difference between a standard transmission and a GTi/GT/Sprint Turbo transmission?
(I'm guessing that's what he meant; it's one of the first threads to ask the question!)
This question has been asked many times in many ways on the Teamswift site.
The manual gives this answer:
"Though the 2 pinion type is used in the standard transmission, the 4 pinion type is used ...in order to get enough durability against raised engine performance" Well, read it for yourself:
We throw the 2 pinion vs. 4 pinion words around with authority, but if you take a look at the illustration, we see that the FSM falls a bit short, for there are actually THREE pinions/pins. But again, take a look at it yourself:
Items 4 and 5 are the pins in the differential, and you can see there are a total of THREE, not 4 as stated in the FSM.
The FSM covers its butt by using the phrase 'four-pinion type', so we don't need to actually fault it.
So let's translate that into real terms. Suppose you wanted to find a transmission which had the stronger differential.
What would it look like?
If you look into the area where the drive axles go, you would see one long pinion (#4 in the drawing above) and part of the other two pinions (#5 in the drawing above).
Here, I've pointed to one of the #5 pins with a white arrow: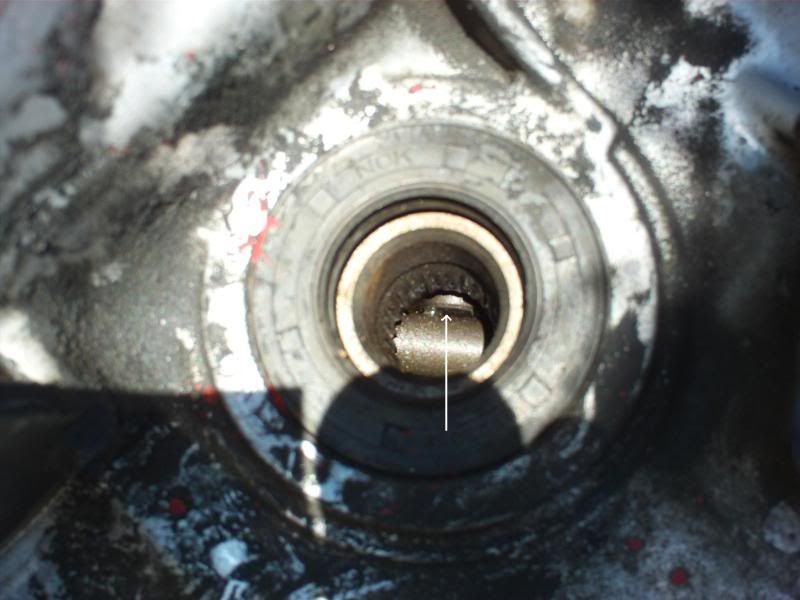 Reading through this old thread was quite therapeutic.
I hope this little post helps you if you are looking for a particular type of transaxle.
Now, a couple of pictures of a plain transmission and a later model GT 'black box' would really set this thread off.
Gee, it might even warrant a sticky!
_________________
DIY Broken Bolt Removal:
viewtopic.php?f=22&t=41042
DIY Clutch Adjustment:
viewtopic.php?f=9&t=48281
DIY Wheel Bearings:
viewtopic.php?f=2&t=29003
DIY Shocks:
viewtopic.php?f=10&t=45483
DIY Wheel Align:
viewtopic.php?f=2&t=42479
Once you get the cars dialed-in (compression, leaks, bearings, alignment, brakes) swap in new rubber and glass, you've got something which should last for years!