TheSilverBullet wrote:
I would not ask to have the job done at a shop. It's not below your ability level.
viewtopic.php?f=9&t=11004
With an oil pan, drain all the fluid out from the bottom plug. Put your Permatex Thread sealant on the threads and re-install it .
with the speedo gear removed and a long funnel that fits into the hole, install it into place were you can pour the bottles in.
remove the side-fill plug. put the drain pan under it. fill up transmission with oil from the top until it starts to drip out the side hole, then stop. seal thread and reinstall plug. use brake cleaner to spray away excess oil from the case. reinstall speedo gear. test for proper operation.
It helps to remove the left wheel and jack up the car. Make sure you are using the proper fluid. It's called synchromesh fluid. Buy the Haynes manual for your car if you have not already, and start doing little maintenance jobs on the weekend. I would bet that the previous owner had used incorrect oil in the transmission.
Good postings, however I can add a few things.
1.) prior to removing the drain plug, take a look and see if you have the tool to remove it.
2.) if you allow the transmission to drain for 36 hours, you can easily wipe the threads with a paper towel, being careful not to cut your fingers (the threads ARE sharp), and then quickly put the drain plug back in.
You will have to use an old toothbrush to remove the tiny flecks of metal FIRST which have drained onto the threads. This technique will allow you to install the old plug without leaks. If you do find defects in the threads, use a dental pick, available at a hardware store, to remove them. Usually it is from previous work.
3.) When replacing the drain plug, run it down and see how far it will go. If it will not go back in as far as before, there are still some metal flakes on the threads. Do not force it, but rather use that dental pick and clean up those threads. Your young eyes will see and your hands will feel the places where a 'bead' of metal has stuck to the thread crevice.
4.) We recommend the Pennzoil Synchromesh, as mentioned above. You will need 3 bottles, and will use 2 1/2 bottles.
5.) Since you see new axles, while you are under there, observe any indication of oil leakage where the axles fit into the transaxle. Don't panic. take some photos, and add them to this thread, asking the fellows what they think.
6.) Once the transmission is refilled, and you are driving it, the 'whine' you hear is probably going to be characteristic of the car during your College years. Just make a mental note of it. If it begins to get louder perhaps their is a fluid leak. Drive the car, and remember you still have half a bottle in case there is a leak.
Do not worry, unless the noise begins to increase.
-end of additional suggestions...
The pursuit of Higher Education is a worthy goal. Should you succeed, remember your poor, humble 'Fellow Teamswifters' who cringe at the thought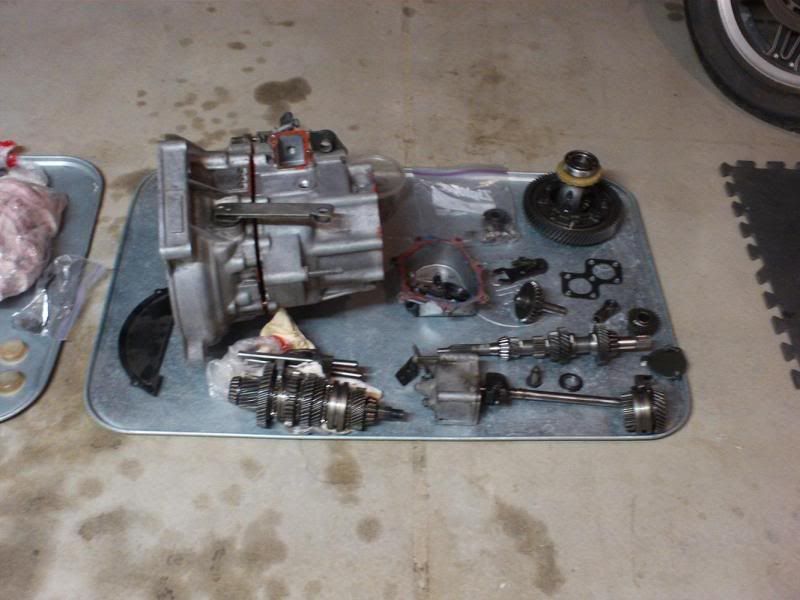 of having to take apart a transmission! Knowledge is power, but it is nice to have a hobby which keeps you sane.
Good luck with your studies.
_________________
DIY Broken Bolt Removal:
viewtopic.php?f=22&t=41042
DIY Clutch Adjustment:
viewtopic.php?f=9&t=48281
DIY Wheel Bearings:
viewtopic.php?f=2&t=29003
DIY Shocks:
viewtopic.php?f=10&t=45483
DIY Wheel Align:
viewtopic.php?f=2&t=42479
Once you get the cars dialed-in (compression, leaks, bearings, alignment, brakes) swap in new rubber and glass, you've got something which should last for years!