In another thread, Lihtan wrote:
Lihtan wrote:
Are you going to post details on the EV conversion?
Yup. Here goes:
(

NOTE:

since starting this thread, the image hosting service I was using (theimagehosting.com) for the pics changed its rules which broke all the links to the larger images. So now only thumbnails are shown below. If you want to see the "zoom" version of a picture, get the image URL (in Mozilla/Firefox: right click the image > view image ... in IE, right click the image > properties - then copy paste the image URL into your address bar) and remove the ".th" from the filename in your browser's location bar. The full image should open in your browser.)

This winter, a buddy and I decided we were going to make an electric car.
Why?
A. Mostly for an interesting project to pass the time. Also, there's a beer fridge in the garage.
B. Also because we both happen to like the concept of electric cars (and if you've ever driven one, you know about the "EV grin").
C. Plus, the price of gas is only headed in one direction, and we thought it would be cool to sever the ties to oil and still be able to drive around some.
The goals for the project are simple and modest:
1. Low budget (used parts where possible)
2. Low speed (we only want to be able to drive around in town, so 60 km/h / 40 mph would be fine)
3. Low range (the small city we live in is only about 10 km / 6 miles across. A 15-20 mile range would be OK, basically one trip per day.)
4. Low budget. (And did I mention low budget?)
The choice of car to use was obvious: some sort of Suzukiclone. Because they're cheap, plentiful, easy to work on, cheap, and most importantly, cheap. No, just kidding - most importantly: lightweight.
Light = more efficient. EV's don't usually carry much energy, so the same thing that makes a Suzukiclone attractive as a gas car makes it good as an EV for our purposes. Lightweight = better performance for less energy.
We would have preferred a MK 2 car, but they're just a distant, rusty memory around here. So the first car we bought was a '93 Swift 1.3:

For the electric parts, we bought a surplus 36/48V forklift from a local company, and had it trucked over to the house. We stripped all its parts. .. and then we came up with a name for the project: ForkenSwift...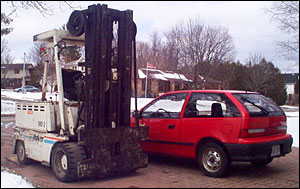 The vehicle on the left weighs nearly 10 times as much as the one on the right.
Once the parts were out of the forklift, we sold the bones to a local scrap yard, and they came and trucked away the chassis.
Unfortunately, once we got picking & grinding at the Swift, we realized that the underbits were a little rustier than we thought. So we went out and found another cheap Suzukiclone with a little less rust: a 92 Metro. We've since mixed & matched the good parts from both cars into the Metro:
Cost for both cars: $250. (Extra parts sold to date: $170.) So far, so good!
More to come.