Here's a little update on the starter problem. First of all I think I've just about got it down to where I can let off the key just before it gets fully started and the starter has a chance to pull back before the engine hits idling RPM and there's minimum to no starter grind noise. But that's just to minimize any damage on the components for now. It's by no means a solution to the problem because I shouldn't have to do that.
I found some time tonight after shaving a couple laps off my time on the shifter karts at this local go kart indoor track. It's fun! 34 second lap the first time I went and then the second time I got 32 second lap. Top lap time is about 28 seconds.
My little 3 leg helper.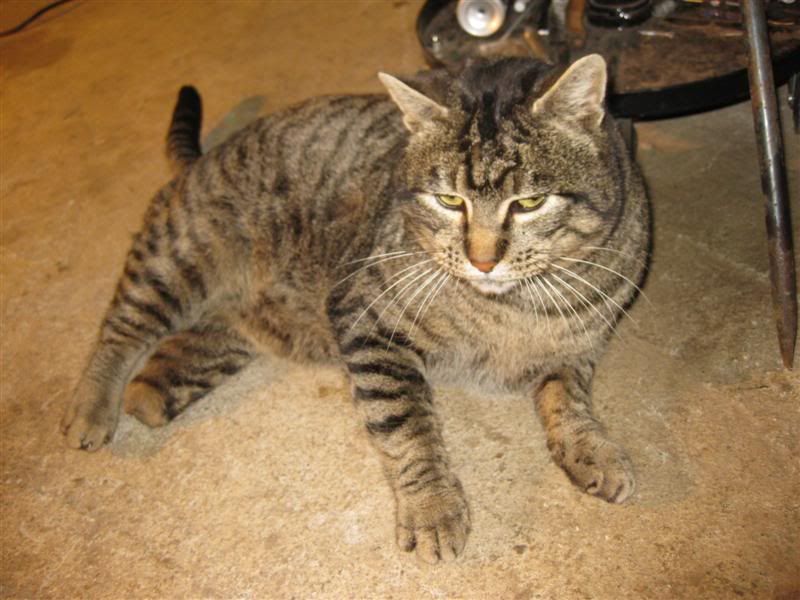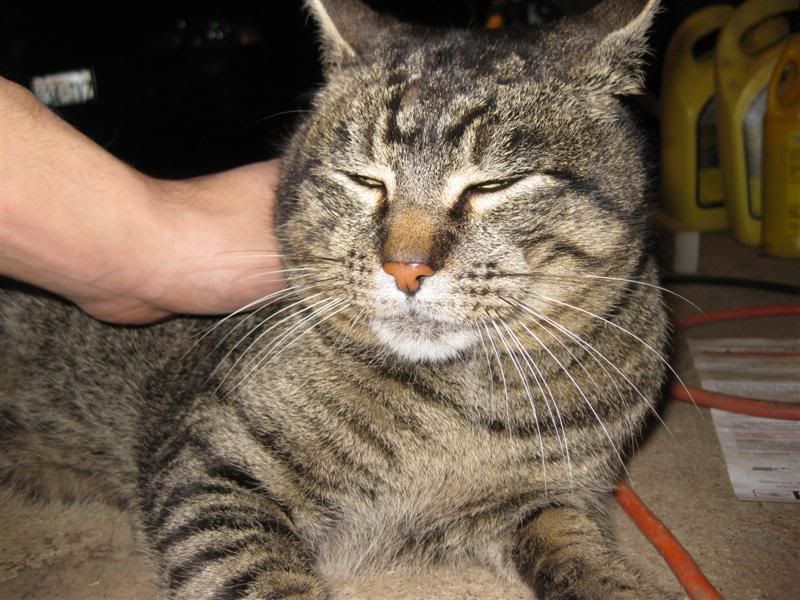 Fatass expects to be pet. Takes it for granted.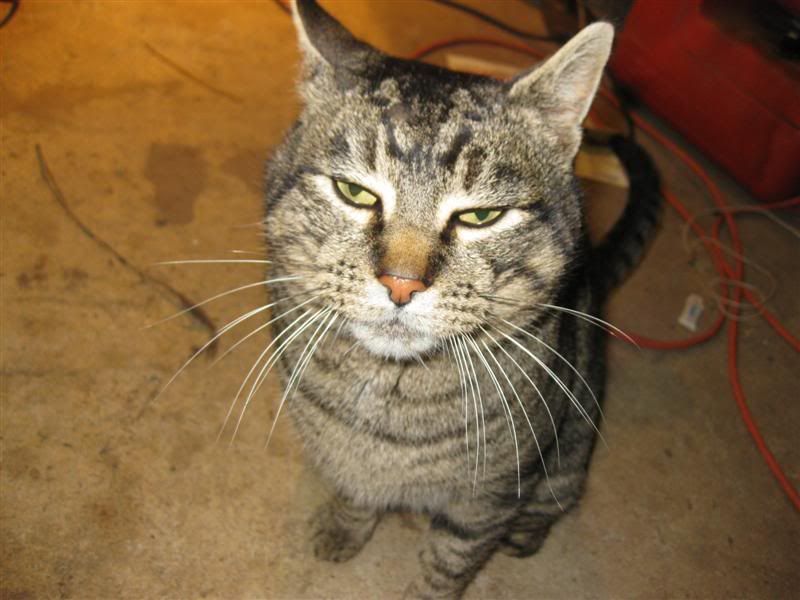 So I got home and got the car into the garage after cleaning out some more room. Removed the purge canister charcoal thing. Pulled the starter and took a picture of the ring gear. Let me know what you think. I also removed the flywheel cover on the bottom of the engine and took the best picture I could get of the teeth on the flywheel. Notice that blue stuff on the flywheel? I don't think it was like that before. Looks like somethings been rubbing and got hot.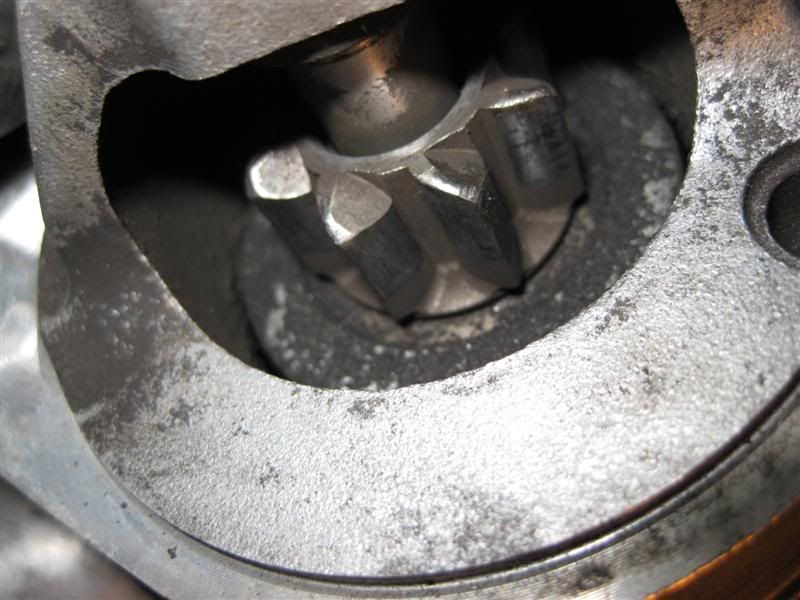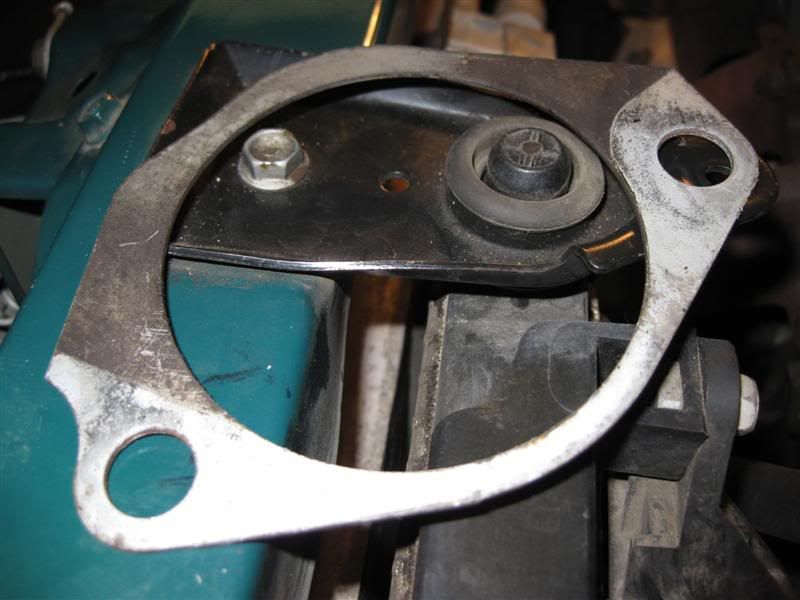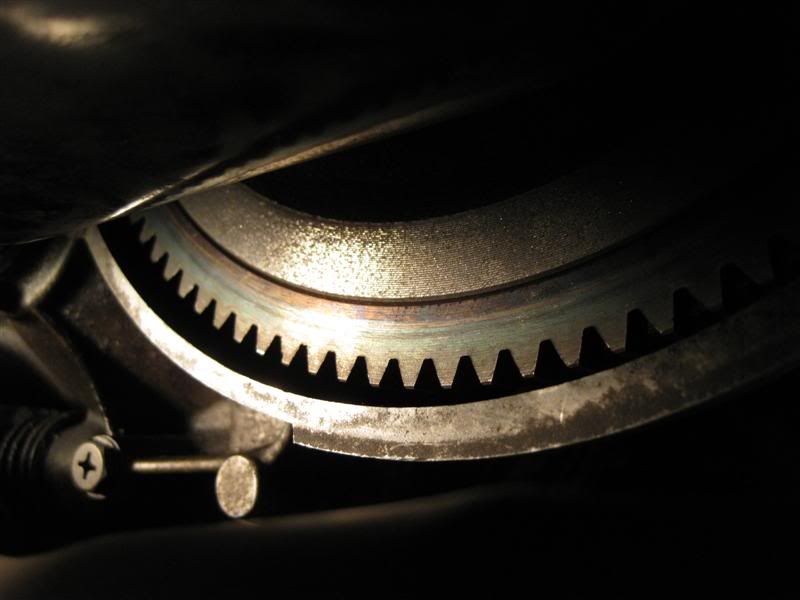 I stopped there because I need to test the starter and I need someone to turn the key and it was like 4am. Tomorrow before work I'm gonna have my step dad help me see how quick the starter is pulling back and popping out. It doesn't look like that thing has much travel does it? My subaru starter ring gear was inside the starter until you turned it on then it popped out of the hole. This one is odd looking. I'm also going to do a compression test tomorrow and check the timing.
I bought the Factory Service Manual for 98 Chevy Metro. It's SOOO much better than Haynes and Chilton put together. It actually tells you how to check your timing. One of those damn books said you can't check the timing or that it couldn't be adjusted!
If you do not have an air compressor or even if you do, buy one of these. They really helped me out when I was replacing that stupid pipe. I don't know how much it was because it was a gift a couple years ago and I just put it somewhere in my room for a couple years until I was doing that water pump and couldn't even turn the stupid wrench or the ratchet in that little space. This saved me worlds of frustration.