I am about to build a new turboed G13B for my seven.
The car was registered for road use in Sweden in august 2009. It still needs a paint job and some small things are left to do to get it looking nice, but mechanically it works fine.
The engine shall be used for road and track day use: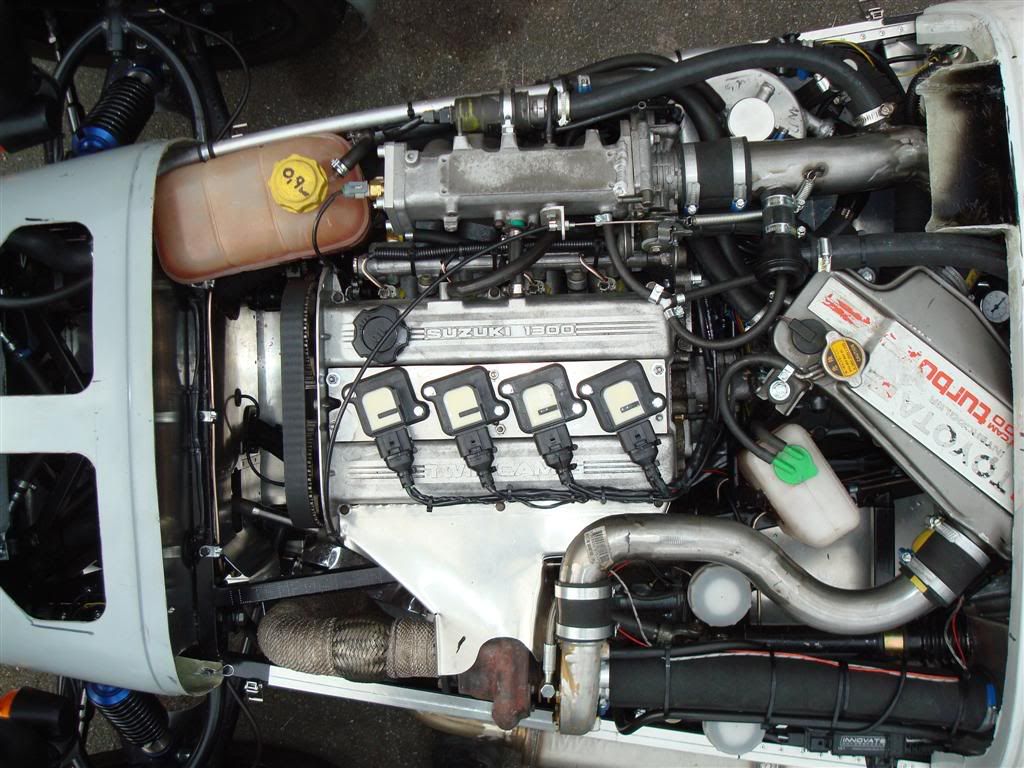 Todays engine is torboed with stock internals dynoed to 150bhp 160Nm. Setup is as below:
* G13B stock internals
* Dry sump with 2 stage Scavenge pump, home made oil pan and the stock engine oil pump used for pressure.
* Swift MKII intake and throttle body.
* Supra 315cc low Z injectors @3.2bar fuel pressure
* The ECU is an MSII V3 with the extra code (The distributor is removed from the engine).
* VR sensor on a 64-2 toothed disk on the crank.
* Wasted spark using 4 x VAG coil on plug ignitors.
* Boost control using a GM boost control solenoid.
* Innovate WBo2
* Toyota Celica ST165 Watercooled Intercooler
The plan for the witer is to change the following
* MKII block
* Stock remanufactured head slightly ported on the exhaust side. Slightly bigger valves.
* MLS Gasket?
* Reground camshafts with adjustable gears
* ARP head studs
* ARP studs for main bearings and rods
* Forged pistons 8.5:1 or 9:1 compression (probably 8.5:1 and the block skimmed a bit to get 8.8:1)
* New rods
* Stock crank
* Lighter flywheel
* New bearings and gaskets
* Full balance
* 440cc Supra injectors
I would like to get good off bost performance as well so I would like to lower CR to something in the 8.8:1 -ish area.
Target is around 200 reliable BHP.
Does the setup sound good? Any suggestins for changes?
A question for selecting the forged pistons are what CR I have to begin with?
Does anyone know for sure the CR for a stock G13B engine?
Generally i see 10:1 from various sources, but if the figures in the post quoted below are correct it computes more towards 9.6:1.
I have done the following calculations and assumptions:
G13B head (according to GTI head in post below) 32.4 cc
My used headgasket measured thickness is 1.25mm with a diameter of 75mm it gives 5.5 cc
Pistons are deck high measured on my block (they might be a tenth of a mm lower than deck, but in that case it would lower compression even more).
This gives a total unswept volume of 37.9 cc
Cylinder bore is 74 mm and Stroke 75.5 mm.
This gives a swept volume of 324.7 cc
(Vswept + Vunswept)
So CR should be CR = ---------------------- = (324.7 + 37.9) / 37.9 = 9.6:1
Vunswept
The difference between 10:1 and 9.6:1 corresponds to 1.7 cc difference in combustion chamber volume or roughly 0.4mm skimming of the head or block.
http://www.teamswift.net/viewtopic.php?f=6&t=24954&start=25
Quote:
I think the following info could be helpfull to some. All cc'ing was done properly with burrette's and 1/2 thick glass plate. Piston dish was determined with the piston sealed with a silicone o-ring in the top groove, and moved .100" down the bore, then calculated to remove the volume of the .100" displacement...so, the piston dish volume assumes a piston that is deck high. (level with the top of the block)

G16 75mm piston as used in 1998 Esteem (should be same as Vitara) 12.3 cc
G13bb 74mm piston as used in 1999 Swift 6.7 cc
GTI head (stock with no machining) 32.4 cc's
G13bb head (stock with no machining) 26.2 cc's
Felpro head gasket with 76mm bore before compression Approx 6.0 cc's
The G13bb engine was factory assemboled with the pistons almost exacty deck high.

/Peter Bostrom