Here's a couple shots for you:
89 GTi:
-arrow points to white wire w black stripe for O2 sensor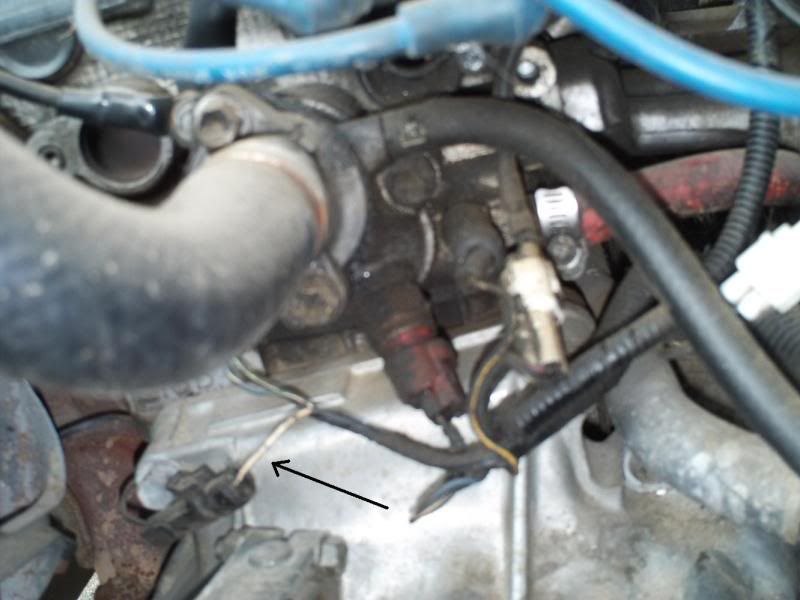 (maybe it's black wire with white stripe...kinda dirty, eh?)
Your brown coupler is plugged into a coolant temperature sensor in the thermostat housing.
This probably would help your mileage.
and here's the O2 coupler in black:
92 GT:
Brown coupler again going to coolant temp sensor for emphasis...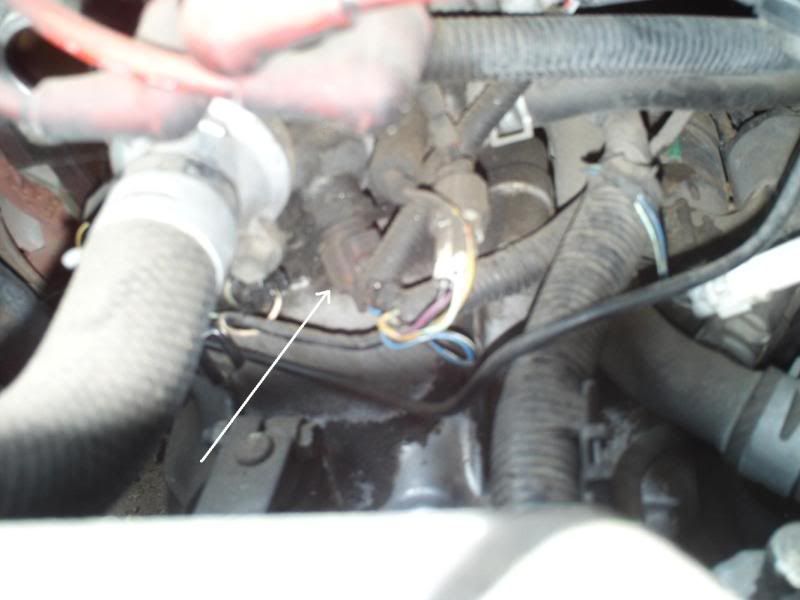 Next white arrow points to black wire coming from O2 sensor.
Black O2 coupler visible below two additional coolant temperature sensors...one with a blue coupler, and the other with a small black coupler and a yellow wire.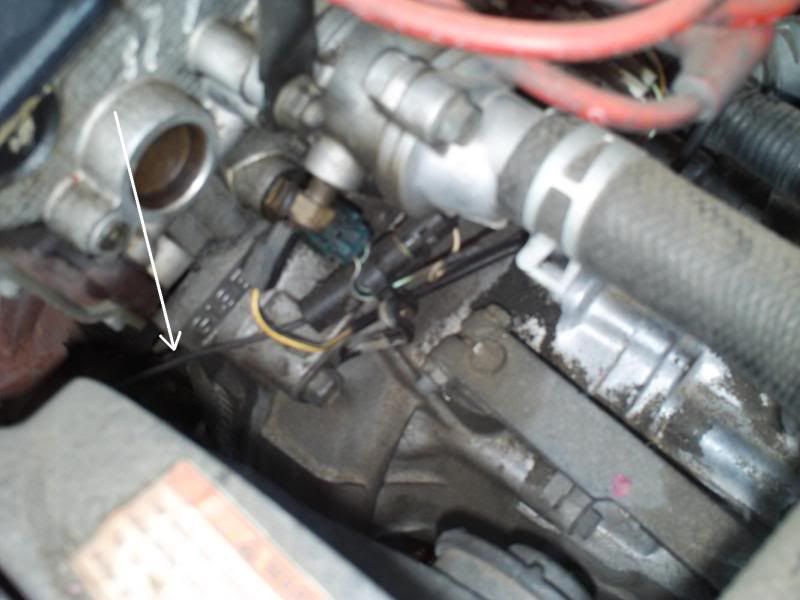 You should be able to get 38ish mpg without trying once your wires and sensors are all hooked up.
Your header is not stock, like in my first picture, but as long as you find the bung hole for the O2 sensor and plug one in, you should be good to go. When the car is idling, listen for hissing where the header bolts to the head. Exhaust leaks in that location are a sure way to burn valves needlessly.
Thanks for adding pictures to your album, and hope you're getting better quality help as a result. Don't forget, what you've added is just the tip of the iceberg. The more pictures you add, the better idea we have of what you've got. Again, this is so we can help you better!
All the information you are being provided had to be learned by all of us.
So don't worry that you don't know it all.
Once upon a time, we had to ask that same question.
Before I forget, it looks like you have the EGR system on your engine. If so, you can make sure it's working properly as that will also boost your gas mileage.
The '89 GTi in the first two pictures of this post can easily get 44 mpg; but it's fun to drive it a little harder, so that's why I say 38 mpg should be a realistic goal for you.
Your album reveals this picture which bears more investigation.
Maybe someone has bypassed/disabled the O2 sensor by plugging it.
This may be the result; you will have to take a closer look and see if that is screwed into a 'bung hole'.
Some people have this attitude about 'smog nazi' etc.
and they disable ANY emissions equipment/vacuum lines. There are many threads here which bear me out, here's a recent example:
viewtopic.php?f=32&t=48343
.
On a track/drag car, I can understand the elimination of the usual systems on our cars; on a daily driver, not so!
As you get older and learn, you will gradually find out that these systems were engineered to improve your driving experience, not ruin it.
Apparently, you've purchased a car from someone with those 'pre-emissions vehicle' attitudes. (An example: our stock '51 Chevrolet doesn't even have the PCV system so prevalent in today's cars.)
Check and see if the catalytic converter has been removed;
there is absolutely no down side to having a catalytic converter on your car
! Even performance oriented daily drivers can use a 'high flow' catalytic converter with no discernible loss of horsepower due to exhaust restriction. Can you say, "Better living through Chemistry?"
You began this thread with a complaint of
poor gas mileage
. By returning some of the original emissions systems back to operational status, you should obtain at least 10 more miles per gallon. Your car is a fun car to speed around town, and you'll still be able to do that; however, for the 85% of the time when you aren't trying to pass the next guy, your engine will burn each gallon of gas
much more efficiently
than those who defeat the cat, bypass the EGR, etc. and you join the ranks of a responsible vehicle operator. Remember,
a driver's license is a privilege not a right
so temper your wisdom with a little responsibility!
Hope this helps...