Well me and my roommate got to work on the audio system in the Metro tonight. We are planning on installing the following setup:
Kove Audio 4" speakers in the front dash
(Considering pairing Kove 4x6s in the doors with these, running the same channel)
Polk DB401 4" speakers in the rear hatch
No-Name tweeters with a Boston crossover for the doors
Nakamichi 6x9s for the side panels, splitting the rear channels with the Polks
Kove 12" Sub
I have a 300w 2ch Amp, however i'm still unsure about how i'm going to use it. I might use it to power the front stage, the rear stage, or just use it in my Miata to power my Hertz 6.5inch components.
Here are the pics of where we are at right now, about to make a run to Wally-World for Redbulls and a flashlight. We have the 4" Koves in the dash. The sound is AMAZING compared to the Polks that were in it. *NOTE* The Polk DB401s were $80 new when I bought them and are a HIGHLY rated speaker...just not compared to the Koves, LOL!
_________________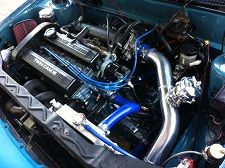 92 Metro Turbo-G13b Swap - too much stuff to list
95 Metro 4/5 Sedan - Daily Driver Status
2014 BRZ Limited in WRB - The car payment