Coming along nicely.
I hadn't realized you made 4 trips to 3 different smog test stations until I did my 'due diligence'.
Amazing difference in HC.
Your attention to detail is nice and the cosmetics are constantly improving.
Thanks for the infranview tip.
It has been almost 7 years since I used it, and had forgotten about it.
Your rear spoiler makes it look similar to this car:
including the color, eh?
Did you know that if you met the low income requirement, you can sell ANY car to the State of California for $1500.
The car must have
-one headlight and tail light (does NOT say it has to work...only to be there)
-all doors, hood, dash, windshield, at least one side glass, driver's seat
-at least one bumper, exhaust system, all side and/or quarter panels
-must be driven to the State recycler's under its own power
-must start under its own power
-interior pedals must be operational
-must move forward 10 yards under its own power.
If you DON'T meet the low income requirement, they will buy ANY car meeting their minimum requirements for $1000.
Your car, of course, doesn't fall into the $1500 category, as it is near mint.
I've included this information for those who have older Chevrolet Sprint cars in California and are thinking of selling them due to bad head gaskets, etc. They can get much more by selling it back to the State.
The days of the $250 Chevrolet Sprints on Craigslist in California are quickly coming to and end due to this Recycle Program.
Looking forward to your interior restoration, and thoroughly enjoyed your humor: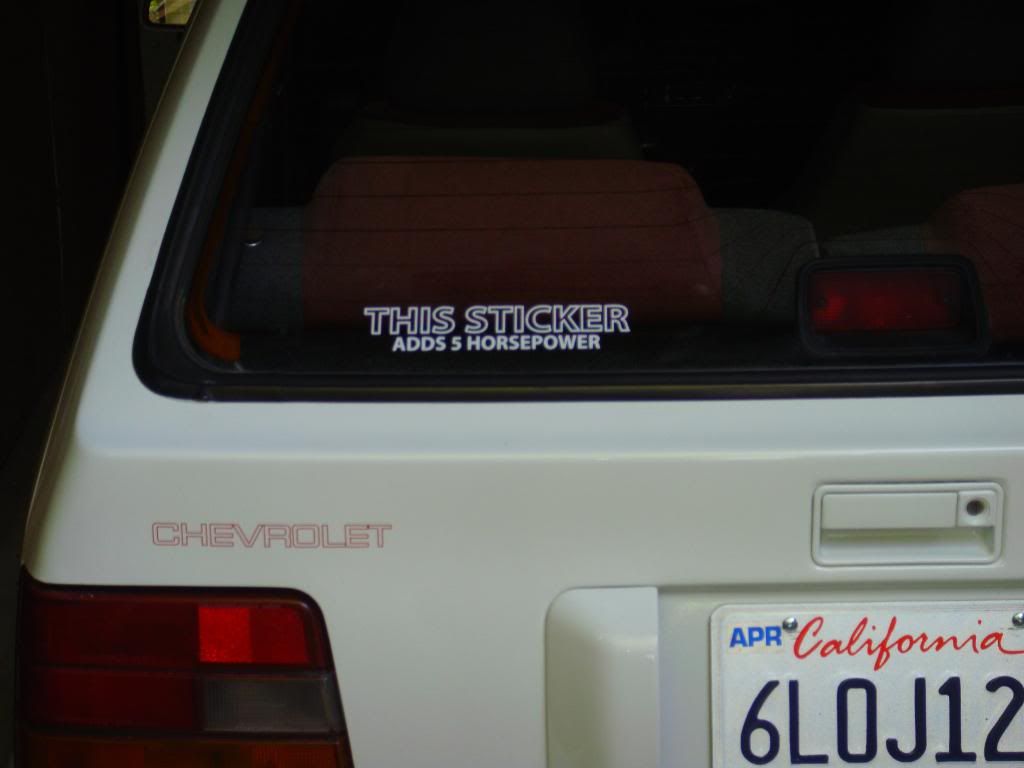 To really piss off the gas guzzlers, how about something like
'50 mpg at 70 mph'
_________________
DIY Broken Bolt Removal:
viewtopic.php?f=22&t=41042
DIY Clutch Adjustment:
viewtopic.php?f=9&t=48281
DIY Wheel Bearings:
viewtopic.php?f=2&t=29003
DIY Shocks:
viewtopic.php?f=10&t=45483
DIY Wheel Align:
viewtopic.php?f=2&t=42479
Once you get the cars dialed-in (compression, leaks, bearings, alignment, brakes) swap in new rubber and glass, you've got something which should last for years!